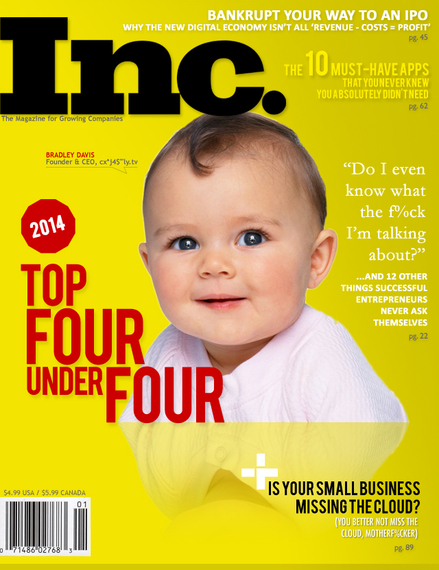 SAN FRANCISCO - Bradley Davis never expected he'd one day be at the helm of his own flourishing startup. But today, having founded cx*j4$"'ly.tv, a global leader in open-source, crowd-funded, client-authoritative server distribution platforms, the now-potty-trained 28-month-old runs one of the world's most highly respected technology companies, and sits alone atop Inc. Magazine's 2014 'Top 4 Under 4′ in tech.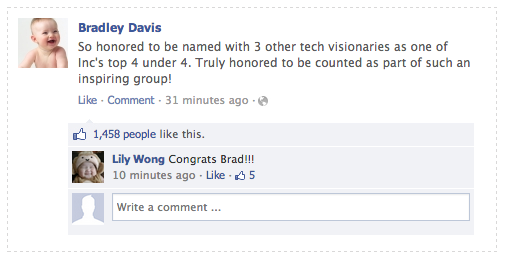 Started out of Davis's playpen using a seed round of funds he'd been accidentally trying to stuff in his mouth, cx*j4$"'ly.tv has garnered significant press coverage of late for both its impressive 800% annual revenue growth, and the lavish perks it bestows on its employees, including naps, storytime, and even the occasional breast-in-the-face.
Reached Tuesday for comment in his Mountain View, CA office, Davis was clearly excited about the news, saying "I like doggies! Fluffy dogs are funny! Ha ha ha!"
Rounding out Inc.'s 2014 list were Little Sarah Michaels, founder of Güber, an app-based formula delivery service, Little Marcus Jackson, CEO of Büümer, an app-based diaper drop-off/ pick-up service, and Little Erin Chan, founder of Süüüner, an app-based social network for premature babies.
UPDATE (4/2/14 11:58am) - Facebook (NASQAQ: FB) has announced a bid to purchase a majority stake in cx*j4$"'ly.tv for $14B in cash and stock.