Friends,
If the first three weeks of January were awful for Romney, the last 10 days have been devastating for Gingrich. Tonight Romney is going to win Florida by a dozen points and put the Gingrich campaign into a tailspin. Whether the pilot will want to or can pull this campaign out of its dive is another question altogether.
Romney turned the tables on Gingrich in Florida through some smart tactical moves -- including an extraordinary early voting effort -- and an all-out blitz on Gingrich. They have been dropping pianos on Newt for 10 days and it has politically destroyed him. Here is our take on Romney's path to victory in Florida:
Romney has been a better candidate. This is why they run campaigns. Romney was starting to turn the corner in Florida about 72 hours before last Thursday night's debate. He had a better articulation of his time at Bain and the tax issue. The debate turbo-charged that trajectory. And of course, emboldened by the debate, Romney was much more energetic and focused on the stump the last 5 days.
Gingrich has been worse. It wasn't just that Romney came out strong in the debate and pushed Newt around (though he did just that) but it was also that Gingrich looked weak and grumpy. His whole demeanor flipped from the previous debate. He seemed unprepared, flustered and angry. Not a good combination.
Team Romney chose to do two things with laser-like precision: attack Gingrich and own the airwaves. Romney's campaign and his Super PAC, Restore Our Future, have dominated the television ad war, outspending Gingrich and his super PAC - 4-to-1 (approximately16M to4M), according to the Republican ad-buying that NBC's Domenico Montanaro spoke with. More importantly, Romney himself started attacking Gingrich creating the echo-chamber they desperately needed.
Our sense is that team Gingrich made a tactical error after South Carolina by taking the tone of the front runner, rather than continuing in David vs. Goliath mode. Newt Gingrich forgot he was the insurgent. You could see it in the candidate's demeanor and the way the campaign conducted itself. Remember that it was Romney who made a similar mistake after New Hampshire by letting Gingrich come back from the dead like Jason in the Halloween movies -- a character that never dies. Well, in the movie it is the mistake of the protagonist and here it is the mistake of the front-runner. Lesson learned: When you have the chance, go in for the kill.
Based on our latest analysis of the 10 most recent polls we believe that Romney will capture 44% of the vote beating Gingrich by 12 to 13 points. This one will be called within an hour of the polls closing. Gingrich should finish with 31%, Santorum 14% and Paul 10%. In 2008 Romney captured 31% of the vote in Florida to McCain's 36%. He carried only 18 of the state's 67 counties. Tonight Romney will likely triple that tally, winning perhaps as many as 55 of the state's 67 counties. Below is the latest Huffington Post/Pollster trend chart on Florida. Our sense is that the trend will hold and that Romney's final vote share will be 2-3 points higher than final poll.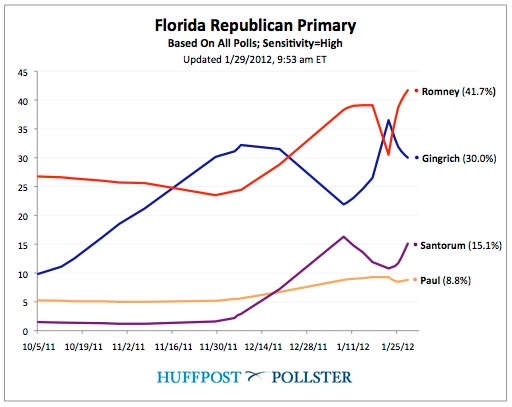 Romney has achieved this by gaining vote share among all audiences but in particular women, evangelicals and Hispanics. Here are some key data points from the NBC Poll:
There is a large gender gap between Romney and Gingrich. Women preferred Romney by 47-26 percent over Gingrich. Men also favored Romney, but by a smaller margin (38-29).
Romney is also making major inroads with Evangelicals, receiving the support of 34%, compared to 28% for Gingrich. Six-in-ten GOP primary voters said they believed Mormons are Christians.
But Romney is still failing to win over the most conservative voters: Gingrich leads Santorum among "very conservative" voters 36-29 percent. Romney gets about a quarter of that group (24%).
Newt's rise-and-fall is mirrored by Santorum's trend line. It appears these two are largely competing for the same voters.
Because Florida is a big early-voting state, it is unlikely that we'll see a big, late surge for Gingrich. The Tampa Bay Herald reports that "about 500,000" GOP ballots have been cast already "out of a turnout that could reach roughly two million."
The next 30 days are favorable for Romney with caucuses in largely supportive states. Look for national polls to follow the Florida results and start to show Romney getting separation from Gingrich. Additionally, we suspect that Romney will pivot back to attacking Obama as well as emphasizing a positive theme on Wednesday morning. The non-stop attacks on Gingrich have probably hurt Romney's favorability rating, so a return to general election campaigning and an articulation of his rationale for running should be a boost in this area.
Thanks to John Zirinsky for his insights and contributions to the Election Monitor. We will be back with our next edition in a couple weeks. For real-time reactions to events and more thoughts on the public opinion environment, please follow us on Twitter @Steve_Lombardo.
(Please note that the author was an advisor to the Romney for President campaign in 2008 but is not affiliated with any campaign in 2012.)