The last 48 hours have been horrendous for Mitt Romney. A poor debate performance Sunday morning (his first one) was followed by 2 gaffe filled days on the trail. Newt Gingrich's suicide charge at Romney is full on and Huntsman appears to spit venom anytime the topic is Romney. Add to this the DNC attacks the last several months and you have a candidate facing one of the most severe multi-front political attacks in modern political history. So it may come as a surprise to hear that we think Romney is going to win big today in NH, crossing the 40% threshold and become the first non-incumbent GOP presidential candidate to ever win both Iowa and NH.
Here are some observations on the state of this race:
Romney's Iowa win - even by 8 votes - was huge. If Santorum had been the outright winner, things would have been different. It seems like a long time ago, but it is worth a quick review of Iowa because it tells us something about how the campaign is moving forward. Romney's flaws were revealed in Iowa but so were those of the other candidates. Romney captured essentially the same vote share that he did in 2008 (25%). In fact, he received 6 votes less than he did in 2008. He did better with older voters but underperformed with Tea Party supporters and Evangelicals. It was exactly what everyone expected. What we didn't expect were the performances of his rivals which made all the difference. Newt Gingrich and Rick Perry were frozen out of the top three, and neither Ron Paul nor Rick Santorum has demonstrated any viability beyond their narrow bases of support. The evangelical Christian and Tea Party wings of the Republican Party demonstrated their preference for someone other than Romney, which is no surprise, yet their support for second-tier candidates is a reminder that Gingrich and Perry are no less flawed than Romney.
Romney flat out lost the debate on Sunday but I am not sure that anyone came out a winner. That is the problem when everyone gangs up on one candidate: no single candidate reaps the reward. Romney seemed like he was caught flat footed during the debate and at times his responses appeared to be inauthentic. His answers were not crisp and he seemed unprepared for the onslaught. David Gregory's pointed questions are part of the reason, but the campaign should have been ready for that. However, while Gingrich and Huntsman had good moments, our sense is that voters did not swing to their side. They may have shored up support with voters already in their camp, but there are unlikely to be any big winners at Romney's expense.
Governor Romney's comment today about how he "like[s] being able to fire people" is adding fuel at the worst possible time. Yes it is taken out of context, but even in context it was bad. If you watch the video closely, you can tell that Romney realized it was a mistake as soon as he said it, but there is no rewind button in politics. We don't think it's particularly important to debate exactly how many jobs Bain Capital created, but make no mistake: these aspersions have the potential to be extremely damaging to Romney, both in the next several months and if he makes it to the general election. The underlying message of Romney as a corporate raider and out-of-touch financier plays right into the national conversation on class and opportunity ignited by Occupy Wall Street. The flurry of ads and press statements from Huntsman, Gingrich, Perry and Santorum are clearly affecting the conversation about Governor Romney right now. The sharp change in Romney's fortunes can be seen in the chart below, taken from the National Dialogue Monitor produced by our friends at TargetPoint Consulting.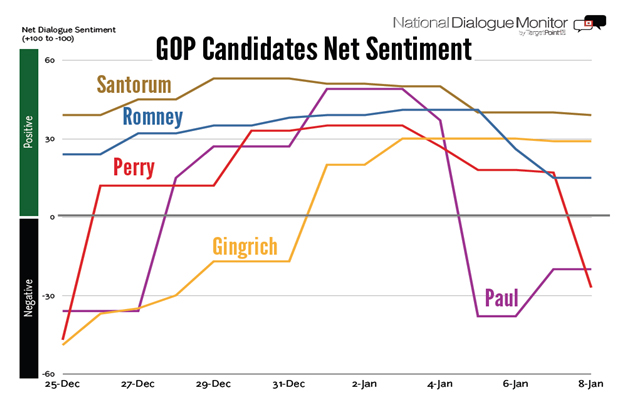 However, it is unlikely that this will translate into a meaningful swing for Gingrich. Romney will get his clear victory today despite the last 48 hours and will likely clear 40%. Huntsman is the only one we see trending up. Paul is flat and Newt is in a death spiral. Santorum was never able to leverage Iowa.

Below is our trend tracker for the last 6 months in New Hampshire: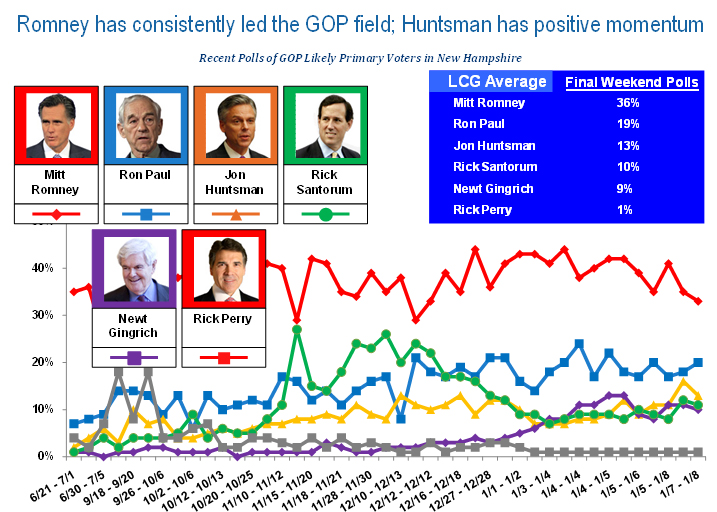 Note Romney has been between 30% and 45% the entire time. Our projection for NH:
- Romney 42%
- Huntsman 19%
- Paul 18%
- Santorum 11%
- Gingrich 9%
- Perry 1%
Here are some notes on what to watch for in New Hampshire tomorrow, as well as our projections by county:
A win by anyone other than Mitt Romney would be a major upset. While he has slipped slightly in polls released over the weekend, we still expect that Romney will capture approximately 40% of the total vote, followed by Jon Huntsman and then Ron Paul in a photo-finish for second, near the 20% mark. Look for Gingrich to emerge in fourth place, ahead of Rick Perry, who has never been particularly active in the Granite State and has already decamped for South Carolina. The final PPP poll results from New Hampshire show Romney holding steady at 35%, with Paul at 18% and Huntsman jumping ahead to 16%. While the consistent polling may make this look like a cruise to victory for the Governor, Romney has invested significant time and money in securing this contest, which has been cast as a must-win for him ever since his loss to John McCain four years ago. Romney has led in every poll conducted in the state stretching back to 2009, when the other contenders still included names like Sarah Palin, Mike Huckabee and Tim Pawlenty. The secondary questions in the PPP poll released yesterday only cement what is one of the easiest calls we can remember: Romney has the highest popularity (60% favorable) and most committed supporters (85% will "definitely" vote for him), with a full 40% of the voters who have already made up their minds choosing him.
We are predicting approximately 250,000 votes will be cast in the GOP contest tomorrow, slightly exceeding 2008's total of just under 240,000. While there is no Democratic showdown to lure away independents, there is also a less-than-exciting field of candidates this year. We expect overall turnout to decline, with the number of votes cast in the Republican primary to slightly rise from last year.
For those of you who will be watching tomorrow, here are numbers to keep handy when the returns roll in. These totals would put Romney on the track to winning 37% of the vote tomorrow, which would put him 5% ahead of his 2008 showing (32%). That would be a meaningful improvement. This assumes - as we predict - that the distribution of Romney's support across New Hampshire will follow the same pattern as in 2008. We suspect that he will ultimately run slightly better than this across the state with 50% of undecided voters breaking to him in the final hours giving him closer to 42% statewide. If he outperforms these totals, Romney is likely on the path to exceeding expectations.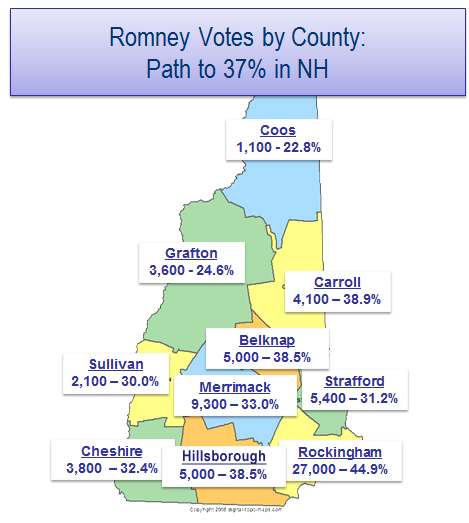 Once again, Team Romney will look to build its lead through the populous, suburban counties that border Massachusetts: Rockingham and Hillsborough. These two counties alone contain about 55% of New Hampshire's GOP primary voters. These are the mainstream New England Republicans who are the natural base of support for Governor Romney. This region of the state is also part of the Boston TV market, where Romney's advantage in fundraising and attention is magnified by the high cost of advertising.
Huntsman is showing some late momentum in New Hampshire. While he is still too far behind Romney, we project that he will slightly edge out Ron Paul for second place. New Hampshire's Republican primary is open to the state's large population of unaffiliated voters and the lack of a competitive Democratic primary will result in as many as 40% of the turnout being drawn from non-Republicans. That same PPP survey shows that 25% of the expected turnout tomorrow will actually be those who voted for Obama in 2008. Huntsman is leading Paul - and even Romney - among this group, but he falls all the way to fifth place among registered Republicans. All this suggests that New Hampshire may be uniquely fertile ground for a Huntsman surge. His SuperPAC's late buy of300,000 suggests that Team Hunstman is hoping his surprisingly strong performance, and not the underlying dynamic, is the big story on Wednesday.
Thanks to John Zirinsky for his insights and contributions to the Election Monitor. We will be back with our next edition in a couple weeks. For real-time reactions to events and more thoughts on the public opinion environment, please follow us on Twitter @Steve_Lombardo.