How our Chinese partners are embracing small business to ensure the next generation of success and profitability.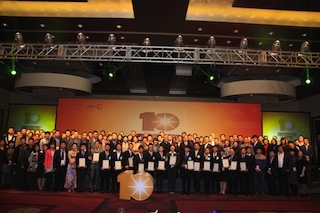 This year's impressive finalists and judges at Bright China.
Since 2003, the Bright China Foundation has implemented classes reaching more than 14,000 students annually through more than 350 teachers. Programs reach students in Beijing and Shanghai, and the Hailungjiang, Guangzhou, Sichuan and Yunnan provinces, as well as Hong Kong. Every year, they host their annual National Business Plan Competition. Here at NFTE in New York, we are continually impressed with the quality of education and outcomes that Bright China produces and we are proud to partner with them. What is so important about this type of program in a country like China? Well, for one thing, while their massive economy grows, it is key that today's students learn business skills and tools to help maintain an entrepreneurial culture, favoring successful small businesses.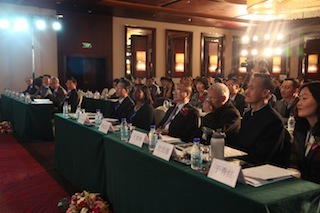 The Education Forum at Bright China.
This incredible partner is working hard to bring vocational students up to speed on entrepreneurship, helping to build a stronger employment base in the Chinese economy. Recently NFTE's newest staff member traveled to China to see what Bright China is doing right.
******
Lisa Miller has worked in education for most of the last 17 years--from the classroom, as a high school science teacher, to the management side, designing charter schools and school district partnerships. She got her MBA at Columbia Business School, and then went to work for Victory Education Partners, to turn around the failing Chicago Public Schools system. Later she joined Revolution Foods to launch and lead their Northeast market and grew the region to serving 24 schools and employing 60 people. Just before coming to us at NFTE, Lisa was working on charter quality assessment with the Newark Charter School Fund and New Schools Venture Fund.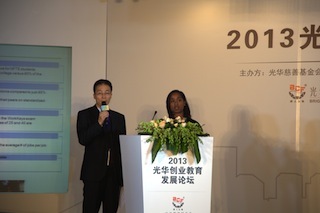 Lisa's talks Global Strategy with Bright China.
I sat down with Lisa to learn about growth of entrepreneurial education in China and what she sees in NFTE's future now that she's here.
Steve Mariotti: So Lisa, tell us why you went to China.
Lisa Miller: I traveled to China to attend Bright China Foundation's annual youth entrepreneurship challenge and entrepreneurship education forum. NFTE has contributed significantly to building a global movement to bring entrepreneurship education to all young people and has established a goal of reaching one million young people by 2017. Bright China Foundation (BCF) is NFTE's largest international partner and has experienced tremendous growth over the last few years, serving 40,000 students this year alone. This year, during Global Entrepreneurship Week, they celebrated 10 years of partnership with NFTE and service to their communities with two days of inspirational activities. The youth entrepreneurship challenge took place on the 1st day of the conference and was followed by an education forum where current partners, prospective partners and various leaders of China's vocational education system discussed the impact entrepreneurship education has had on the 150,000 students BCF has served since its founding. It was incredibly humbling for me to hear from students how participating in the BCF/NFTE program has changed their lives! The second day of activities was capped by a meeting of BCF's advisory board and then a gala celebration where the winners of the business plan competition were announced. It was awesome to see all of the competitors and their teachers beaming with pride.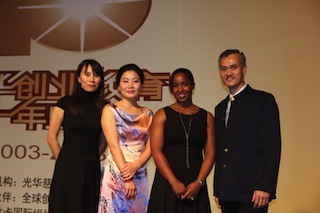 Lisa, Beth, Henry and Sophie at the Gala.
SM: Why do you think the entrepreneurship education program has experienced such growth in China?
LM: BCF targets students in China's vocational educational system, as well as inmates and underprivileged students and provides entrepreneurship education that gives these students an alternative option, a true future. I talked to students who shared that the NFTE program has made them more confident, and has encouraged them to think about ways to improve their communities and start profitable businesses. BCF has formed critical partnerships with the vocational education departments in many provinces, which has enabled them to reach even more students and impact many communities across China. I saw firsthand how They are working tirelessly to increase these partnerships so that more Chinese youth can benefit from entrepreneurship education.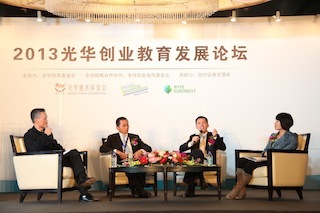 The Forum with Henry To, Thomas Woo, Hai Ling, and Catherine Feng
SM: Were you impressed with the business ideas you heard from young people there?
LM: I am always impressed when I hear the business ideas of NFTE's students and my experience in China was no different. The ideas ran a spectrum from artistic, cultural concepts to technology-based concepts, all solving a problem the students identified in their communities. One young lady, Na Lin, created traditional Chinese silk embroidery using hair from purchasers, instead of silk, to create personal and emotional connections for the owner. Another young man, Chuanlin Xia, created a business with a patented car filter. Actually he currently operates this business, selling his product to car repair shops for a profit. I was most impressed with the creativity of several of businesses that focused on artistic creations using "green" methods, including Ying Lu's business, which won the competition with traditional Chinese cultural figurines beautifully crafted from straw.
Equally impressive was the stage at which many of the students were with their businesses, because so many of them presented finished products at the competition. It was clear that running their own business was much more than exercise for these students. They had chosen it as a serious option for their future and were embracing it with fervor, many already running profitable businesses.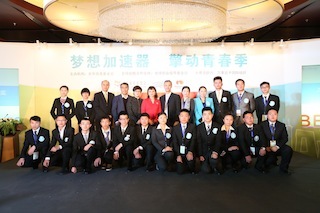 BESA judges and finalists
SM: What are your goals for NFTE's growth?
LM: As I talked with employees, advisory board members, partners, and the students we serve, I was blown away by the impact we have on the lives of the students. Students leave NFTE's programs able to take a concept from idea to business model, not to mention those students who have actually launched profitable businesses.
But I think the transformation in self-esteem, motivation, confidence, and ability to think critically is beyond inspirational and key to NFTE's success! I wish my daughters had access to NFTE's program. My vision is for NFTE to continue to grow as the leader in entrepreneurship education for youth across the world, serving as a guide star for quality entrepreneurship education programs. Ultimately, I envision that NFTE will establish a standard for workplace readiness through the development of an entrepreneurial mindset index while supporting the cultivation of new enterprises through support of its alumni launching their businesses.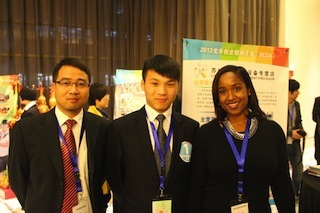 Lisa with a BESA teacher and student
As Chief Growth Officer for NFTE, I aim to leverage my prior experiences to design a strategic growth plan that enables NFTE to meet and exceed its goal of serving 1 million students by June 2017. We will continue to expand our domestic and international reach through innovative curriculum pathways and interactive digital platforms that ensure that even more students can benefit from an entrepreneurial mindset. At the same time, we will focus on the same business principles we teach our students, ensuring that we are prepared to recognize opportunities to grow our revenue in ways that allow for continued to enhancement of our services to our students and alumni while we build a self-sustaining organization.
SM: What impressed you most about China?
LM: I was immediately struck by the camaraderie of the student competitors. Each student had assistance from fellow competitors, many of whom were meeting each other for the first time, in setting up their presentations and showcasing products before the audience and judges. It was incredibly refreshing to see them be so supportive of each other while simultaneously competing to be awarded the winning prize.
I was also awed by the BCF staff and their unwillingness to rest on the success of serving 40,000 students a year. They have a staff of 16 people but have designed a program model based on establishing partnerships with the vocational education system and identifying enthusiastic and tireless teachers who they certify to teach the entrepreneurship curriculum. In spite of their success, they reflect daily on how to serve even more students, knowing the populations they serve desperately need another option.
Experiencing NFTE's impact through the eyes of the Chinese people was nothing short of amazing. I was humbled by the earnestness with which they embraced their partnership with NFTE, clearly articulating that it has given thousands of students across China that previously had limited options an alternate choice. It moved me to strive harder and faster to grow NFTE's reach! These students in China are like so many other children across the world battling poverty, unemployment, and low expectations reinforced by so many factors beyond their control. The people of China reinforced that NFTE provides a path around these obstacles.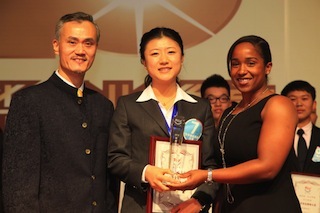 Lisa and Henry presenting the award to the winner
I am so excited by the potential for entrepreneurial growth in China, and I am proud that NFTE has been able to partner with an incredible organization like Bright China. I look forward to seeing what the future has in store for the next generation of Chinese entrepreneurs.

Special thanks to Lauren Bailey for research and editing assistance.