Bert Navarrette skydives (regularly), rides mountain bikes, runs companies, and has four children. you might think that keeps him busy enough.
But you'd be wrong.
This Harvard-educated entrepreneur grew up in Princeton, where he attended the Boychoir School before prepping at Delbarton School in Morristown. He has also spent considerable time in Silicon Valley on venture capital trips and later walking down Nassau Street, thought there was no reason why it couldn't be the kind of tech hub that University Avenue in Palo Alto had become.
He had worked with the Princeton University Entrepreneurship Club and watched it "explode" in popularity in the mid-2000s, so he and business partner Jason Glickman decided to start Tigerlabs in 2012 and secured its first investors that fall.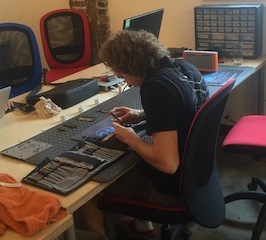 A young entrepreneur in Tigerlabs
Part business accelerator, part venture capital fund, part mentoring center for aspiring entrepreneurs, Tigerlabs, at 252 Nassau Street on the second floor, the old Princeton Review site. Tigerlabs had been at 20 Nassau Street, and even rented space at the Tiger Inn, a Princeton University eating club, before moving to its current location.)
"We wanted a space that looked and smelled like a Brooklyn loft," said Navarrette, a boyish, enthusiastic man in his late 30s. He even went to Brooklyn tech startups to take photos in an effort to replicate that feel.
And they got just that. The large, open space has no walls, no barriers, and as the large dog sitting by the welcome desk would seem to indicate, no rules.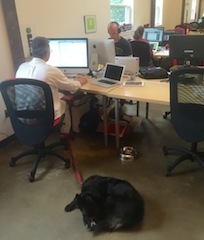 Tigerlabs' office mascot
What they do have are investors--plenty of them who have put up $2 million so far--and businesses they have backed--plenty of those, too.
But as Tigerlabs says on its website, "Capital is nice, but Tigerlabs is more than that; we're full service."
They have an open door policy for entrepreneurs. Show up, pay a modest fee to occupy the space, and you are now part of a vibrant community of start-ups and mentors in one of the most exciting towns in America.
"We have removed all the friction of the back office," Navarrette says of both the physical character of Tigerlabs and its operating philosophy.
And their range of interests is impressively wide, from health to fitness to apps to local Princeton favorite retailers Cool Vines and the Bent Spoon (which if you know Princeton, is famed for long lines waiting for exotic flavored ice cream) to "8 and Up" an organization that teaches young children about business.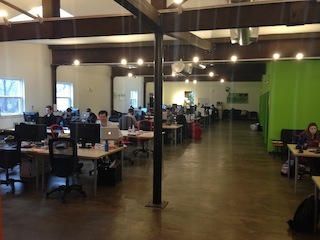 A Brooklyn-style loft in Princeton
Though most of the entrepreneurial ventures sharing space at Tigerlabs are homegrown, they have lured at least one--LifeVest--from Denver, and are looking to bring in more businesses from out of the area.
Tigerlabs offers workshops on a range of business subjects, "meetups" where entrepreneurs get together periodically for pizza and a talk by a local businessperson, and of course, funding.
But what they offer most is community. A random visit will find a "gray hair" listening to and giving counsel to a couple of young women with an idea for a new app, or one entrepreneur talking to another. There doesn't seem to be secrecy or unhealthy competitiveness here.
"Everyone is willing to help others," Navarrette says.
For a guy who has done more than 3,300 jumps from planes - he met his wife doing skydiving (her family owns Freefall Adventures, a skydiving company in Williamstown, New Jersey)--Tigerlabs must be a natural: open, cooperative, and maybe just a little risky.
Special thanks to Joseph Seldner for his work on this article.