My first encouragement to write came about in 1983 when I was a 30-year-old special education teacher at Seward Park High School on Grand Street in New York. I had just started teaching and had to take an after-school course on writing held every Tuesday on the second floor. It was a writing workshop and we got $300 extra to be in it and a word of praise from our legendary principal Noel Kritchner.

One day, our teacher was sick and we had a substitute. I will never forget him, and the chance meeting was to change my life and lead to over 3 million published words in 34 books and manuals. I write now because of Frank McCourt, who instead of sitting us in the traditional classroom had already rearranged the seats in a circle. This meant someone painfully shy like me had no cover.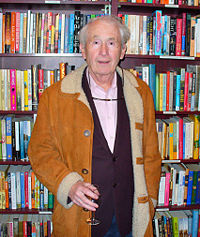 Credit: David Shankbone
He began by introducing himself as an English teacher -- I think he was by this time teaching at the legendary Stuyvesant, but it wouldn't have mattered to me. He read what he was writing and I will never forget the crumpled pages he had which looked like there was a coffee stain on them.

Then there was a quiet time where we all wrote from our stream of consciousness. He would say words and we would write -- my handwriting, large and awkward -- covered in shame by my left arm so that others would not see.

Then around the room we went -- we could pass if we wanted and I passed, afraid to share and hiding within myself.

As we walked out he came up to me and introduced himself -- asking what I was teaching, taking an interest in me.

"You have a voice as well, Steve," he said. And that night, I began writing, beginning the habit by sitting at Eddie's, a village restaurant on West 4th Street and Mercer, and getting the words out with the usual restoratives.

Somehow, we stayed in touch, and one night trying out different hangouts in my neighborhood, I sat next to him at the bar called The Lion's Head -- ironically, less than 100 yards from where I live now. I was so surprised to see him. "My brother owns this bar," he said kiddingly, introducing me to Malachy, who I knew from AA meetings.

I believe it was around 1986 or 1987, and I showed him my notebook and all my writings. A decade later in 1997, he became famous with Angela's Ashes. I called and wrote him with my congratulations, but did not have the courage to tell him that both books were too painful for me to read. He said: "Finally, Steve, I am more famous than you." Flattered, I blushed through the phone.

Then years later, out came Teacher Man, perhaps the greatest book ever written on teaching. When I called him, he was as always indifferent to my praise and focused on what I was writing.

"Just another textbook," I said. "That is great, Steve. Very proud of you," he replied.

Frank McCourt was a great teacher and wonderful man. I would like to write like him someday.