Leslie Firtell, founder and CEO of Tower Legal Solutions, was forced to test her pet project, disaster preparedness, when Sandy hit New York. With a committed team, acute decisiveness and planning, and a seamless execution, she and her team were able to keep work on track -- especially one client's case that had a looming deadline they were not willing to move.
"It's amazing how everyone now just relies on technology, and you forget that you actually do need paper. You should have those documents, and have them in safe places." -- Leslie Firtell
When disaster struck NYC, Leslie was ready. Her team mobilized immediately, getting back in their offices by hiring ad hoc vans that shuttled employees when even the subways were down. With a secure filing system and a remote server located far outside the city, Firtell's company finished a case for a major financial institution just days after Sandy hit. The judge hearing her client's case refused to extend the deadline, and her team came together, just in time to finish the work. The client's CFO took note of Leslie and her team's exceptional work in the face of a natural disaster and spread the story to other businesses creating more clients for Tower.
"When you're in a business like ours, a service business, you should be able to react in such a way to make it happen and not use [disaster] as an excuse -- 'oh, there's bad weather, therefore we can't help you.' That's the whole thing -- why we put redundancies in place; with multiple locations, you can shift work from one location to another, so that you won't prevent your clients from completing work."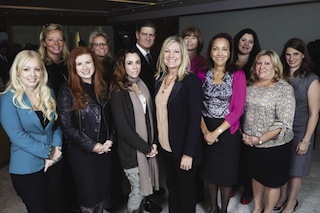 Leslie, second from Right, with the other 2012 EY Entrepreneurial Winning Women
Leslie, one of EY's 2012 Entrepreneurial Winning Women, created Tower Legal Solutions in 2007 -- when she filled a niche in legal staffing and document review. She then expanded her work to include a top security outsourcing legal team, which primarily caters to financial institutions and major corporations looking outside counsel.
When she initially began to structure her business, Leslie foresaw how having all operating systems in New York might be a recipe for disaster: she thus opened an office in Charlotte, North Carolina to house their data. The company has since opened other locations in Minneapolis and D.C. and will soon open an office in Dallas, Texas. I met Leslie at the recent EY Strategic Growth Forum and, with such a fast-growing company, I had to find out from Leslie about her keys to success.
Steve Mariotti: What happened?
Leslie Firtell: We were doing a big document review down in Charlotte for a client, and people couldn't get to work [after Sandy]. We mobilized [a remote] team, and they trained over the phone. We had to start a new knowledge base, but we met the deadline.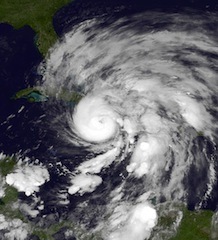 Hurricane Sandy hit NYC in November of 2012
SM: Who are your clients?
LF: Tower Legal Solutions is primarily a host-space for legal work. Major corporations, financial institutions, and law firms use us when they need legal support off-site. For example, there are times when we are asked to provide 100 attorneys to start in two days, and we can easily accommodate these types of requests because of our large database, flexible space and a staff dedicated to meeting client needs. Tower Legal Solutions has about 60,000 square feet of office and project space, and has generated roughly $80 million in revenue for 2013.
SM: How does your business work?
LF: Tower is based around a niche law practice -- document review and investigation. Each [of the four office location[s] seats roughly 300 people. Everything is private, everything is secure. To avoid issues with confidentiality, attorneys have their own rooms with their own security, their own surveillance, and they're working solely on that client's matter.

In the end, Leslie had some excellent tips to share with young entrepreneurs aspiring to run a successful business like her's someday.
"You need a documented employee outreach plan, so that in a time of a disaster, in inclement weather, you need to be able to reach them. Set up hotlines like we used to do in elementary school. So that way, in a short period of time, you're able to reach everyone.

Put your backup servers in a safe location -- in the middle of nowhere. When our document reviewers are working, they're basically remoting into someone else's system where the data's being held. If disaster comes to our location, the data is safe in a landlocked location.

Always keep a physical copy of your documents. I'm a paper person. I love technology, but I'm probably a dying breed that actually has things in folders and likes to label them. Because when things shut down, you either lose your data or you can't access your data. Remember the power outage down here? At least we can go to the office, and we have our essential documents in folders -- we're not losing our knowledge base.

Most importantly, treat your people well. When Sandy hit, we were here, and my employees were fabulous. The ferry service had stopped to Staten Island. People came [to my home to work]; they took taxis. I didn't even ask them to, everyone made it in. So when we vet people, it's important to know what their capacity is. What their plan is if there's a disaster."
When Sandy hit New York, no one could have anticipated how much it would disrupt businesses. Fortunately for Tower Legal Solutions, they had systems in place that enabled them to be nimble, maintain business continuity and help all of their clients keep their businesses running. Because of Leslie's foresight and her company's plan, they were not only able to ensure communication with staff and clients, but also able to roll some services to other cities that were not impacted.
In other words, all of Leslie's employees were motivated to step up. Perhaps most importantly, they were able to provide ample physical space so some of their biggest legal clients could keep their cases going. And that brought them a lot of good will in the community -- and is one the reasons why this is one of the fastest growing woman-owned companies in the nation!
CORRECTION: A previous version of this post incorrectly suggested that Tower Legal Solutions risked going out of business by missing a deadline. The post has been updated to clarify that the company was not at risk of going out of business.
CORRECTION: A previous version of this post incorrectly stated that Tower Legal Solutions will soon open an office in Houston. The new office will be opening in Dallas, Texas. The post has been updated to correct this.