Being inspired and committed to an entrepreneurial dream are two key attributes of every successful business owner, and there was no place this was more evident than at the NFTE Dare to Dream Gala April 18th.
It was on this night that 33 young entrepreneurs from 10 different countries were recognized by NFTE as this year's "Global Young Entrepreneurs of the Year." With businesses ranging from fire-resistant vests for chefs to the business of tea culture and products, each business was more intriguing than the next and behind them all were the conceptions, dreams, and hard work of those who pursued their entrepreneurial goal.
What motivates these young people to keeping believing in and being inspired by an entrepreneurial dream? Many NFTE kids make their first entrée into the business world through us, thus we have very big shoes to fill in helping them keep their dreams alive. We like to continually provide them with resources that will guide them towards the next milestone that develops their business. In part two of this article, we'll be discussing some of these resources, including our newest, most exciting effort to date: www.MakeYourJob.org, which will be released in mid-May and will be accessible to all kids around the world and across socioeconomic lines.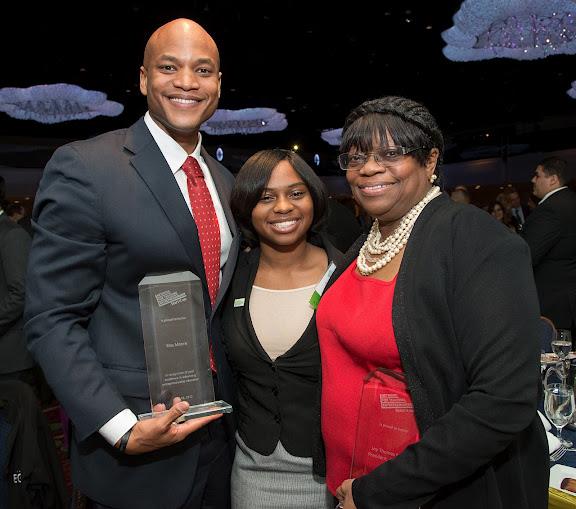 Wes Moore (l) and his mother Joy (r) congratulate NFTE Global Young Entrepreneur of the Year Stephanie Foxworth on her business, Elaborate Dips
But what we'd like to first discuss -- and pay tribute to -- are the many meaningful ways NFTE kids have access to one-on-one support through our teachers and our supporters. Who can possibly build a successful business without knowing there are people behind them who believe in their effort?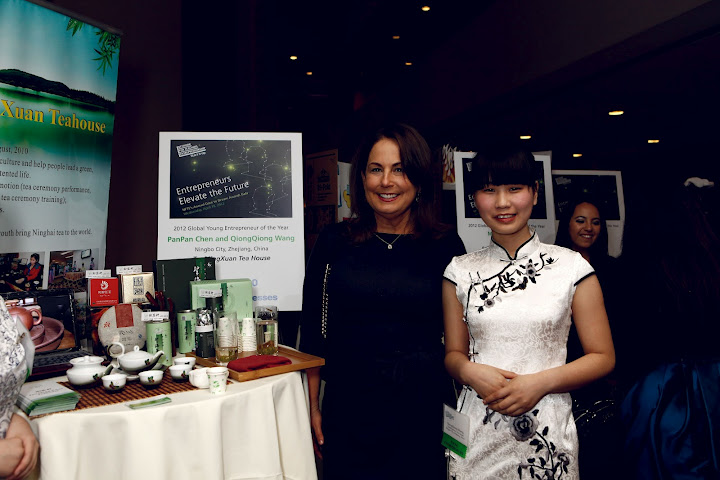 NFTE President and CEO Amy Rosen (l) congratulates NFTE Global Young Entrepreneur of the Year Qiong Qiong Wang on her business, the Tao Mingxuan Teahouse.
At NFTE, we stand on the shoulders of giants -- our foundation's supporters -- who not only provide us with the funds to help kids, but are there to nurture them and share in the joy of their development as students and entrepreneurs. Imagine being handed a college scholarship from Ernst & Young directly from the firm's own president and CEO Jim Turley. NFTE student and Global Young Entrepreneur of the Year Stephanie Foxworth didn't have to imagine that scene, as she was presented her award from him at our Gala and personally congratulated by our own NFTE President and CEO, Amy Rosen, who acts as mentor to all GYEY if they want it. Or how about a young entrepreneur being personally congratulated by Goldman Sachs' Tucker York, Global Head, Private Wealth Management and NFTE Board member. Mr. York welcomed each of our entrepreneurs at the Gala and lauded their business and academic achievements. Daymond John, star of ABC's Shark Tank, personally recognized the work of Andres Cardona, NFTE Global Young Entrepreneur of the Year from South Florida during the Gala, and inspired the crowd with his story. MasterCard's Ron Garrow, Group Executive, Global Head, Human Resources announced each NFTE teacher and personally thanked them for their innovation and dedication to NFTE students.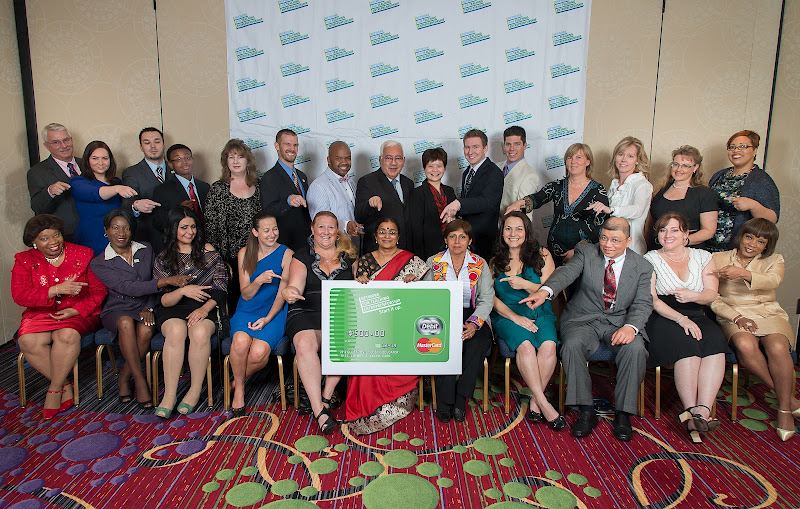 NFTE teachers receive recognition during the NFTE Gala from MasterCard International.
Our NFTE teachers are equally inspiring to their kids, and do much of their teaching through their actions as well as classroom instructions. Our teachers act as sounding boards for their students, and are their constant mentors and cheerleaders. Teachers across the country have realized that using entrepreneurship education to motivate their students is a wonderful way to link classroom work to the creation of practical business models and real-life opportunities. And as kids get more involved in the classroom, their relationships with their teachers improve. This means more students stay in school, complete their studies and go on to post-secondary education, and quite possibly a life of entrepreneurship.
Next up: Tools for the Young Entrepreneur