Dagim was the first place winner in the DC Regional High School Business Plan Competition in May; and won a $5,000 scholarship award in the National Youth Entrepreneurship Competition in New York in October. He also took runner-up accolades in the National Elevator Pitch Competition, which netted another $500. His startup company, TheAudible.net, is a website designed to encourage high school sports fans to exchange and engage with one another, essentially turning the readers, viewers and users into participating sports journalists.
Dagim with his parents, Mikre Sirak and Girma Efa, and one of his many mentors, Cal Simmons of Simmons Travel
His message is one of empowerment and self-advocacy for young people. His vision is to create a way for his generation to be sports journalists. He is a proud graduate of NFTE's DC program which has over 25,000 graduates since being founded in 1991. Under the leadership of Tricia Granata and board chairman John Hasenberg the region has produced many of NFTE top graduates.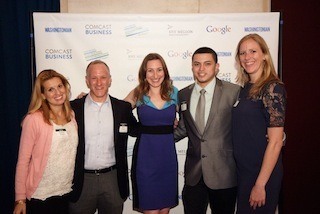 The DC team
Steve Mariotti: Dagim, tell us about your background, where were you born and raised?
Dagim: I was born and raised in Alexandria, Virginia in a close-knit family. I grew up with my older brother and parents. In our household, we learned the importance of education and success. My parents came to the United States in 1996 with my, then, 3 year old brother. My brother and I wanted to make our parents proud through our grades and careers. We both saw our success in business, making our own money.
SM: How did you get your business idea?
Dagim: My business idea came from, both, my love of sports and a competition with my brother, Abel. My brother and I have a friendly competition regarding business. We have created over 10 businesses over our years, 5 of them being websites. From my desire to create another business, I was interested in creating a sports blog, where my friends and I could write our opinions and share them with our peers. Through further evaluation, I came up with the idea of a sports social network designed for and managed by young sports fans.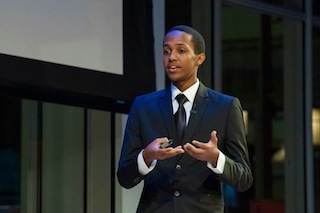 Dagim presenting his business plan at the National Youth Entrepreneurship Challenge in Times Center
SM: What is the business model for your business?
Dagim: Our business model revolves around advertisements. The Audible displays ads from large advertising networks (i.e Google AdSense). Revenue is determined by views and clicks of the ads. Additionally, we work with large companies and organizations to provide opportunities to sponsor sections of the site. In the future, we plan to package our content into volumes for sale.
SM: What are your long term goals?
Dagim: My long term goals include furthering my education. I plan to attend a four-year University in fall of 2014. I believe that education is essential to success in any realm. As for business goals, I hope The Audible continues to grow. In the future, I wish to become the Founder/CEO of a Fortune 500 company in the industries of personal electronics or online media. Finally, philanthropy is my passion. I want to use my success to build organizations that promote education and health around the world.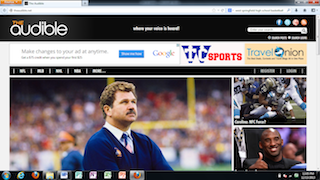 The Audible, a social media platform targeted at young sports fans
SM: What was the most important thing you learned in NFTE?
Dagim: One of the most important things that I learned in NFTE is that, "Success can come at any age". I realized that teens could be entrepreneurs and did not need to wait till they're older. Another piece of advice that I will cherish from NFTE is to keep in contact with everyone you meet. NFTE taught me the importance of networking. Relationships in business can last forever.
SM: What motivates you as a young entrepreneur?
Dagim: Some of the many things that motivate me as a young entrepreneur are the idea of success and the ability to revolutionize the world. I am attracted to the idea of owning and operating a brand that is recognized around the world. Success allows one to revolutionize the world in that industry and culturally. Business is a powerful tool that has always been a part of me.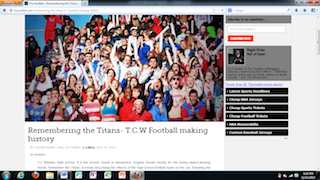 The Audible, a social media platform targeted at young sports fans