PART IV: Young Entrepreneurs Emerge from South Carolina, Texas, Florida, Georgia
As we get closer to the big day, I know students are diligently practicing their elevator pitches and perfecting their presentation boards. On October 3, at The Times Center in New York City, 39 students representing 35 businesses from around the country will contend for top honors and for the chance to win over $25,000 in cash and prizes from Mastercard to help bring their business ideas to life or advance their education. The evening will also feature an appearance by all-star entrepreneur Sean "Diddy" Combs.
Students will gather from all corners of the country for the competition and the southeastern region will be represented by student entrepreneurs dealing in everything from web design to fashion to software. Read on to learn what these students have created and their postsecondary plans and aspirations.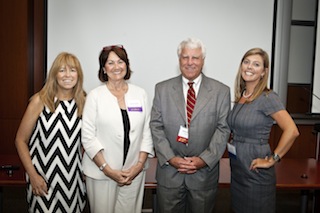 The YES Carolina Team: Kathy Elsner, Law Offices of Kathleen Keener Elsner, Board Member. Carolyn James, Motley Rice LLC, Board Member & 2013 Business Plan Competition Judge. Jimmy Bailey, Founder & Executive Director of YEScarolina. Harriett Lee, Development Director of YEScarolina.

Trusol Art aims to provide hand drawn, customized art portraits to her customers, primarily the many tourists that visit Charleston. After a personal hardship, Aquila, 16 (Charleston, SC) began making portraits to express her feelings and make memories come to life, and with that her business was born! She decided to make the business mobile so people can have portraits at their favorite place to hang out in Charleston. She hopes to finish her associate's degree in business by high school graduation, and she is looking to continue her education at Yale, Princeton, or Harvard University. She expects to eventually obtain a Ph.D. and run a global business.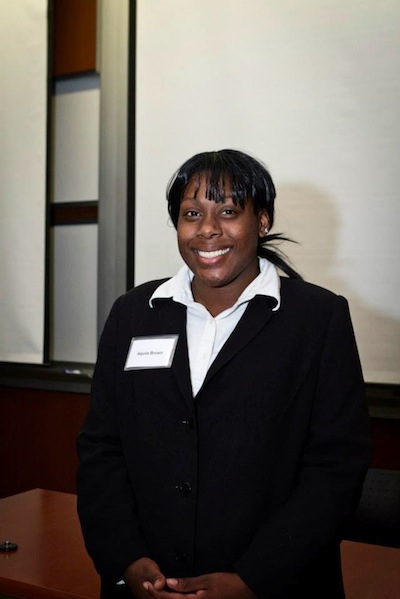 Aquila, owner of Trusol Art.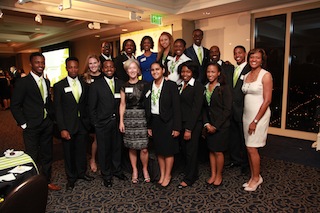 The YEGeorgia Team with Mrs. Koch and Annie Koch, and alumni.
Cakesby14 is a specialty, artistic cake and pastry design business that manufactures desserts for customers interested in customized delicacies. In addition to her unique and creative specialty cakes, Jushawn, 18 (Atlanta, GA) plans to develop and launch a non-profit business called Sweet Dreams. "Through a process called 'Hitting the Streets,' we will go out on the streets and find homeless individuals with an interest in baking and offer them shelter. In exchange for a place to lay their heads, they will work in the Cakesby14 bakery and earn income that will help them get their lives back on track." Jushawn plans to attend Johnson and Wales University, majoring in Pastry Arts and minoring in Physiology.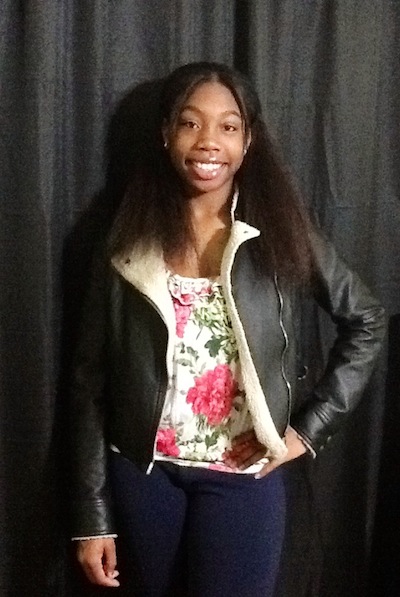 Jushawn, owner of Cakesby14.
Crazy 4 Bows Bowtique creates bows decorated with a logo-imprinted bottle cap allowing the wearer to show her pride for a sports team, dance troupe, club or other organization. Giselle, 15 (Miami, FL) also plans to give back to the community by donating time to doing arts and crafts with children of the community and donating money to the Susan G. Komen Foundation during the month of October. Giselle plans to attend college and since taking the NFTE course, she now plans to major in Business.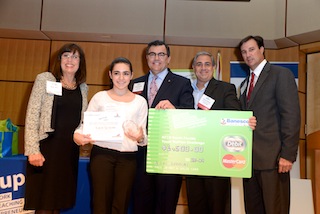 Giselle, the owner of Crazy 4 Bows Bowtique, and the Florida Team.
Juan, 17 (Irving, TX) moved to the United States from El Salvador two years ago, barely speaking a word of English. He quickly caught up and, with Amena, 16, created JJ New World, a company that creates software programs specializing in online games. The premier game, "Better Than History" takes the "what ifs" of actual historical events and creates alternative endings. Juan was motivated by the desire to help disadvantaged people of his country with the proceeds. Amena has always been captivated by the small things that could have changed the course of the world, this is what inspired her.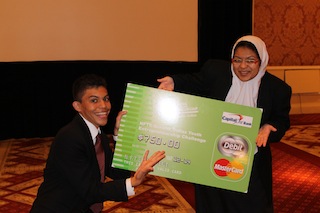 Juan and Amena, the owners of JJ New World

Evan, 16 (Johns Island, SC) has created a unique business for website and graphic design in the Charleston, SC area. Bullseye Web Designs offers competitive pricing and the ability to build a fully functional demo website for a client in just one week. Evan was inspired by his entrepreneurship class and his father, who developed his interest in business magazines and books early on in life. He wants to bring entrepreneurship to developing countries, so he intends to donate five percent of all profits to the Global Business School Network. His website is up and running with more success than he expected! Thanks to NFTE and YEScarolina, he would like to attend college and study Entrepreneurship or Computer Science so he can start a technology software business.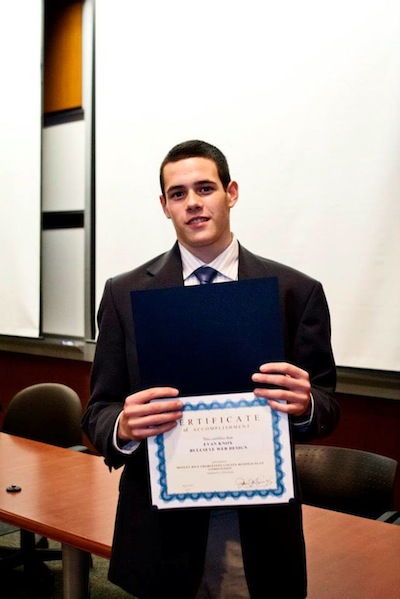 Evan, owner of Bullseye Web Designs.
Valeria, 15 (Dallas, TX) realized that it can be very unsafe for students not to wear their student ID badges at school because it can allow dangerous people to easily be present on campus without notice. One day she made a gorgeous decorated lanyard and badge, and Bedazzled Badges began. In the future, Valeria plans to become a nurse and would like to continue to sell her badges at hospitals and other entities to make all workplaces safer.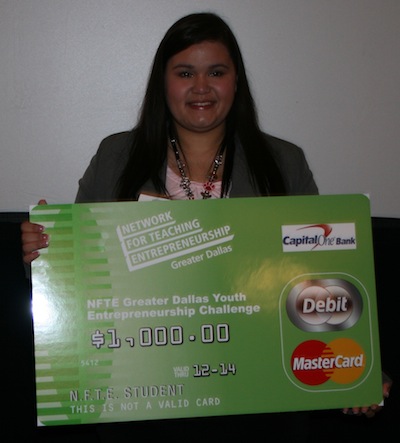 Valeria, owner of Bedazzled Badges.
BolaFilms is a video production company that specializes in making high quality videos at a low budget, making it a powerful marketing tool available to small businesses. Akinbola, 20 (Atlanta, GA) says his favorite part of being an entrepreneur is the fact that he can control his own destiny. He says that entrepreneurs are leaders and in order to be a leader you have to know who you are and have confidence so being an entrepreneur forces you to raise the standards of your life in all areas. Akinbola is currently studying film at Howard University.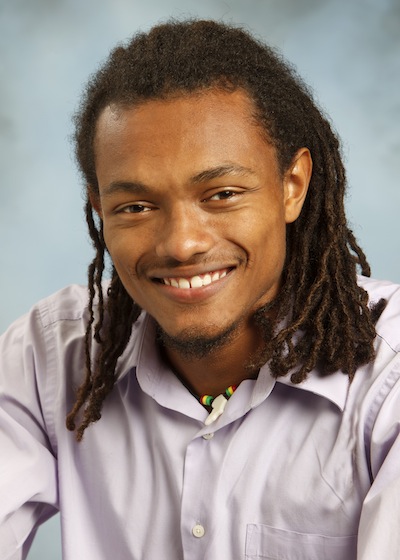 Akinbola, owner of BolaFilms