A close look at the lives of two pushcart owners -- the bitter competition, the passion for their craft, and their relentless will to succeed.
Andrey Babaev and fellow co founder, Aryat Muleev, own Crepes and Waffles, a waffle and crepe specialty pushcart that brings accessible, delicious French cuisine to the streets of New York City. Around Columbus Circle at 59th Street, you can find these two broad shouldered-Russian immigrants inside of their vendor's truck, pouring secret mixes onto a flatiron or waffle press, and finely crafting your meal with traditional wooden tools. Always smiling and engaging with customers, it is hard to believe these men face a constant and frequently dangerous battle: competing with other food vendors.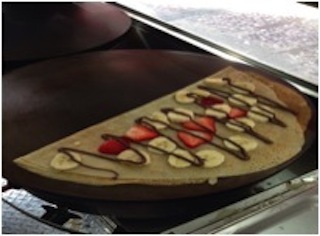 "We tried a bunch of times, like in the Rockefeller Center and Times Square. But it's a community of [older street vendors] and they do not let us stay there. They know the very good corners."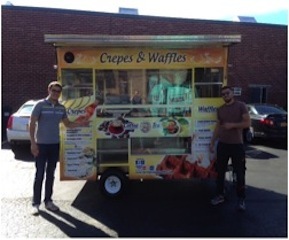 After creating our lunch, two crepes covered in chocolate and strawberries, Andrey shared the experience of life on the other side of the counter. He told me about migrating to America, "Because of 'The Dream.' The American Dream," and the challenges he faced, arriving without a word of English.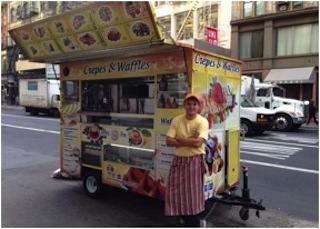 We talked about his meager beginnings as a pedicab driver. Mr. Babaev described having nothing: how pedicabs funded his first year in New York, and how he created a network that became the foundation for a future in entrepreneurship. He told me about beginning as a renter of one cart, and eventually making enough to buy and then rent out four.
"My first time in New York, I was walking in Central Park and I met people who spoke Russian. They said they used to work in the pedicab. And they said it's a good job; you work on your own. There's no boss, there's no owner. You're the owner."
From here, Andrey said he connected with Aryat, who was also a pedicab driver, and they decided to take the next step, apparently as many other pedicab drivers do, into street vending.
"We're cooking on the table and people see how we cook. We don't [pre-make] -- they see what we do and they know it is fresh. They see what they're going to eat. That's quality."
Andrey described the day-to-day, beginning work at 5 a.m. on weekdays; and on Thursday, Friday, Saturday, and Sunday, they are there until 4 a.m. He told me about the lines of eager customers that frequently run down the street. And then I learned of the less tasteful side of street food.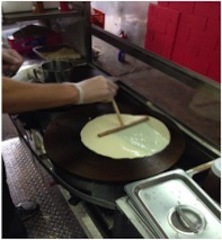 He told me about a longtime rivalry amongst all of the pushcart vendors, and how certain ones maintain their control of the boroughs. There is an unwritten rule that permits only the oldest street food companies to sell on the most trafficked, or best streets. If any new vendors break these rules, as Andrey and Aryat unwittingly did in their first months of business, they face the wrath of the entire community.
"You see this corner?" Andrey pointed across the street as we sat and ate, "It's only [a Halal vendor] who have been there for 20 years. If we try to stay there, he will come with his family and do something to us. It's everywhere we try to stand. All the good spots."
"It was the beginning of November, and we had found a very good spot. It was available, nobody stayed there, and we came with our pushcart. We put our pushcart on the sidewalk but... [older vendors] came and said, 'You have to leave this place because this is our space.' We said, 'We found available spots over here.' They said, 'No, leave it, If you don't leave it, you're going to have problems.' Then they came with about 20 people, and we had to leave.
The men have literally been driven off of sidewalks by the families of their competition. This forces them to locate less trafficked, but much safer areas.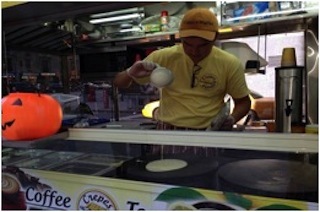 Right now, they stick to Manhattan, mainly Columbus Circle, where they rent sidewalk space per day by a third party landowner. And after many years of struggle, they are finally making it.
"Many people think they're going to stay here and make a lot of money, but for some people, it's [too] hard. America, it's only for the strong... You know, we had a lot of friends who came here and then left. We do not leave."
From landing in America without a word of English, to driving pedicabs through harsh NYC seasons, to becoming entrepreneurs and opening Waffles and Crepes, and fiercely competing with other street food vendors, these men have truly proven what it means to live -- and survive -- the American Dream. I asked them what they learned despite all of these challenges, and what five tips they could share with would-be entrepreneurs:
"1) Never give up. Every time you fail, define it as a learning experience, and regroup and start again

2) Do the research on your business. Crepes and Waffles spent the first several months learning the business and getting the sign right.

3) Focus on a self-seller. Andrey and Aryat's special recipes melt in a person's mouth -- they organically attract people.

4) Learn your costs. The founders know all of their costs, including both food supply and labor.

5) Get the location right. They have acquired one of the best, safest locations for a pushcart in Manhattan."
In the future, Andrey and Aryat dream of starting their own franchise of Waffles and Crepes pushcarts. "With the pushcarts, we are trying to recreate the city -- to give more food, to give different food, to make everything great. I mean -- it makes the city much better. Clean and beautiful."
I am forever cheering for Andrey and Aryat. They both have a passion not only for small business, but also for creating an experience -- showing New Yorkers what it is like to eat a delicious European meal, just as they would overseas. As they have demonstrated through entrepreneurship and ownership, anyone has the potential to become a business owner, and to succeed as an independent person in America!
Special thanks to Maya Horgan for helping research and edit this story.