Part Two: Quality is in the eyes of the consumer.

JD Power's name is synonymous with automobile quality here in the US. But what you might be surprised to learn is that this man -- and his company -- have almost single-handedly revolutionized the way Americans think about cars and decide to purchase new ones. At a time when the American automobile industry is changing yet again, JD, or Dave as he is known, shares his knowledge of market research and the wisdom years of measuring the market has taught him.
This is Part Two of the interview published Friday, here.
SM: When did market research start having a place in the automobile industry?
JDP: Actually, GM had a Customer Research division. They asked about a half dozen questions--this was in the '30s and '40s, but sort of died during WWII.
At Wharton, my professor taught a class in marketing research but it was still a relatively new social science that was developing in order to help sales and marketing areas perform better. I think that as the area of marketing developed especially in the early to mid 1960s, the need for consumer information became more apparent.
SM: What have you learned in your career about measurement?
JDP: It was Dick Johnston at Marplan, the marketing research division of McCann-Erickson where I worked after Ford, who helped me formulate this thinking: when you do a marketing research survey, you have to work diligently; upfront, you have to define what you want to measure and be disciplined about defining objectives.
At that time and even today, people have the tendency to run out and conduct a research study; but few want to invest in the hard work up front:
defining what we were measuring,
how we were going to measure it, and
what we were going to do with the results.
Defining what it is that you want to get out of the study--the objectives--is difficult, but it is 80% of the success of the study.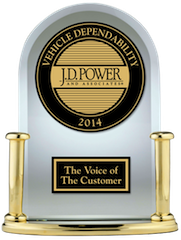 (Source)
SM: How do you measure what you want to get out of a marketing research study?
JDP: First, we know that we want to improve advertising. But, how do we improve the advertising--television, print ads, newspapers or magazines? So we've got to define all of that as well.
The Market Research directors at the various automotive companies--they report to none other than the Sales and Marketing people. At the same time, they are responsible for doing the research. They tend to do it the way they think they want.
SM: I see, so there is an inherent bias to how and what they measure about their own products. How do you define quality? How might this differ from in-house market researchers?
JDP: I define quality by what the customer says it is. I leave it up to them to say what's right and what's wrong as far as quality. And, as technology changes, and as consumers change, we need to update and make sure that we are capturing the most current perspectives.
What we've found is that one particular company may shy away from an issue if they know it is a weakness or vulnerability. For instance, there were some companies who did not cover issues of rust or electrical problems in their internal surveys because they had a long history of weakness in these areas (why bother asking more questions about an area you know you are chronically weak in, etc.). As a result top management then gets survey results that sort of knock the rough edges off the data, and they may not really understand the severity of the issue versus their competition.
J.D. Power and Associates comes along and started looking at these issues independently and objectively--and across the whole industry. We designed it to be from the customer's perspective, not an engineers view. Then we started to show, for instance, this company has really poor performance on rusting body panels. The senior executives knew that they had rust issues, but they felt it was relatively common and no worse than others. Well, it wasn't! Their internal data had an inherent bias that misled their efforts.

(Source)
SM: How did you first get into Market Research?
JDP: I was always interested in market research since graduate school. I really wanted to get more into it and marketing as career. After a year or so in my first position at Ford, in the finance division at Ford Tractor, I felt limited in my options. I happened to meet someone at a Junior Chamber of Commerce event who worked for a company called Marplan, which was a division of the global advertising company, McCann Erickson. Their major clients in Detroit were Buick, GMC and GM corporate. He told me about the opportunity and it ended up being where I learned the practical side of marketing research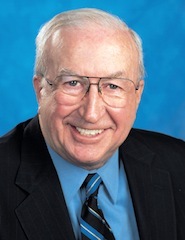 (Source)
SM: How did JD Power and Associates revolutionize quality measurement?
JDP: When we started doing the customer satisfaction survey in the early 1980s, it was designed to try and get a more complete picture of what a customer experienced in the first year of ownership. How did the vehicle perform, what was the service experience like at the dealership, were there warranty problems, etc. What we were doing is measuring the customer's perceptions and how those expectations were met, exceeded or not. This was the Customer Satisfaction Index (CSI) study and we covered all the mainstream and luxury brands.
In the late 1980s we received requests to obtain more information about the initial quality of the vehicle, as well as the sales experience at the dealership. Using a similar method, we surveyed the entire industry and provided rankings by model, make and corporation so that the different companies would know how they compared.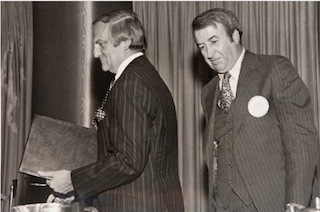 (Source)
SM: Can you tell us about a time in your life where you honed your adaptation skills and overcame contextual obstacles?
JDP: I'm left handed, and I have a processing problem that was unbelievably difficult in school. I flunked penmanship and music. I didn't take notes--I couldn't write down fast enough what the teacher was saying because I was just trying to process what was being lectured. I just listened. And that's something I had a lot of challenges on. I was a C+ student.
That is something that my grandchildren deal with too, and during a visit to one grandson's school, a teacher asked the grandparents to stand and tell what they did as a living. I learned something very interesting: about 25% of us had processing problems and had to do things differently in order to succeed in business. The director of the school said that that is a trait--a lot of your entrepreneurs are ones who couldn't fit into society, but learned how to get around it.
SM: What are your thoughts on the future of the automobile industry?
JDP: Quality is improving at tremendous rates and the differentiation between vehicles is diminishing. It also is becoming more difficult to make the designs and features different. Consumers have many more good choices. This is going to put strain on the existing dealer distribution system. And, the Internet has changed how consumers shop and get information about their vehicles. Some say it will be like buying appliances on Amazon, refrigerators shipped to your home. I believe that's the direction cars are going in. . . they're pretty close to it now.
It's going on in many other areas of our society where the middleman's role is being eliminated. Technology is making it easer and more efficient to do things and with that comes disruptions to our work force. The nature of jobs is changing. It's going to be tough on us; but society has to change and adapt. Schools have to understand this and to create education that helps people be more flexible to where they go to work.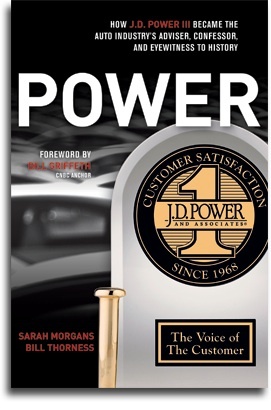 (Source)
Today, Dave is completely retired from J.D. Power and Associates and no longer has any role with the firm. He still is active in the auto industry however by serving on the boards of several companies within the industry. He recently published a new book "POWER: How J.D. Power III Became the Auto Industry's Adviser, Confessor, and Eyewitness to History." You can learn more about Dave's story here: PBS's Tavis Smiley Show, Fox Business Network, Business News Network, and Wall Street Journal.
And be sure to pick up the book to learn just how he grew his career while growing the field of market research--within the tumultuous automobile industry--I can't wait to read it and share it with my new friends in Princeton!.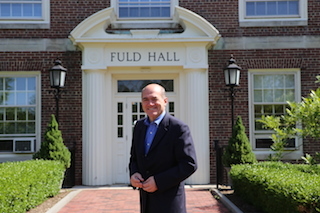 Special thanks to Lauren Bailey for assistance with this article.