There are several challenges to starting up a small business. Finances are tight. Customers do not know you, or your product that well. You compete against the big guys.
Kathleen Maguire Morolda knows all of those roadblocks well since she started her art gallery over 30 years ago. She has won several awards for her entrepreneurial successes: the 2007 Mercer County Business Woman of the Year, the 2007 State of New Jersey Business Woman of the Year, and she was the 2010 YWCA Princeton Tribute to Women Honoree.
Kathleen is the woman behind the "longest single-owned independent store" on the Palmer Square in Princeton--a haven to small businesses, as readers of this column will know. Over the course of her entrepreneurial career she has managed to expand to two sites--in Cranbury Station and right here in Palmer Square, Princeton--while she has also raised four children. I talked with Kathleen about what it takes to start a business, expand in the art gallery field, and hold steadfast as an independent store owner.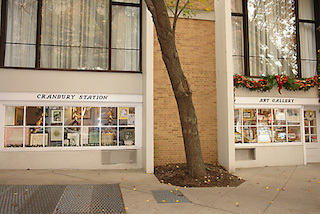 Kathleen's store is the longest running independently held one on Palmer Square
Steve Mariotti: You've been running art galleries in the area for over 30 years. What is the number one reason for such long-standing success?
Kathleen Maguire Morolda: Of course, I believe that determination, hard work, and creative thinking are a major part of any business's success--along with turning out an excellent product with honesty and integrity. But I have always tried to surround myself with good people, and a supportive family. My employees stay with me for a long time: two of the women have been with me for over 20 years. I rely on their talents and support--they make me look good.
I also believe having a good landlord, and a good location are important. Palmer Square is a great place to have a business. Their belief and support of my small business has always been strong and helpful.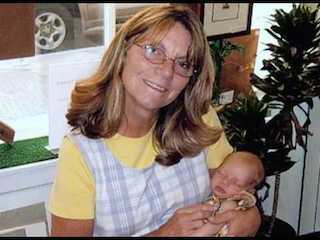 SM: What inspired you to go out on your own and become an entrepreneur?
KMM: I always wanted to start my own business. I also always loved to create art. When I opened up my first gallery I already had three children, and I wanted to do something that would allow me to spend time with them. My husband, Nick, and I renovated an old blacksmith shop on our property out at Cranbury Station.
I was also impressed with several professional picture framers I had known, and thought this might be a trade I could learn and eventually, open up my own shop. I took many framing courses and became a member of the Professional Picture Framers Association. I discovered how much I loved this part of the art world, and I was good at it. So, we finished the renovation and I opened up my business. Two years later, I had my fourth child and I hired my first manager for the gallery.
SM: How important is providing great customer service to your work?
KMM: There are many talented picture framers and artists out there. I happen to believe I am one of them, but that is not enough. You have to be willing to bend over backwards for your customers. My job is always to make my customers look good. That is number one. If they are selecting something wonderful for their home or office, as a gift, or for a client of their own, I have to give them the opportunity to be the star.
The end result of a good custom framing job is that the person who I am working with can feel pride, and they become a part of the design team. We have a talented staff of people who can guide them with suggestions, but they have to know we will do anything necessary to make them look good. Sometimes that may mean doing a custom framing rush job within a few hours, delivering to their home or office, and hanging it for them.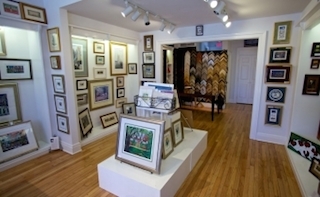 Cranbury Station Gallery's interior (source)
SM: Is networking part of your business' success?
KMM: Absolutely. I have found that the best way to network is to get to know your community. I volunteer to serve with groups that contribute to the community. People do business with people they know and trust. It takes time. You can't always expect a networking event to bring you business. I have found that when I take responsibility within a group, people know I am a person who can be depended on. I was President of the Br. Merchants of Princeton, and President of the Cranbury Business Association for several years.
SM: What obstacles have you overcome as a small business owner.
KMM: Twenty years ago, I might have said being a woman in a predominantly male-oriented business world. It was more difficult back then, but it never bothered me. I always seemed to have the confidence to make presentations to corporate executives and deal with it.
But that has gotten much better--thank goodness! I would say now that the biggest obstacle is competing with cheaper products via big-box stores, imported, inexpensive prints and frames, and of course, internet shopping. Shopping online keeps people from supporting the smaller, local businesses. I have been fortunate because there are still enough people in this area that appreciate art work from local artists, and a quality custom framing job. But if people shop online for everything--and don't make it into the Square to shop--then they may not even know that many of us still do exist out here!