Where I live is very important to me. So, making the move from the country's biggest city and a worldwide center of commerce, to a town of no more than 20,000 permanent residents, wasn't easy. Despite the excitement of making it back, I had to deal with the pain and sentiment associated with leaving my home in New York City.
But, at the age of 60, I knew it was time to make a major change in my life, and that moving to a more stimulating environment with a slower pace would be essential to my own success. While my friends and family urged me to stay, Princeton offered me a place to reinvent.
I spent 35 years in New York City and 32 years in Greenwich Village. For the last 20, I have lived on perhaps the greatest block in New York. Many brilliant actors, whom I respect and admire, live near me on West 12th Street and I was always delighted to run into them at the wonderful cafes and bookstores in the neighborhood. A morning walk could result in a conversation with Tom Cruise or Uma Thurman!
Yet, my heart was always drawn to Princeton.
This quaint New Jersey town is home to--without question--the top undergraduate school in America. In fact, Princeton University enables all its students to graduate debt-free! Once you're in, the University will support and encourage you until the day you die. Just standing among the historic buildings littered throughout the campus and the town, you can't help but felt the strength and intelligence radiating from this community.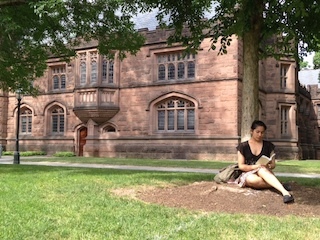 A prospective Princeton student, Sehar Hillal on campus (Credit: Ricardo Andres Kuettel)
I was first invited to Princeton University as a young economics enthusiast in 1977. I had been selected, as a top student of theoretical economics, to present my paper on methodology alongside some famous economists that I admired greatly, namely Ludwig Glotson, Fritz Machlup, and Israel Kirzner. In some confusion, the organizers had mistaken me for a professor even though I was barely into my first year in graduate school. Kind and loving as the Princeton community is, they laughed it off and let me get on with my paper.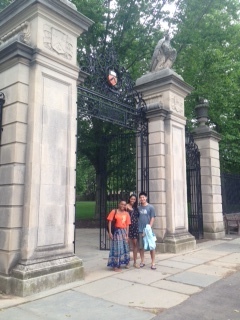 Princeton's gates
I had written about uniting the methods from the Individualist school and the Positivists. I was eager to cause a stir in the academic world of economics, so I tried to publish this and another paper; and these were accepted into Public Choice. Nonetheless, I soon realized that I was wrong: it was Israel Kirzner who kindly destroyed my paper's central argument.
We all realized that day that I was way out of my league.
As I walked out of Princeton's storied gates to Palmer Square to lick my wounds, I vowed someday to return to this place. Thirty-eight years later, I find myself in this town. Here are my top eight reasons for making the big move from New York City to beautiful Princeton.
1. The University draws thinkers and innovators from every corner with its inspiring mission to education the world's top students, without debt obligations weighing them down upon graduation. This in and of itself is a powerful indicator of the intelligence and kindness that radiates here.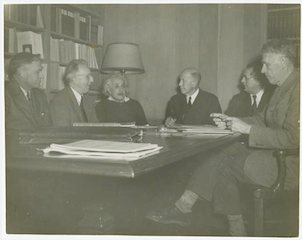 Einstein with Institute for Advanced Study founder Abraham Flexner and other important thinkers (source)
2. The town is beautiful and charming; and the people are warm, kind and generous. I already feel at home. It's a storied place where Einstein sought solace in 1933 from the Nazis and spent the next 22 years of his life. People I meet on the streets, in line at the bookstore, at the frozen yogurt shop, are widely read and eager to talk about important topics.
One of the most moving places in Princeton is the Einstein memorial bust that sits on the Green at Town Hall and says simply: Kindness; Beauty; Truth. There is a tiny hole through his head, almost impossible to notice, which allows the quanta of light to pass through his sculpture. Surrounding the bust are two statues of subtle genius that are equal to many of the Classical ones I have seen in Italy and Greece. Like the town itself, they exude a timeless elegance and commitment to pursuing knowledge.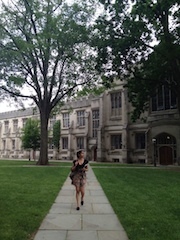 A prospective Princeton student, Sehar Hillal on campus (Credit: Ricardo Andres Kuettel)
3. Princetonians are civic-minded, and support countless philanthropic programs aimed at leveling the area's socio-economic disparities. After all, Princeton was the site of a key battle in the American Revolution--the victorious Battle of Princeton in 1777--and Princetonians honor this legacy with great patriotism and a strong sense of civic responsibility.
And, these civic-minded Princetonians have fought for liberty at least three times in our country's history. First, during the American Revolution; later, via Princetonian and former president of the university, President Woodrow Wilson, in the first World War. Lastly; and perhaps most significantly, the Princeton home to the Institute for Advanced Study provides solace and space for the great innovators, so often shunned from society for their forward-thinking work. When Einstein and Oppenheimer worked their in the 1930s and 1940s, their work provided invaluable contribution towards the allied victory over the Nazis.
4. The African-American community here is vibrant and so historically significant to Princeton's very founding. This community originated with the slaves who accompanied Princeton students and lived in the University's slave quarters. What is now one of the wealthiest parts of the town, Palmer Square, was originally the center of black enterprise. In another article, I will profile this incredible story.
5. Princeton is home to a top bookstore, Labyrinth Books--to be profiled in a forthcoming article. It is a place to lose oneself in great books and the love of ideas, and pays homage to the rich intellectual history of this town.
Browsing the stacks of Labyrinth with a Princeton alum
6. The athletics at this school are outstanding. Bill Bradley, the former US Senator, was captain of the Princeton Basketball team, which won the US National Championships in 1965. Just ten years ago, the Princeton men's team advanced to the Sweet Sixteen--competing against schools that are 40-50 times its size and who grant athletic scholarships, something Princeton does not do.
7. The local business community is dynamic, vibrant and welcoming. I have learned so much from the local taxi drivers, many of whom come from Haiti, about their history. After years of traveling the world, it is safe to say that the Nassau Inn is my favorite place to stay. This welcoming hotel lodged me until I was able to find a home just 50 yards from it.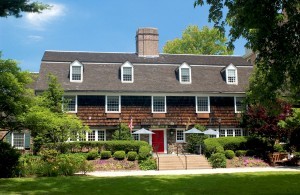 Princeton's very best lodging, the Nassau Inn (source)
From the dynamic young Korean American, who has two magnificent stores right on Nassau street, called Niko Niko and Morning Glory and to the owners of my favorite bookstore in the whole world Labyrinth this world class community of entrepreneurs helps to make Princeton the most energizing and fun place I have ever been to. That is why I want to live here for the rest of my life.
8. The opportunity to mix with and learn from Princeton students has inspired me to take a new direction in my own career. After 30 years of focusing of entrepreneurship education, I am excited to develop new intellectual and business pursuits and draw new wealth to this incredible place.
Princeton has already become a wonderful home for me, and has helped me grow intellectually and in other ways, as well. May you also find the wealth that I have discovered here.
Special thanks to Lauren Bailey for her assistance on this article.