I met with many successful business people during my time in Cambodia, and was exposed to a future of entrepreneurship I had not before known -- women have played and will continue to play a major role in rebuilding the economy through ownership. On one occasion, I had the chance to meet with many of the women pioneering this change in Cambodia -- at lunch with the Cambodian Women Entrepreneurs Association, or CWE, and a meeting with Navy Heng, a market-pioneering businesswoman.
I learned the stories of these women, all vibrant, beautiful young leaders, and was humbled by their successes. Each one was poised and clearly articulated their business.
Part I: Cambodian Women Entrepreneurs Association -- The Talent Within
The mission of the CWE, which has about 150 female entrepreneurs in its membership, is to help women build their own companies, and they have been tremendously successful. CWE was founded by Mrs. Pok Nanda and the Managing Director of Sentosa Silk, Seng Takaknery.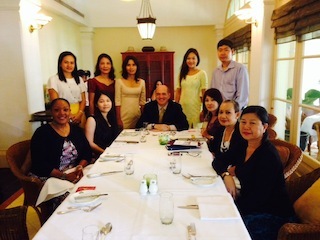 Deidre Lee and I at lunch with the CWE.
Mrs. Nanda's other pursuits include political coaching -- she trains young women to run for office. Thirty years ago, there were no women in local government; now there are eight. In the national parliament, women account for 18 percent of the membership and they were all trained by her organization, Women for Prosperity.
Aside from the founders, Lim Popna told me about her travel and tourism business, and about one of the member's husbands, whose company provided networks and support for startups all over the country. Lee Banny also presented her company, a profitable jewelry shop in the Russian Market. Chenda Clias, a friend I had made earlier that week, described what its like to own four hotels. The managing director of the Nokorthom Agriculture Development Company told us about her clientele of over 100 wholesalers around the country. Next to her sat a professional recruiter for Abbey College in London. Dalin Noun had spent five years in California, five years London, and five in Malaysia, recruiting top talent for the school. To my right was Sor Thida, the owner of Navyriya, a pharmacy and beauty store. She is currently developing a plan to construct additional pharmacies in Cambodia.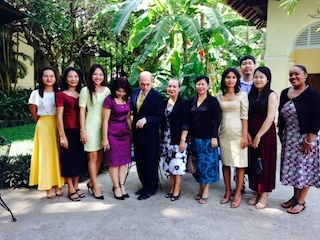 Deidre and I with this incredible group from the CWE.
These women show the pride, the leadership, the power and ability to move Cambodia forward -- they've already been making tremendous strides.

Part II: Navy Heng -- Building a Dream, Driving an Industry, Finding the Keys to Success
Navy Heng was key in the integration of business and technology for her employer, and soon after became a leader and expert in telecom strategy specifically for international roaming.
Ms. Heng was born in a small village, and homeschooled while working on a farm. At 20, she moved to the city, learning computer & basic accounting simultaneously.
Navy with Softbank colleagues in Tokyo.
At her second job interview, she was hired by the CEO of a Thai mobile technology company. Navy worked very hard -- every day she came in early and stayed late. She spent most of her time at the office, and eventually learned about the benefits of technology before facilitating her company setting up the first international roaming unit.
After just a few months at the job, her boss sat her down and said, "You are so talented, we want you to be able to go to school while you work because we believe in you. We see something in you."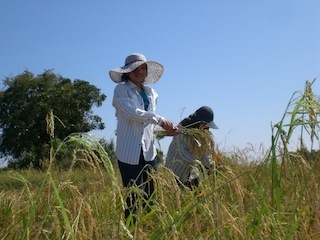 Navy helping farmers harvest rice.
For the next year, Navy worked full-time while attending a local school specializing in information management systems. She won a scholarship to study in Bangkok for her master's degree in International Business.
From there, she became Head of International Business for a major cell phone company, where she negotiated with telecom companies across the globe who had desire to conduct business in Cambodia. She became an expert in the industry as it began to grow exponentially.
After a few years, her outstanding performance attracted even more attention; an alliance of telecom-providers from all parts of Asia began contacting her. Eventually, they convinced Navy to become the Business Development Manager for their massive amalgamation, where she then represented 8 mobile operators in Asia Pacific.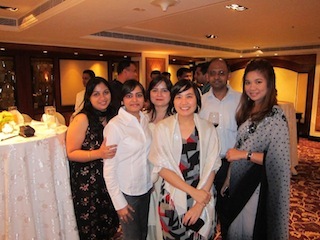 Navy with IDEA colleagues in Mumbai.
"I had truly found my dream job," Ms. Heng says. "Traveling to all great cities across Asia, and meeting many powerful people." She stayed in nice hotels, and sometimes she got to fly business class. Most importantly, she was able to help companies significantly expand their businesses.
All of this changed one sunny morning in July 2009.
Navy was in Jakarta on business, about to leave her room, when she felt the floor rumble beneath her, followed by screams and commotion from blindsided civilians. Muslim radicals had bombed the Marriott lobby, killing eight people; just moments before Navy went down to the lobby to check out. She was later able to contact her Indonesian friends.
This elicited a series of changes in Navy's path; realizing the ephemerality of life, she moved back to Phnom Penh to spend more time with her family. She is now the General Manager for an online advertising company. Navy told me how happy she is, and that she is thinking about getting married and moving to the U.S.
Recently, she agreed to become the founding board member of Network for Teaching Entrepreneurship Cambodia.
She is one of the many young businesswomen and entrepreneurs who is paving a bright future for her country through leadership, business expertise and fearless ambition. Let's all cheer for the women entrepreneurs, and the women professionals whose efforts will continue to drive the country towards greatness!