Twelve young entrepreneurs head for semi finals; and four are heading to the finals!

The finalists! (Margaret Fox Photography)
NFTE business plan competition finals grow all the more selective as four from the original cohort of 39 young entrepreneurs move on to last round. After a morning filled with anticipation, excitement, thoroughly-rehearsed pitches, and awe-evoking presentations, three ventures are neck and neck, working towards a $25,000 grand prize sponsored by MasterCard.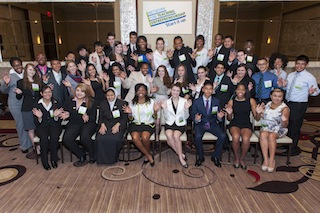 This year's cohort (Margaret Fox Photography)
These youths are more than ambitious -- all have started revenue-generating companies before their 18th birthday, and dove head-first into their respective fields. The NFTE fellows have taught themselves to code, building websites, games and mobile apps with interactive 3D avatars. They've developed innovative marketing strategies that target niche customer segments, and constructed customizable crutches, shin pads, and stain glass windows, above many others. All before graduation. All for the pursuit of their unique dreams. And that's just the beginning.