I met Mark Klein, a professional comedian, at an NSA Christmas banquet more than a year ago where he was the featured MC, as well as the entertainment, for the evening. We sat at the same table and, in an instant, we became friends. He made a terrific MC, too, although I expected this, as Mark has been a very successful stand-up comic for years, appearing on A&E, in Forbes and GQ magazines, and on CBS' "48 Hours." He may be best known, however, for his now famous bumper-sticker: "May God Grant Others the Wisdom to Let Me Control Them."
In the months that followed our initial meeting, Mark and I met regularly at a local coffee house for conversation and, of course, for coffee. Over time, we became the very good friends we are today. And yet, our backgrounds could not have been more different. In spite of those differences, however, Mark and I share a common vision for humanity -- a vision of unity, peace, openness and respect. We believe there are a growing number of people within every spiritual tradition who share a similar vision of humanity. We believe the corporate world is becoming increasingly aware of this, too. Even as the congregational landscape is becoming more and more diverse, so are the constituents and colleagues within the corporate world. Learning how to get along, respecting our differences while sharing our common human experience, is necessary for personal, national and corporate growth, harmony, health and peace. As a consequence of this shared vision, Mark and I have created a comedy show to celebrate our commonality. After all, we are far more alike than we could ever be different.
We call the show The Interfaith Comedy Hour. It's a fast-moving, 60-minute presentation that combines our profoundly different life experiences into our profoundly shared vision of what life can be -- indeed, must be -- in a multi-cultural world. Mark and I believe that the future of humanity is at stake. The conflicts in our world, many of which have been and continue to be motivated by extreme expressions of religion, must end. We use humor as a way to create conversation and bridge the human experience.
Here's a sampling of the show. If you have five minutes, have a look...
For more information, or to book the show for your community, company, congregation, mosque, synagogue or temple, visit The Interfaith Comedy Hour (Bureau-friendly) or simply Interfaith Comedy.
As the Dalai Lama says, "When there is peace among religions, there will be peace in the world."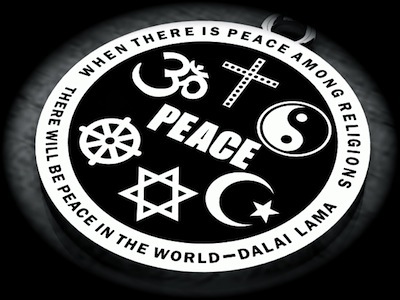 More info on Comedian Mark Klein
More info on Dr. Steve McSwain