The Associated Press reports that Hungarian right-wing extremist leader Csanad Szegedi, long known for his viciously anti-Semitic comments, recently acknowledged that he himself is Jewish... a fact the 30-year-old politician became aware of just two years ago. The story is reminiscent of this 2007 article, originally published in The Jerusalem Report, that also speaks of the hidden lives of Jews in Hungary.
***
The taxi driver spoke passable English, but after fetching me from the Budapest airport terminal, had little to say during the first ten minutes of our ride into town; my questions received one-word responses.
Then his cell phone rang; he answered quickly, but I thought I recognized the ringtones. A few minutes later, again, and this time I knew I'd heard correctly: it was Hava Nagila.
"I like that music", I tell him. "It is klezmer", he says, tentatively, adding "It is a traditional form of music".
"I know", I say. "I'm Jewish. Are you?"
He nods his head, and the conversation begins.
Gabor is 20; his great-grandparents were among the 400,000 Hungarian Jews killed in Auschwitz, his grandfather was confined to the Budapest ghetto, his grandmother hidden during the Holocaust.
On the flight from New York, I'd studied a recent article on Jews in Hungary, which stated the country is not particularly anti-Semitic by East European standards. I pull out the magazine and read Gabor that quote; he disagrees, saying "It's very dangerous for Jews here; there is a lot of racism and anti-Semitism". He looks at the magazine photo of a demonstrator waving a flag that symbolizes the worst elements of Hungarian nationalism, and virtually spits out the word "skinheads".
Gabor then goes a step further. "We all have to be secret", he says. A chill runs down my spine as this kid, more than 60 years after Jews here in his hometown were massacred on the banks of the Danube River or dragged from this place to be murdered elsewhere, tells me, "People do not say they are Jew. But I know who is Jew, and who is not Jew. So, when I decide who I talk to and what I say, I select".
The next day is Yom HaShoah, and Gabor's dark sentiments seem mistaken, as several thousand people gather for the seventh annual torchlight march from Budapest's Holocaust Memorial Center to its immense Dohany Street Synagogue. That building's elegance overshadows the mass grave in its courtyard, where thousands of Jews were buried in 1944 while Adolf Eichmann set up shop overlooking the scene.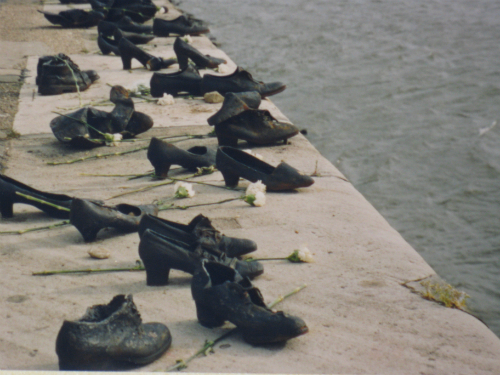 Budapest's Holocaust Memorial, on the banks of the Danube River. (Photo by Steve North)
A woman standing with her husband, one of the few men in the crowd I see wearing a kippah, apologizes that she doesn't speak English and only a little Hebrew, even though her son has lived in Israel for 12 years and she's visited him many times.
She estimates that 70 or 80 percent of the crowd is Jewish, with the remainder consisting of student groups opposed to racism and anti-Semitism. I take that as an optimistic sign.
Another positive note: the country's charismatic and controversial prime minister Ferenc Gyurcsany shows up for the march, along with his Jewish wife. Also in attendance: opposition leader Viktor Orban, (whose supporters include neo-Nazis), and members of the Hungarian parliament.
Gyurcsany, incidentally, steps out of his car ten feet away from where I'm standing, slightly apart from the crowd, with his back towards me for a full five minutes. Budapest police and his own security detail don't give me a second glance, even though there's been no weapons screening of the crowd and I could be carrying anything in my camera bag. The next morning, Hungarian reporters... none of whom, apparently, have been present at the appearance of an Israeli or American head of state... speak and write of the unprecedented amount of security accompanying Gyurcsany on his visit to the Jewish community.
The speaker of the Parliament, Katalin Szili, tells the gathering that anti-Semitism and intolerance have "again started to spread like a virus in our continent"; the prime minister, walking alongside elderly Holocaust survivors, then led the marchers carrying their flames of remembrance down a grand boulevard through the center of town... a highly emotional moment for all in the street and many onlookers on the sidewalks.
The following night, Bruno Bitter, founder of the very cool blog and website Judapest.org, meets me for dinner at a well-known restaurant, Kispipa, in the old Jewish quarter. We start the meal with a plum brandy called "kosher Sliwa", and the menu, while heavy with various pork and seafood dishes, also features matzah ball soup and cholent.
Are Jews here in "secret", as Gabor told me? It depends, says Bruno.
His own mother... now educational director of the Holocaust Memorial Center... did not know she was Jewish until the age of 16; her parents were atheist Socialists who frowned on all religions, but also considered being Jewish the source of enormous pain and suffering. (Bruno's grandfather survived Dachau).
Estimates of the current Jewish population of Hungary range from 80,000 to 120,000. But Bruno points out that in the latest government census, only 12,000 people openly declared themselves to be Jews.
Many younger people, though, seem to be emerging from the shadows of their parents' and grandparents' trauma and fear. We visited Siraly, a new three-story bar and club with a mezuzah at the door (albeit on the inside doorpost, I notice), catering mainly to a 20-something Jewish clientele who openly, happily participate in activities ranging from concerts to lectures to kosher wine-tasting events. Bruno, a marketing research consultant who studied in Jerusalem, gets a thousand hits a day on his blog, and his thoughtful work to revitalize Hungary's new generation of Hebrews is representative of the eagerness to reclaim a lost heritage.
I ask Valentin, a guide at the Dohany Synagogue, about current Jewish life in Hungary. He, too, mentions the 2000 census, but points out it was taken at a time when a right-wing party was in power. Now, he believes, more Jews would publicly announce their identities. Good to hear, I thought; then again, Valentin never told the group he was guiding through the old shul that he's Jewish, and when he explained a sculpture depicting thousands of Hungarian Jews on a Nazi-enforced "death march", he didn't mention that his own grandmother had escaped from it.
As I leave Dohany, I ask a woman working there for directions to the Parliament Building. She tells me I must also visit a nearby two-year-old memorial I've heard nothing about. "Just walk down to the river a block from Parliament; you'll see it".
It's not easy to get to, and you must know it's there or you'll miss it. But it is one of the most powerful and evocative tributes to the victims of Nazism I've ever seen.
Lined up on a concrete ledge at the edge of the Danube are five dozen pairs of shoes of all kinds: men's, women's, and children's; from fancy 1940s style high-heeled models to everyday workboots. At first glance, it looks like they've all been temporarily left there, some on their sides, others neatly stacked together. Upon closer examination, one realizes these are all cast iron works of art, bolted to the concrete. It was on this spot in 1944 and 1945 that Hungary's fascist Nazi allies, the Arrow Cross militia, forced countless Jews to strip off their clothes before shooting them into the river, which ran red with their blood.
I suddenly had a more profound understanding of how living in a city where such unimaginable horror took place, no matter how long ago, would impact one's decision to openly identify with the objects of such murderous hatred.
And I thought back to my conversation with Gabor, the cabdriver. In light of what he perceives as rampant anti-Semitism, I asked if he had considered moving to New York, or Tel Aviv.
"For me", he answered, "I want to go to Las Vegas". "Las Vegas? Of all places, why Las Vegas?", I ask in astonishment. "Because", explains Gabor, with all the wisdom of his two decades of life in Budapest, "everything is nice and fun there".
This article originally appeared in 2007 in The Jerusalem Report.