The end of the line came one century ago for Leo Tolstoy, who died in a railroad station where he had taken ill. It was ten days after the 82-year-old Russian novelist fled his family estate, where due to his intolerably troubled marriage, he had been living a life filled with much war and little peace.
I recently watched The Last Station, the compelling new film about Tolstoy's tumultuous final months, with more interest than most moviegoers, as I believe I'm the only journalist who ever interviewed, on audiotape, one of the few people who were in the "last station" with Tolstoy in 1910.
The story of that highly emotional deathbed interview begins in 1884. Tolstoy's tyrannical and perpetually-pregnant wife Sofya was about to give birth to the 12th of their 13 children, when, as he recorded in his diary, she "began to nag me about some horses." Leo decided to leave, but on the road, felt sorry for her and returned home. "I had just fallen asleep," he wrote, "when she came and woke me up. 'Forgive me,' she said, 'the baby is coming. Perhaps I shall die.' Then she went upstairs. The birth began. What should have been the most joyous event in a family went by like something unnecessary and hard."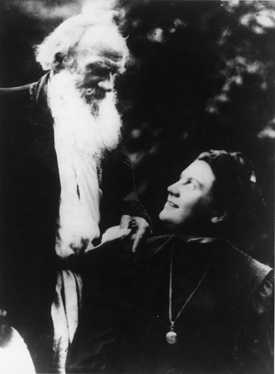 Despite that inauspicious beginning, the child, Alexandra, later was the light of her famous father's life. Known to all as Sasha, the young woman became his secretary in 1901, daily transcribing his nearly illegible writing, and more importantly, trying to shield him from her mother's increasingly bizarre outbursts.
It was Sasha Tolstoy who I interviewed in 1978, on the 150th anniversary of her father's birth. At age 94, she had long been his only surviving child, but she was far too frail to attend any of the gala celebrations that were held in Washington, Moscow, and Paris. In fact, she had been confined to bed for two years following a massive heart attack, with an oxygen tank next to her and nurses always nearby.
At the time, I was news director of a radio station in Rockland County, N.Y., not far from Sasha's cottage on the grounds of a refugee organization she founded in 1939, a decade after leaving the Soviet Union. The Communists had confiscated most of the Tolstoy riches, arrested Sasha five times, then imprisoned her for a year, despite her having received three medals for battlefield valor during World War I, during which she commanded medical units.
She was an extraordinary person in her own right, and I spent nearly a year trying to convince her caretakers to let me speak with her. Finally, the iron-willed Sasha told her doctors she indeed wanted to talk about her father one last time, and felt strong enough to do so. I got the phone call, grabbed my tape recorder and camera, and was at her side within an hour.
At first, it was difficult to comprehend that the energetic, boisterous young woman I had been reading about in history books and this feeble old lady were one and the same. Sasha was lying propped up on a big pillow, looking astonishingly like the photos of Leo on the wall above her (albeit beardless), her white hair pulled back in a long braid, and her large hands, brown-spotted with age, clasped together above the covers.
What were her thoughts now about her father, the passionate crusader for nonviolence and social justice who was once described as "one of the most remarkable of all men, one of the shapers of the world we live in"? "My thoughts about him never changed," she began... "that he was a great man, that he wanted only good for the people, that he preached goodness, love, God... everything a man lives by."
Her breathing was labored, her voice hoarse and heavily accented, but Sasha seemed to gain strength the longer we spoke. We discussed what she called the Soviets' "enslavement of the Russian people," and what Tolstoy might have thought of the women's liberation movement. ("Very much against it!")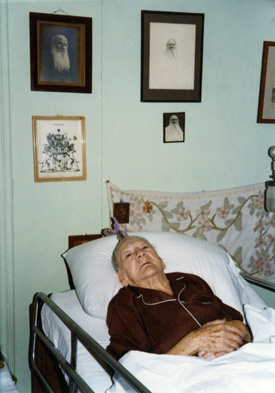 In fact, she told me, it was better that Tolstoy did not see the changes that had taken place in the nearly seven decades since his death. "Oh, God, he would be so disappointed, because the world has gone absolutely crooked. They don't live for each other, they don't live for the good of people, they don't live for religion, and he would be so disappointed in the world of today."
In The Last Station, Sasha's parents are elegantly portrayed by Christopher Plummer and Helen Mirren; she is played by Scottish actress Anne-Marie Duff.
Mirren's Golden-Globe-nominated performance is over the top (and under the water...she flings herself into a pond at one point), and pretty much what I expect the real Sofya was like, based on all I've read and what Sasha told me.
"Did you realize that not only your father's books, but your family's life, was filled with great drama?" I asked her. "Yes. I was there. I saw when my mother had paranoia, and she tortured him. She didn't know what she was doing, because she was not well."
Sasha paused for a moment, perhaps realizing she was literally getting the last word in the long-ago mother-daughter dispute. "My mother died in my arms," she continued, "and she was quite different. She said 'Alexandra, will you ever forgive me? I know that I tortured your father.' I said, 'Mother, I know you were sick,' and I made friends with her, and we kissed each other before she died. I was the only one who took care of her 'til her last breath."
Her father's last breath was perhaps the first global media event of the modern age.
Reporters, photographers, and a Pathe newsreel crew staked out the provincial railway station in Astapovo, and hourly reports on Tolstoy's condition were flashed around the world. Did you realize, I asked Sasha, the intense interest of the press? "I knew it," she recalled, "but I never thought about it, because I was so preoccupied with my father's sickness that all the world to me seemed inane and uninteresting."
As for the final spoken words of this master of the written word, Sasha said they were interrupted. "When he was dying, he said (in Russian) 'I love eternity.' He wanted to finish the sentence, but it was his last words. He didn't have time. He died."
Sasha was beyond consolation. "I was lost," she later wrote. "Life was not worth living." But she did go on, surviving her father by 69 years, passing away peacefully at age 95, the year after our interview. The conversation was published globally by UPI and People magazine, and broadcast throughout the U.S. and then behind the "Iron Curtain" on Radio Free Europe.
Sasha once composed an essay about the Tolstoyan philosophy of the "joy of death," so I concluded by asking how she was dealing with what was clearly her final illness. "I am not sad about myself, because it prepared me to go to another world. I'm not afraid. The only thing is, I'm sorry to part with those whom I love."
With that, Sasha Tolstoy, weeping softly, leaned back on the pillow and closed her eyes... satisfied that for the last time, she had brought her father's momentous message to the world.
Photos: 1. Leo Tolstoy and his daughter Alexandra (Sasha); c. 1905 2. Alexandra (Sasha) Tolstoy at home in Valley Cottage, NY, in 1978, with photos of her father on the wall above her bed. C. Steve North