Join us LIVE Saturday and Sunday at 5pm Pacific time on www.TalkRadioOne.com for our exclusive LIVE motoring and motorsports talk shows!
Steve Parker's The Car Nut Show
Saturday starting at 5pm Pacific
The federal government is forming a new agency to protect consumers against finance company, credit card and bank rip-offs, but car dealers are exempt from the plan. Do consumers already have enough protection when they're car shopping? We want your opinion! And the Tokyo Motor Show opens with hybrids and EVs galore. Plus road tests, industry news and your phone calls! Join two-time Emmy Award-winner Steve Parker, also automotive writer for the Huffington Post, NBC-TV auto show Whipnotic and the Santa Monica Daily Press newspaper, as he recounts and explains all this and more. Plus his popular "One Minute Road Tests." Be sure to join-in the conversation: The call-in number is: 213-341-4353.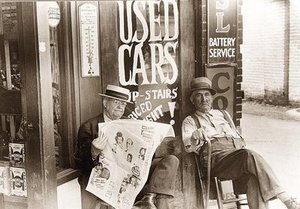 A lot of people still have this image of car dealers

Steve Parker's World Racing Roundup
Sunday starting at 5pm
The Formula 1 champions have been crowned, with one race to go in their season. NASCAR is in the midst of its 10-race Chase for the Sprint Cup, and one driver appears dominant as he goes for his fourth consecutive title. And A1GP is almost out of business. The call-in number is: 213-341-4353. Join in!


Is Jimmie Johnson headed for four straight NASCAR titles?
Podcasts of the shows are available one hour after the live shows' conclusions. That's this Saturday and Sunday at 5pm USA Pacific time on www.TalkRadioOne.com!