How serious are the problems facing the Detroit Three?
This serious: General Motors' Chevrolet Division has put the next-generation Corvette, the C7, on indefinite hold.
GM Inside News reports, "Well-placed sources have confirmed GM has put the next-generation C7 Corvette program on hold, pending a review of the impact of the 35-mpg CAFE laws due to come into effect in 2020.
"The problem for GM is that, while 35 mpg is the target for 2020, automakers have no idea what the transitional fuel-consumption targets are in the interim. In other words, they have no idea how they should be planning to get from today's CAFE number to 2020's. Transitional fuel-consumption targets are not expected to be finalized until the end of 2009."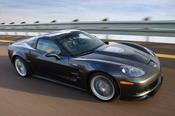 (Corvette ZR1 supercar; remember to click on any photo to enjoy it in a larger format).
It's not like the current Corvette, the C6 edition (the sixth generation car since its introduction in 1953, which used a straight-six cylinder truck engine called Blue Flame and a two-speed automatic transmission) is lacking for horsepower or excitement.
The current base C6 uses the 6.0 Liter LS2 engine. The V8 produces 400-horsepower at 6,000 rpm and 400 ft-lb of torque at 4,400 rpm. Its redline is set at 6, 500 rpm.
The upgraded C6 Z06 model has a 7.0 Liter V8. Officially certified output is 505-horsepower, much more than Mustang and comparable to Dodge's Viper. I've had the pleasure of driving both models on city streets, wide-open highways and race tracks, and "kick in the pants" doesn't do either Corvette justice.
Finally, the biggest, baddest Corvette available is the 2009 ZR1 (a similarly-named Corvette saw life from 1990 through '95 as a ferociously-upgraded C4 Corvette). GM's announced target of 100-horsepower-per-liter has been reached by a new engine, LS9. That's a supercharged 6.2-liter V8 producing a confirmed 638-horsepower and 604 foot-pounds of torque. The sticker price is $100,000, and its top speed is 205 miles per hour. The engine is the most powerful ever in an American production car.
The C6.R racing version of the Corvette has acquitted itself very well in races ranging from the 24 Hours of LeMans to the 12 Hours of Sebring. Development driving for the Z06 and ZR1 models was done at Germany's Nurburgring, a 3.2-mile 16-turn race track built in the 1920s and which was once nearly 18-miles in length.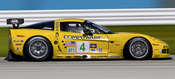 (Racing version of the C6 Corvette, the C6.R).
About 40,000 Corvettes are sold in a good year.
It's not these kinds of cars which hurt the Detroit Three (and other car-makers) when it comes to their mpg ratings; it's the hundreds of thousands of full-size trucks and SUVs and large sedans, with V8s or large V6 engines, that do the real damage.
For instance, Chrysler is this week touting their Dodge trucks in a press release headlined: "Most Powerful Hybrid SUVs Now Offer Best-in-Class Fuel Economy."
The release reads in part: "Official EPA fuel economy numbers for the 2009 Chrysler Aspen Hybrid and Dodge Durango Hybrid are 20 city and 22 highway, achieving best-in-class fuel economy ratings for a full-size 4x4 SUV.
"Chrysler's first production hybrids are coupled with the renowned 5.7-liter HEMI V-8 engine with fuel-saving Multi-Displacement System (MDS) technology. Total output, when combined with the advanced two-mode hybrid system, is 400 horsepower and 380 lb.-ft. of torque - the most powerful hybrid SUVs."
(These hybrid systems used by GM and Chrysler are nearly identical, developed mostly in Europe by 500 engineers from GM, then-DaimlerChrysler and BMW).
Okay, I can accept this as moderately good news, the same way I took the full-size V8 Chevy "dual-mode hybrid" pickups and SUVs being named "Green Car of the Year" at last year's Los Angeles Auto Show - With tongue firmly in cheek.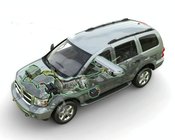 (Cutaway view of the Dodge Durango "Hemi Hybrid").
My worry is not when these trucks are used as they were built to be: Hauling heavy loads to and from a jobsite, acting as heavy-duty delivery vehicles and pulling horse trailers and boats.

It's these huge trucks used to take the kids to soccer practice, to their Kumon after-school cram courses and for weekly food-shopping jaunts that stick in my craw.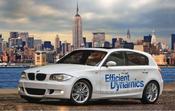 (BMW's 2008 118d diesel has won a "World Green Car of the Year" award; there are so many awards, I'm not even certain WHICH "Green Car" award BMW got).
And these hybrid systems will fit only in GM's and Chrysler's largest cars and trucks. If a car-maker wanted to grab public opinion in a powerful, positive way, why not develop (or pay to license) a gas-electric hybrid system which fits some of your smaller vehicles to give your company something to really crow about?
But, what do I know ...
Finally, keeping in mind that the EPA says that their fuel economy ratings are now closer to real-world driving than ever before, here's their list of the top ten fuel mileage rankings among 2009 model year cars and trucks:
1. Toyota Prius (hybrid) -- 48/45
2. Honda Civic Hybrid -- 40/45
3. Nissan Altima Hybrid -- 35/33
4. Ford Escape Hybrid FWD; Mazda Tribute Hybrid 2WD;
Mercury Mariner Hybrid FWD -- 34/31 (All three are the same under their sheetmetal).
5. Smart ForTwo convertible; Smart ForTwo coupe -- 33/41
6. Toyota Camry Hybrid -- 33/34
7. Volkswagen Jetta (manual, diesel); Volkswagen Jetta SportWagen (manual, diesel) -- 30/41
8. Volkswagen Jetta (automatic, diesel); Volkswagen Jetta SportWagen (automatic, diesel) --
29/40
9. Toyota Yaris (manual) -- 29/36
10. Toyota Yaris (automatic) -- 29/35
The least fuel-efficient of all 2009 cars? Lamborghini's Murcielago, rated at 8 mpg city and 13 mpg highway. To protest this vehicle's mpg rating, I will, once again, not buy one this year.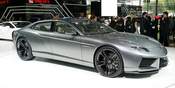 (This Lamborghini Estoque concept, first exhibited at the recent 2008 Paris Car Show, is a four-door sedan version of the company's Murcielago; production is seriously being considered, and possibly with some sort of hybrid powerplant - Can't wait for that press release, touting the car's high mileage).