The SEMA Show, the annual automotive bacchanal and extravaganza staged by the Specialty Equipment Market Association, world's largest lobbying group for aftermarket and performance car parts, and thought by many to be the best car show in the world, especially if you're a gearhead (like us) opens in Las Vegas this Tuesday, 11-3, and runs through Friday, 11-6.
If you don't already have credentials for the show, which has some 2,000 exhibitors and 9 miles of aisles showcasing everything from roll cages to run flats, from turbos to independent suspensions, from 600-horsepower crate motors to anything you might need to build that IndyCar in your garage, don't bother going. The show is closed to the public, open only 'to the trade' and is still the single-largest trade show held annually in Vegas, drawing over 100,000 exhibitors, buyers and media.

Ford introduced their now-popular race-car-for-the-masses at the 2007 SEMA Show (Steve Parker photo)
Because of the Obama Administration's recent tariff on Chinese-made tires, we don't expect to see as many of the approximately 50 Chinese tire-makers which had displays there last year. The tire world is in turmoil; Japanese giant Bridgestone (which also owns Firestone) announced yesterday, right after the Abu Dhabi F1 season-closing race, that after 2010 they won't supply tires to F1 anymore, leaving it to either Michelin (world's biggest tire company) and/or Goodyear to fill the gap. Bridgestone has been the sole F1 tire supplier since 2007.
Not surprisingly, there are a lot of custom 2010 Camaros at this year's SEMA Show. Let's take a look, courtesy of the top-notch PR folks at SEMA, at some of what they call "don't miss" car debuts coming up at this year's show (with booth number info if you are hitting the show):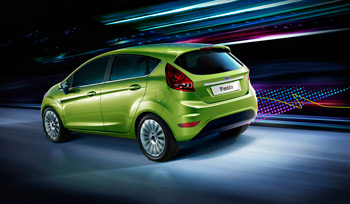 Ford Fiesta
From November 3-6, a team representing Ford's Fiesta Movement will be located at the Motor Trend Proving Grounds during the SEMA Show, offering test drives of a European-spec Ford Fiesta. Information about other drive stops, including monthly calendars, is available on www.fiestamovement.com under the "Ride & Drive" section. Visitors to the site can also sign up to receive test drive updates as they become available.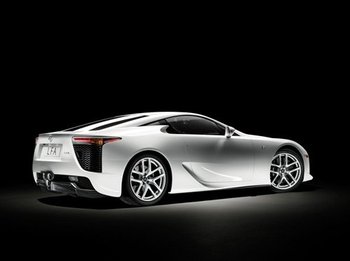 Lexus to Debut LF-A
The Lexus LF-A supercar made its world debut last week at the Tokyo Motor Show, but will make its first North American display at the SEMA Show. Lexus will make only 500 of the hand-assembled, made-to-customer-order flagship, making the SEMA Show a rare opportunity to see this machine up close. Featuring a 4.8L, V10 engine producing 552 hp and 354 lb.-ft. torque, a six-speed sequential gearbox, the extensive use of carbon fiber in the chassis and bodywork, and a 48:52 weight distribution, the LF-A is capable of a top speed of 202 mph, according to Lexus. See it at Lexus Booth #22699.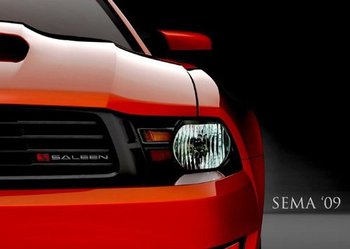 Saleen Debuts 2010 S281
Few details, but the venerable Mustang tuner plans to debut its new S281 pony car at the Show. See it at booth #21658.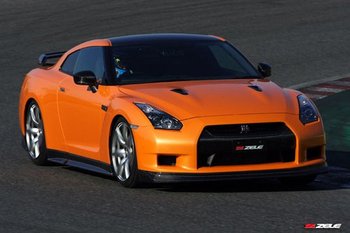 Zele International's Nissan GT-R
Fresh from a debut at the Tokyo Motor Show, the Zele R35 GT-R: Complete Edition package will be featured in the Eneos Premium Synthetic Motor Oil display, along with its not-so-downmarket sibling, the 370Z. Look for them both in booth #25075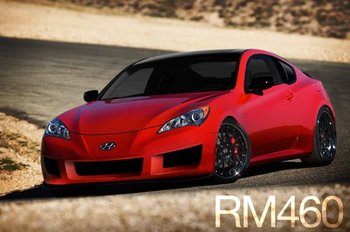 Hyundai and Rhys Millen Racing Partner on Mid-Engine V8 Genesis Coupe
The Korean automaker is again planning some flash at the SEMA Show, and again joining with Rhys Millen Racing (RMR) on a Genesis Coupe in a mid-engine configuration, based around Hyundai's 4.6L V8 occupying the former backseat. Eight individual throttle bodies and JE pistons pushing compression to 11:0.1 make for a powerplant exerting 500 hp, according to Hyundai. Booth #24387.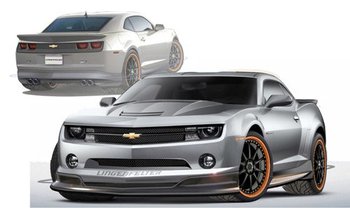 Hotchkis and Lingenfelter Bring the Heat on 2010 Camaro
One company tries to get cars off the ground (Lingenfelter, legendary engine builder), the other keeps them firmly planted (Hotchkiss, just-as-legendary suspension company). The companies co-built this 750hp beast, using an LS7 engine with a Magnuson/Eaton TVS2300 supercharger and a number of small, significant tweaks (Inconel exhaust valves, for example). Hotchkis, meanwhile, keeps it all grounded with Hotchkis Sport Springs, adjustable sway bars, a ChassisMax Subframe brace and Lingenfelter-spec Sachs shocks.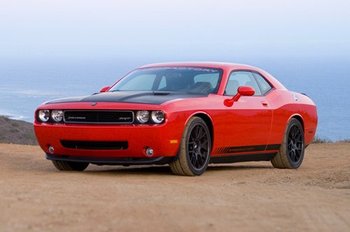 SpeedFactory's Supercharged 440 Hemi-powered Challenger
With 7.2L displacement and a Vortech V3 centrifugal supercharger, SpeedFactory's Challenger is rated at 700 hp and puts it to the ground through a Mopar Performance NAG 1 transmission and Getrag independent rear suspension. See it at Mopar, booth #43127.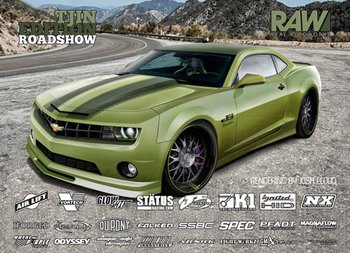 Tjin Edition RoadShow Camaro
Builder Neil Tjin and his assembled teams put together this Vortech blown beast, complete with a fully rebuilt LS3 motor, an Air Lift air suspension, SSBC eight-piston calipers, and 22-inch three-piece iForged wheels in front, 24s in back, covered with Falken FK-452 tires. See it at the Air Lift booth (#23633).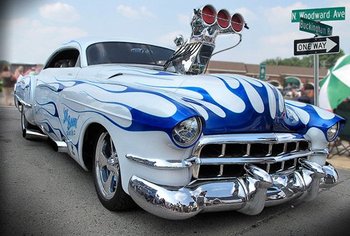 Three Different Custom Creations from Mickey Thompson and Dick Cepek
This is an interesting listing because I worked for Mickey Thompson and knew Dick Cepek (and his son, Tom) quite well; and they're both dead. But apparently the names live on! The "Shboom Gone Wild," a '48 Cadillac Coupe De Ville from Fryz Custom, is one of three great customs appearing at the Mickey Thompson/Dick Cepek booth. Powered by a 544 Chevy and Blower Shop 871 blower, and wearing Mickey Thompson HR-1 wheels and Sportsman S/R radials at all four corners, the '48 makes a claimed 1,200 hp. Look for it in booth #43013.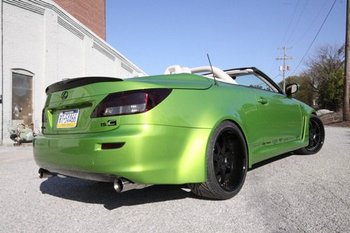 Fox Marketing's Lexus IS-C
This is not an entry from FOX News, so calm down. Fox chopped the lid off its IS-F, fattened the fenders (and rolling stock), made its output 405 hp, and covered it in an electric green ("BASF Foxy Green," rather). Look for it in the Lexus booth (#22699).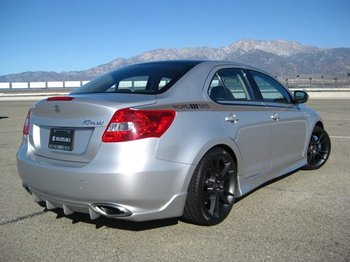 Road Race Engineering's Suzuki Kizashi
Road Race's version of the Suzuki Kizashi (it's 'shin hachibai,' as the Japanese say, a 'new to market' car in the US) includes a Sport Body kit using Carbontrix custom bumpers, rear spats and diffuser, custom grill and vented hood. Progress Technology springs and sway bars, Zeitronix ZT-2 data logging system, and Road Race engine management and dual exhaust round out the package. Look for it at Zeitronix, booth #21212.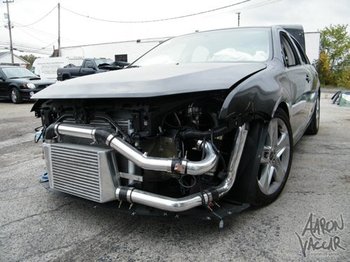 Aaron Vaccar Edition Ford Fusion
Let Leno have his weenie Electric Fusion! Builder Aaron Vaccar says this intricate plumbing is part of what is likely the first turbo application for the 2010 Fusion Sport, a custom AGP unit built by Maryland's Turbo XS. Look for it in Ford Motor Company's booth (which traditionally takes up about, oh, half of one floor of the LV Convention Center).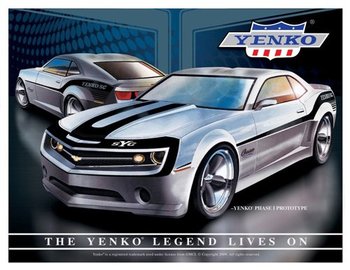 2010 Yenko Camaro
The iconic Yenko name is back, courtesy of General Marketing Capital Inc., whose owner, Jeff Leonard, spent an ill-lived childhood hanging around Detroit's Woodward Avenue, where the Big Three would have "unofficial (and late night) test sessions" for their latest musclecars. Featuring a 600-hp supercharged LS motor, Tremec six-speed manual and 22-inch Yenko billet wheels, the 2010 Yenko edition Camaro will be on display at the OER booth (#23795).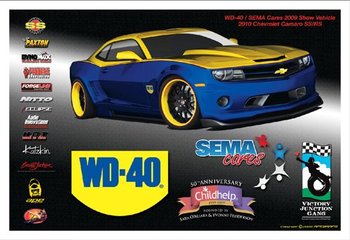 WD-40 SEMA Cares Camaro
A modern version of the classic American pony car, the WD-40 SEMA Cares Camaro features a SportsRyder Extreme Adjustable Coilover system from Pedders USA, custom Katzkin leather interior, and Eclipse audio system, and will be unveiled at the Show and later auctioned off at the Barrett-Jackson Classic Car Show and Auction in January to benefit Childhelp and the Victory Junction Gang Camp children's charities.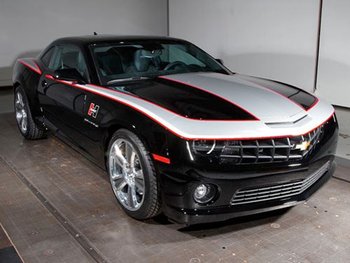 Hurst Edition Camaro
The Hurst Shifter was the first aftermarket part ever used on a US-made production car which kept its name (1964 Pontiac GTO). George Hurst was around racing and high-performance his whole life, even addressing the safety issue by inventing the Jaws of Life (seen in-use on ABC-TV this past Sunday when Ryan Newman had to be extricated from his NASCAR Sprint Cup car). Hurst/Magnaflow exhaust, Hurst/Eibach suspension and Hurst 20-inch forged wheels are just a few of the choice items on this Hurst edition Camaro. Currently on auction at eBay, proceeds from the sale will benefit the SEMA Memorial Scholarship Fund, a program that fosters industry leadership by supporting the education of students pursuing careers in the automotive aftermarket.
So what do you think? Are these cars headed in the right direction? I thought by this time, SEMA members would be coming up with outrageous power boosts and appearance items for all the hybrids and other high-mileage cars which are out there and coming in the next few years, but so far, not much in that department. What will it take for these companies to move into those areas?
Later this week, we'll have a post about the many 'reproduction' cars being made; the comfort, safety, convenience and horsepower of a modern car with the looks of a classic. Prices have come down and people are lining up to buy them.