On July 25th, motor racing fans worldwide got two separate doses of being treated like know-nothing idiots by the captain of the Ferrari Formula 1 team and the man who essentially runs IndyCar.
Two weekends ago at the F1 German Grand Prix at Hockenheim, the two factory Ferraris were in the lead and it looked like a one-two finish for the fiery red Italian cars.
Driving the lead Ferrari was Felipe Massa. Last season, Massa was hit in the head with debris another car while driving around 175 miles per hour. The object went through his helmet, almost took an eye out and cut his head severely. His life was in danger. Yet months later, Massa came back to racing.
Behind Massa was his Ferrari teammate, ex-World Driving Champion Fernando Alonso.
And now he Massa in the lead of the German Grand Prix, exactly one year to the day after he suffered his horrific injury.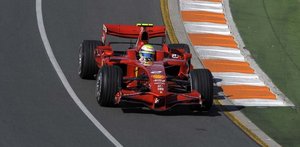 Felipe Massa in last year's Australian Grand Prix
Then a surprise, but not a shock: Ferrari chief engineer Rod Smedley told Massa via radio, "Fernando is faster than you. Can you confirm you understood that message?"
What that message meant was that Massa was getting "team orders;" let Alonso pass to take the win. Because Alonso has more points towards the Driver's Championship, Smedley felt letting Alonso get the points would ultimately do the team more good than Massa winning the race.
Massa acquiesced and slowed so much that it was obvious he was letting Alonso pass him for the win. Alonso must have been embarrassed.
The race stewards and other series overseers were not at all happy. Team orders, after all, are simply not allowed in the rarefied air of F1 (wink, wink).
Since the incident, Ferrari was fined $100,000 for breaking Sporting Regulations and the matter was referred to the FIA World Motor Sport Council, which controls F1.
That council is headed by Jean Todt --- who for years ran the Ferrari F1 team.
We'll see how this former Ferrari official rules when it comes to passing judgment on "his" team. Don't expect too much; $100K is nothing to F1 teams, several of which have annual budgets, believe it or not, approaching $500 million.
The other terrible call on July 25th came from Brian Barnhart, IndyCar's top official, at a temporary road racing circuit run on an airport in Edmonton, Alberta, Canada
With two laps remaining in the race, Penske's Helio Castroneves was followed by Target Chip Ganassi's Scott Dixon, Penske's Will Power, Ganassi's Dario Franchitti and another Penske car, driven by Ryan Briscoe.
Castroneves headed down the main straight which leads to turn one, a big sweeping right-hander. Castroneves jutted to the left, not only to set himself up for the upcoming right, but also to become an obstacle to Will Power, a standard racing move.
Castroneves came out of the corner still in first place.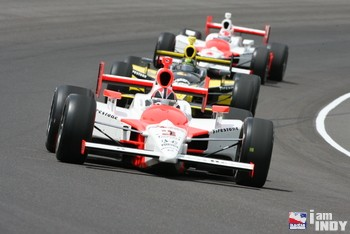 Helio Castroneves leads a teammate during an IndyCar event
Then, IndyCar was black-flagging Castroneves, ordering him to do a pit lane drive through, which would cost him the win. Why? They said he had illegally blocked his own teammate, Will Power.
Castroneves wisely decided to stay on the track and took the checkered flag first. Within a few minutes, he was told that second place finisher Scott Dixon got the win. Castroneves was moved to tenth place.
Castroneves understandably went bonkers, grabbing officials and security people by their collars, screaming at anyone within earshot.
Race chief steward Brian Barnhart, also president of IndyCar competition and racing operations, had just made one of the dumbest decisions ever seen in racing. Taking a win away for cheating or some technicality even well after a race is one thing; doing it when there seemed no infraction whatsoever is the kind of thing which forces fans and sponsors from the sport.
On Monday, Castroneves was fined $60,000 and placed on probation for the remainder of the season.
But that's not the whole story. At the start of the race, the first lap, as the cars headed for that same right-hander, Will Power led the pack with Castroneves to his left rear, and Power made exactly the same move which later cost Castroneves the race, forcing teammate Castroneves farther off the best racing line and keep himself in front. The exact same move (video doesn't lie).
And racing's cheating, bad calls and back room deals continue. But to see it in two races on the same weekend, and for it to be so painfully obvious, is something which we can only hope will change with time.
But I wouldn't bet on it.