Five mistakes Washington and Detroit are making which could kill any help or support for our American car companies:
Mistake #1: Consumers and the environment are no longer considered in Washington's loans to the Detroit Three.
In Sen. Harry Reid's new bill to allow direct and swift loans to the Detroit Three, consumers and environmentalists are being forgotten, left out in the cold. While top industry executives would have to give up bonuses and golden parachutes and stockholders would receive no dividends (all good and necessary), the bill does not set additional fuel-economy requirements on automakers getting loans. Nor does it establish a government oversight board to help manage the companies. That's two strikes against getting our money's worth; can hardly wait for strike three.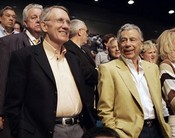 (We've used this photo in other posts, but that's because it's so interesting. What's Harry Reid doing, hanging with Kirk Kerkorian at a Las Vegas prizefight? Kerkorian has owned hundreds of millions of dollars' worth, and probably more, stock in all the Detroit Three at one time or another. His sale of his Ford holdings a few weeks back lowered Ford stock to under $5. Interesting bedfellows to say the least).
MISTAKE #2: The General a no-show in Los Angeles.
GM canceled any new vehicle introductions and all press conferences at this week's Media Days before the public opening of the Los Angeles Auto Show this Friday, Nov 21. The corporation also announced last week that they are halting all research and development on future cars and trucks. This would seem to make their Volt plug-in hybrid - and the high-mileage Chevrolet Cruze, already on-sale in South Korea and slated for Europe in mid-2009 - both dead issues - at least for the time being. This is all how not to build confidence in your company.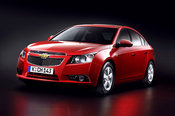 (Chevrolet's high-mileage Cruze will be built in Lordstown, Ohio, if and when GM gives the go-ahead. It's already being built by GM division Daewoo in Korea and sold there, and St. Petersburg, Russia, will be the site of the car's building when it goes on-sale next year in Europe. So far, no word on when - or if - US production might begin).
MISTAKE #3: Don't anger your dealers by making them pay for an auto show display when asking them to lobby local, state and national officials plus local newspapers, radio and TV, all on your behalf.

Chrysler has told their local Southern California dealers that they, the dealers, are going to have to pay for the company's Chrysler, Dodge and Jeep exhibits at the Los Angeles Auto Show. By the way, the Dodge Viper brand, name, tooling, spare parts, brochures, "blue sky" and more is still for sale, so if anyone wants to make an offer, meet me at the LA show.
On a similar note, GM has just announced "delays" in getting their dealers money they are owed for factory-to-dealer incentives, the ones the public never hears about. On average, GM spends about $3,600 per unit in incentives. Based on GM's US October sales, the company sold about 84,000 vehicles in two weeks. That amounts to total incentive payments of about $302.4 million for those two weeks, and no one can say when GM's dealers might see any of that. We're talking real money here, folks, even to GM. That amount might keep their doors open for another week or so. Reminder: Hummer is still for sale; interested parties should contact GM.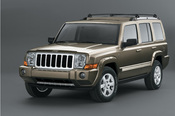 (Chrysler's Jeep Commander for 2008. Big enough for you? Chrysler is making all sorts of noise about some EVs which will go on-sale - well, no announcement on that little detail as yet. The heavily hyped Hemi Hybrids from Chrysler have already been discontinued, making them possibly the shortest-lived models in US history).
Mistake #4 - Don't discuss dirty laundry, especially if you're a Congressman.
At the opening of a new Honda - HONDA - plant in Greensburg, IN, US Rep. Mike Pence, a Republican from Indiana's 6th District, said about the Detroit Three: "Reorganization in federal Bankruptcy Court happens all the time. Companies utilize it all the time and come out stronger and more whole in the end. It seems to me a better option than putting taxpayers on the hook," said Pence, whose district includes the Honda factory.
Can you believe that?
Jeffrey Smith, assistant vice president for corporate affairs at American Honda said, when asked about Pence's comments, "Honda supports measures that would maintain the short- and long-term viability and stability of the auto industry.
What those measures would specifically be, we're not in a position to comment," Smith said. But he also said "the auto industry is made up of individual companies that are deeply and closely integrated at the supply base."
We can safely say that Honda definitely has numerous employees smarter than Mike Pence (maybe he wants a PR or lobbying gig with Honda?).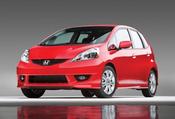 (Honda's Fit is among their best-sellers in Japan and has hit it big in the US, too; the 2009 version of the car sold in the US adds a bit more in the creature comforts department; Americans drive much,much more than the average Japanese, and are more willing to lose a bit in fuel mileage for more comfort, and more comfort weighs more, which hurts fuel economy, and so on, and so on, and ...).
Mistake #5: Failing to educate the nation on how the closure of even one of the Detroit Three would affect us all.
There are literally hundreds, perhaps several thousand, auto industry "supplier companies" scattered all over America. While it's hard to say how many workers they employ, the figure "above three million" is being tossed around in the media; it's likely many more. We know that one out of every ten jobs in the US is auto industry-related, and worldwide the number is one in seven manufacturing jobs.
We've written much of supplier companies' plight, a distinctly unsexy part of the carmaker equation. We're hoping that when Barack Obama takes his Oath of Office, he'll hit the ground running (and driving) to settle the "Detroit problem," once and for all.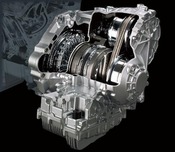 (Partsmakers are critical to every carmaker; without them, apart from sheet metal for body panels, the platform under a car which holds all the bits and pieces together and the engine, almost everything else comes from suppliers. Here's an example: Nissan's XTRONIC - CVT. Continuously variable transmission are annoying to long-time drivers like, uh, me, with their whiny noises and creating pent-up demand for a real honest-to-god shift, but they are lighter, cheaper, and easier to make and fix for the carmakers, and they offer a one or two mile per gallon benefit over a conventional automatic).
At this point, I wouldn't be surprised if any assistance for Detroit isn't approved until next January 20th. Might be among the first official actions taken by our new President.
Your turn - What are some things which Detroit and DC have done or not done, or should do or not do - not in general (we all have our limits), but during this crisis - which have helped or hindered Washington, and in the case of the Detroit Three, thrown their very existence into question?
Keep posting your messages, positive or not - we can assume that folks with "DC juice" stop by here to get a taste of what's on the minds of Huffington Post visitors when it comes to cars.
We'll be at the LA Auto Show, back Friday with a large photo album, complete coverage (huge push for green at the show this year) and video - as soon as I figure out our new editing program. To view our 150 images from last week's SEMA Show, just click anywhere on this line and the Photo Album will open in another window.