Most of this happened yesterday:
General Motors and Chrysler FAX'd and emailed their viability plans to the White House and Congress late Tuesday afternoon (nice title for a Moody Blues song, no? Don't mind my references; I'm old).
GM says its Saturn division, Roger Smith's $10 billion (minimum) tribute to automotive mediocrity, will be killed, Pontiac as a division is probably history, though the name may remain on one or two models sold in other dealerships, Saab will probably be reorganized in some sort of bankruptcy (it's already being spun-off as a separate company), Hummer may be bought by a Chinese company (as we predicted here months ago) and Chevrolet, Buick Cadillac and GMC will be the company's core sales channels;
GM told the government Tuesday they'll need another $16.6 billion in loans, thank you, while Chrysler is asking for another $5 billion;
Auto industry suppliers in the US are asking for $18.5 billion in taxpayer loans;
Penske Auto Group reported its first quarterly loss in a decade (and where were GM, Ford and Chrysler when Roger Penske convinced Daimler to allow America to buy Smart cars only at his stores? Wouldn't Smart have been a nifty little profit center at, say, Chevrolet or Dodge dealers?);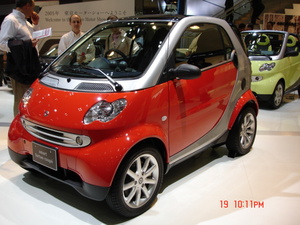 (Smart Fortwo at the 2005 Tokyo Motor Show; I took this shot and didn't realize I had the date/time stamp in the 'on' mode - sorry).
Brembo, the Italian brake manufacturer which makes the pads, calipers and drilled and vented discs which no self-respecting Ferrari would be without, announced lay-offs of 1,800 people;
BMW announced cuts of 850 workers who build the Mini;
Delphi, the world's fifth-largest automotive supplier with over 22,000 employees, will lay-off 800 workers from their steering division;
Mitsubishi announced they will not have an exhibit at the 2009 Frankfurt International Auto Show due to "financial challenges;"
Much of that happened yesterday. I'm already pretty freaked-out about tomorrow.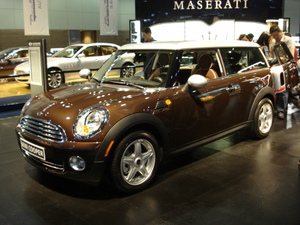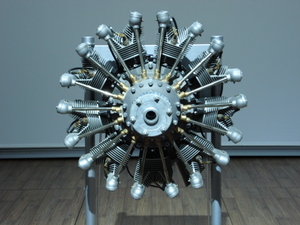 (Above, BMW is laying-off 850 workers from their Mini division; bottom shot is a BMW radial aircraft engine - See how they got their logo? It's modeled after this type of engine; I took these at the 2007 Los Angeles Auto Show, just to give you some more unnecessary information, because that's the kind of guy I am).
Yes, yes, GM and Chrysler turned-in those viability reports, demanded by the government to justify the more-than-$17 billion in taxpayer loans given to the companies this year and also to explain how they plan to pay it back.
As usual, the United Auto Workers are giving up a hell of a lot more than white-collar execs at those companies. For instance, last time I checked, GM CEO Rick Wagoner took home about $26 million last year.
Incidentally, GM got another $4 billion Tuesday - yesterday - after turning-in their plan. Were you ever rewarded that much just for doing your homework?
Chrysler has received a total of $4 billion and their finance arm, Chrysler Financial, $1.5 billion.
Meanwhile, Ford officials announced a cut of 1,200 jobs at Ford Motor Credit, but continue to maintain the company can survive as an independent car maker through 2009 without federal help. We sure hope so; it'd be nice for one domestic car maker to stay in business.
According to the Detroit News, GM's plan calls for cuts of nearly 50,000 jobs worldwide in an effort to return to profitability within two years and to begin repaying the loans in 2012. Yeah, good luck.
While most of those job cuts will come from GM's overseas operations, GM is also increasing the number of US job reductions and plant closures. It now says 14 US factories will be shuttered, five more than it announced in December.


(I'm just wishing they could have somehow kept Pontiac as its own division, but really, when you have Chevy, why is Pontiac necessary? You want to buy a performance car, buy a Camaro; no need for a Camaro and a Firebird, though I know a lot of people would beg to differ, and I understand completely).
Chrysler's plan calls for 3,000 more job cuts and says it needs $5 billion more in the next few weeks just to stay in business.
But it said its most promising option was to form an alliance with Italy's Fiat. Yes, you read right: Chrysler's most promising option lies with Fiat. I get chills just thinking about it.
With a car czar now a dead issue, and Treasury Secretary Tim Geithner and National Economic Council Director Lawrence Summers tapped by Pres. Obama to chair the all-new "Presidential Task Force on Autos (and Lawnmower Repair," which is an old car biz joke on pretentious or too-long names), changes are afoot and a-wheel and by god they'll find somebody to take responsibility for this mess. That is, after they meet and hold hearings for a few years.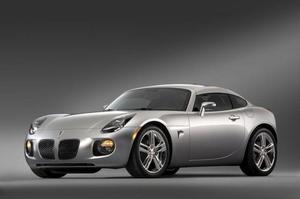 (Is this Pontiac Solstice coupe cool or what? Available with a 2.0 liter four-cylinder turbocharged engine which can make 260 horsepower, this kicks Miata's butt; but then again, the Miata will start every day...).
This all-new inter-agency committee, which has no members other than Geithner and Summers, as far as anyone knows, is already reviewing an urgent request from auto suppliers for at least $18.5 billion in emergency aid by month's end.
And don't those two already have pretty full plates, what with overseeing the near-$800 billion American Recovery and Reinvestment Act of 2009 and all?
Am I cynical? Not a bit.
But, I'll try again: Throw all the money they want at this "Detroit problem;" unless and until senior- and most of middle-management is broomed from these companies, things won't, nay, can't change.
How does the administration think Detroit got into this mess in the first place? I'll tell them: same way Wall Street and the banks did; being run by people who were focused on nothing other than their own ambitions, summer homes at the lake, inter-office politics, with the loyalty of Hollywood agents, and the bottom line and next quarter their only real connection to the actual business of making cars.
Detroit has the same problems as Wall Street and the banks, except in Detroit, on occasion, they actually build something.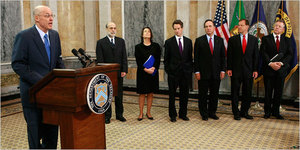 (Is this a scary crew or what? Imagine if they were still running things ... or if Social Security had been privatized ...).
And, in spite of how thrilled I am with Obama and much of his team, this Geithner character is scary. As President of the New York Federal Reserve, he's the guy who oversaw George W. Bush's and Hank Paulson's bequeathing of 350 billion then-unmarked and now-unaccounted for dollars, the biggest rip-off in the history of the world (apart from, you know, Mitt Romney).
Masters of the Universe, my ass.