Just over a month ago, Porsche released the production facts and figures and pricing for their new Panamera four-door sedan. And today, we nearly ran over a group of them being driven- by engineers or journalists? - in the Southern California desert.
You can have your Stuttgart, Detroit, Tokyo, Paris and Shanghai - the Southern California freeways are still the best car show in the world.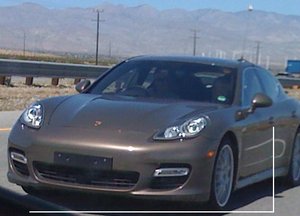 After driving past the single-line group of 2010 Panamera Porsche sedans, the generic Porsche front-end styling gave away the cars' identities.
Whether it's Jerry Seinfeld piloting a highly-illegal and frighteningly-fast gray-market Porsche 959 on the San Diego Freeway at 3am, just an off-ramp or two from Hermosa Beach's Vasek Polak, Southern California's premier Porsche performance and race car dealer, Jay Leno driving alone and aiming his completely open-to-the-elements Stutz Bearcat at a Santa Monica Freeway on-ramp on a cold, wet evening following an event at the Petersen Automotive Museum or Bruce Springsteen casually making a right turn into traffic against a red light from LaCienega to Sunset in his black Carrera, running into the famous, the newest and the best is par for the course on the South Left Coast, and not unexpected or shocking at all. And I personally witnessed all the auto/celeb sightings just recounted.
Prices for the 2010 Panamera model, which will go on-sale in the US in October this year, will start at $89,000. The four-door is a front engine/rear driver (as the universe intended cars to be) with all-wheel drive a high-end option.
Engine choices will include the entry-level Volkswagen-made 3.6-liter six-cylinder with 300 horsepower, an 'S' model making 400 hp from a 4.8-liter V8, and the Turbo variant with an estimated 500 horses. The all-wheel-drive 4S will base at $93,800 and the Turbo will ring-in at $132,600, which is slightly more than a Cayenne Turbo.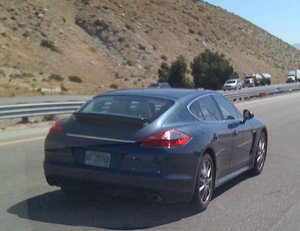 Someone say Chrysler Crossfire? A group of Porsche's 2010 Panamera sedan models were captured by the author and his iPhone on the I-10 freeway outside Palm Springs, CA
Speaking of the Cayenne, the covey of Panameras we spotted in legal road-going action this morning looked like Cayennes which had been left too long on top of a hot Bunsen burner. Melted; way out of any sensible stylistic proportion, with, yes, truly big butts. Porsche has apparently chosen to use the term "sedan" to better compete with other big bruisers including the current Mercedes-Benz S-Class, Maserati Quattroporte and the classic (1976 through 1989) Aston-Martin Lagonda.
So headed east-bound and down today on the high-speed I-10 chute into California's Coachella Valley, home to Palm Springs, Indian Wells and more dialysis units per capita than any other part of the world, when we spied a line of 10-or-so identical cars hogging the middle lane, not venturing over the 70 mph speed limit and standing-out through their "hiding in plain sight" strategy, our only question was, "Okay, so what have we here?" Well, that, followed by, "Where's the iPhone?"
Looking suspiciously (and unfortunately) like a flock of Chrysler Crossfires from the rear, we experienced no instant "Aha!" moment of recognition. They all sported Georgia license plates, making us think the cars might even be new Panoz Esperante models, the high-zoot sports cars built by Dr. Don Panoz, (legal) pharmaceutical billionaire, race track owner, American LeMans Series founder and winemaker, with his son Daniel, through their Panoz Auto Development company located in Hoschton, outside Atlanta.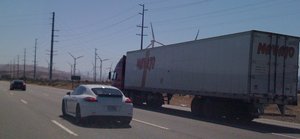 A Panamera caught in classic battle with two Palm Springs icons, an I-10 big rig and power-making windmills.
But we also knew Porsche used some part of Georgia as a "duty-free enterprise zone" which allows the company to import their cars and trucks into the US with some major tax advantages, and when we passed the group and noted the generic Porsche front-end, we finally knew for certain what we had in our iPhone's viewfinder.
Sure, the economy sucks, but don't cry too much for Porsche. Apart from turning a nice profit from their car and trucks sales, the company makes many other fortunes doing automotive, styling and other R&D and consulting work for scores of other companies, both in and out of the auto business.
In fact, Porsche engineered and styled the powerplant for the 2001 Harley-Davidson VRSC (V-Twin Racing Street Custom) V-Rod bike, the two-wheeler which brought the Milwaukee company into the 21st century as far as engine design, horsepower and dependability.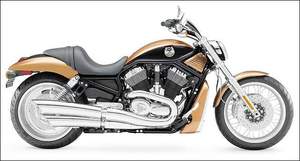 With engineering and styling help from Porsche, Harley's V-Rod broke new ground in motorcycle design and engine horsepower and reliability.
It's certainly not the best time for Porsche to introduce a new and expensive line of vehicles which could dilute the company's hard-built, much-heralded and respected brand even more than their Cayenne SUVs have done (or the older 944 and 928 models). But to paraphrase an old industry joke, when it comes to expensive metal, "Every Porsche dealer has ten customers rich and dumb enough to buy anything the company says is new."