It was just this past May that Ford sold their prestigious Jaguar and Land Rover divisions to Indian carmaker Tata for USD$2.3 billion. And now, the boss of Jaguar Land Rover has called for more action from the UK government to boost car sales by restoring consumer confidence.
Jaguar Land Rover CEO David Smith met UK Prime Minister Gordon Brown last week to discuss the current financial crisis, which has been blamed for falling car sales across Europe, industry journal Automotive News reports.
Brown has been getting good reviews for his aggressive jump into essentially privatizing his country's banking establishment, so much so that the US and other countries are copying Brown's "money for equity" bank-support scheme to try to stimulate banks to once again make loans to each other.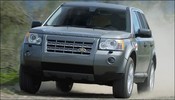 (This 2006 Land Rover Freelander represented an improved model line-up with prices starting at $35,000).
Jaguar Land Rover is already cutting production at its three plants in the UK in response to falling sales in Europe. The company's sales are down 19.4 percent to 72,150 in the first eight months of 2008, according to the European manufacturers association, ACEA.
Throughout the summer, Jaguar Land Rover had non-production days at its Halewood plant as well as at its other plants in central England at Castle Bromwich and Solihull.
In 1990, Ford paid USD$2.5 billion for Jaguar. In 2000, they paid about USD$2 billion for Land Rover from its then-owner, BMW.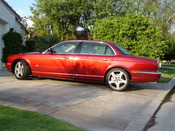 (This 2007 Jaguar Super V8 Vanden Plas well-reflected the quality improvements Jaguar made since their 2000 purchase by Ford; a 400-horsepower, supercharged V8 engine - engineered with a lot of help from Ford - seemed a bit of a mis-match with not 'retro' exterior styling, but an outside look which had been almost cast-in-stone for 40 years - SteveParker.com photo).
In the ensuing years, the quality of Jaguars and Land Rovers made great leaps forward. In fact, just two or three years after its purchase by Ford, Jaguar made tremendous improvements in their JD Power Survey quality standings, one of the first times improvements in a car had been quantified by a combination of both objective and subjective judgments and was used in Jaguar advertising.
Jaguar's improvements, in fact, did much to make the JD Power name well-known, though most people still believe that Power actually tests vehicles; they do not, they send out questionnaires and determine the rankings of vehicles from the answers received.
A friend of mine once described a new Land Rover interior, pre-2000, looking and feeling like the losing entry in a high school metal shop contest.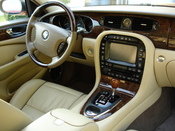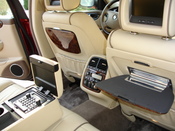 (Here's why so many buyers stuck with Jag over the years. In spite of an old-school exterior, their interiors were and are impeccable, with all the modern conveniences and gadgets held together by burled walnut and hand-stitched leather, Wilton wool carpeting on the flooorboards and lining the trunk; or the boot, as our friends across the Pond say. The latest version of this car starts at $94,000 - SteveParker.com photos).
And when Jaguar founder Sir William Lyon was confronted by an owner, a woman who told him her car leaked in the rain and was cold in the winter, he supposedly told her, "Madam, one should dress appropriately for prevailing weather conditions."
Jag's new XF has received some good reviews from the enthusiast press, but the company continues to sell their S-type, really a warmed-over European model Ford Contour, which starts at $50,000 and hurt the company's credibility.
Both Jaguar and Land Rover find themselves in a market with fewer people able to afford their cars, but new owner Tata might be able to absorb the losses these two companies are going to deliver for many years to come; that's really their only hope. Perhaps Ford got out from under at the perfect time.