Two more pieces of bad news today facing carmakers, dealers and us ... car-buyers and owners: Repossessions are set to break records, while industry analyst J.D. Power and Associates says the country is headed towards losing as much as 25% in total car and trucks sales for this year, from a somewhat steady 16 million to possibly below 12 million when the 2008 model year closes.
Also, California's Tesla Motors has announced lay-offs from their company, which was formed to manufacture all-electric vehicles.
Here's a record which no one wanted to see set this or any year: Most vehicles repossessed in a year -- about 1.9 million, industry journal Automotive News reports.
Through September, repossessions of new and used vehicles rose more than 15 percent from the year-ago period, estimates say. That increase in repos follows an 8 percent rise from 2006 to last year.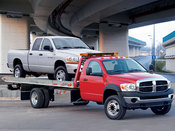 (Repossessions are keeping tow truck and flat-bed drivers busy).
In addition to some reckless lending practices, high gasoline prices and a generally bleak economy are also behind the problem. Also this year, newer, costlier vehicles like luxury cars and full-sized SUVs make up a larger share of the repossessed units.
When a vehicle is repossessed, lenders rather than dealers take the loss. But dealerships with a high percentage of repossessions could feel pressure from their lenders, making it harder for that dealer's prospective car-buyers to get loans.
Those in the market for a new car or truck (or a late-model used, certified vehicle from a factory-franchised dealer) should ask that dealership's Sales Manager how many cars from their dealership have been repo'd in the past few months. If they question you, simply tell them you know that if they've had a high number of repossessions, it might affect their ability to help you get a loan.
Curiously, some repo men say they are losing business. They claim lenders are cutting consumers' payments on delinquent loans to avoid acquiring repossessed cars and trucks that would resell at a loss -- if at all.
Dealers often are reluctant to add repossessed cars and trucks to their used-vehicle inventories, fearing their owners may have abused the vehicles before walking away from them.
Also today, J.D. Power and Associates, which tracks U.S. auto sales on a daily basis, sees October sales on track to fall below 12 million units on an annualized basis, extending a downturn that automakers hoped had hit bottom in the summer.


If the October sales rate dropped below 12 million units, overall U.S. sales for 2008 could also drop below the 13.6 million units the forecasting firm has projected, a senior J.D. Power analyst said today.
The monthly sales rate has not fallen below 12 million since April 1991, when it hit 11.8 million units, according to U.S. Department of Commerce reports. The lowest rate recorded since 1976 was 8.8 million units in December 1981, according to the reports.
And welcome to "schizophrenic sales week," brought to you by General Motors.
GMAC, the company's finance arm, said Monday that it will only make auto loans to people with credit scores of 700 or above. That, coupled with numerous news stories about people getting turned down for car loans, has kept customers away from showrooms.
So, starting this Friday, GM will promote all its financing options with radio, newspaper and digital advertising to run through November 3; if it works, the company will no doubt extend the offer. The program, "Financing that Fits," will publicize a six-year-old computer database that lets dealers locate banks, credit unions and other lenders willing to make loans based on a particular buyer's credit information.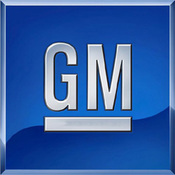 Can you or can you not get an auto loan? It's a bit like a game of sorts. Visit a GM dealer, let them run through this mysterious database on your behalf, and if you win - well, you bought yourself a new car!
All that's missing is a loud-but-genial infomercial host in a flashy sport coat; something like that "Billy Mays" late-night guy, who is now hawking health insurance instead of dust mops and power mowers. My personal favorite, Vince selling the ShamWow, would work, too. Why not?
Finally, California-based EV-maker Tesla is making lay-offs.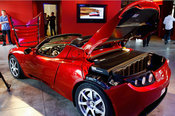 (A Tesla Roadster on display in their recently-opened West Los Angeles dealership; no word on whether the store will stay open, but it must if Tesla plans on staying in business).
The builder of the all-electric, $109,000 Roadster has said that it was removing its chief executive, delaying production of its model S sedan, closing offices in Michigan and London and laying off an unspecified number of employees in response to the tight credit market.
The number of layoffs has not been finalized.