In a motor racing season with a unique similarity to the US Presidential contest and which might bode well for Barack Obama's chances, Lewis Hamilton, 23 and the first Black driver in the history of Grand Prix racing, won the World Driving Championship on Sunday, the most coveted title in all of motorsports, at the Interlagos track in Sao Paulo, Brazil. This season was just the Brit's second in F1; last year, a series of "rookie mistakes" cost him the title.
Ferrari won the Constructors' World Championship; that team's drivers scored more points overall than Hamilton and his McLaren Mercedes teammate, Heikki Kovalainen.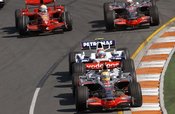 Lewis Hamilton leads the F1 pack in his McLaren Mercedes.
F1 race cars are the world's most expensive and technologically -- and aerodynamically -- advanced. This season there were 11 teams with two cars each at the 18 races on the schedule. The teams included powerhouses like Hamilton's McLaren Mercedes, Ferrari, Renault, Sauber BMW, Honda and Toyota. A new team, Force India, entered F1 for the first time this year. The F1 "circus" travels throughout Europe, much of Asia and Oceania, Shanghai, to Suzuka in Japan and, of course, the fabled street race in Monte Carlo.
Currently, there are no American drivers in F1 and no F1 races slated for North America in the sport's 2009 schedule. The Brazil race is now the only F1 stop in the western hemisphere. A new race in Abu Dhabi replaces Montreal for 2009.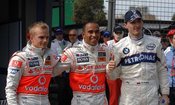 Left to right: Heikki Kovalainen, Lewis Hamilton and BMW's Robert Kubica at the sport's 2008 season-opener in Melbourne, Australia.
Teams spend between $100 million and $300 million annually. Seven-time World Driving Champion Michael Schumacher, who retired from F1 in 2006, was often cited as the world's highest-paid athlete in his closing years with Ferrari, with an annual salary of from $40 million to $60 million and product endorsements which earned him an estimated $100 million more.
F1 cars are always on the cutting-edge of automotive technology; next season, all the race cars will be using a Kinetic Energy Recovery System, KERS, a way of storing energy mechanically in the car via carbon fiber flywheels, energy which can be called upon by the driver when necessary.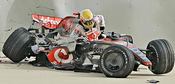 Hamilton extricates himself after a "racing incident" earlier this season; he suffered no injuries as the car took all the energy from the crash and deformed itself, just as it's designed to do.
There are a few African American racers in NASCAR, and the sport has a program called Drive for Diversity to try and attract people of color to the sport as drivers, engineers, mechanics and more. So far, though, the sport hasn't had much luck in that arena and some observers have questioned NASCAR's true commitment to the program.
African Americans are involved in some team ownership in NASCAR and one of the sport's lead TV announcers, former NBA star Brad Daugherty, is African American.
In sports car racing, driving for the Toyota factory team and in IndyCar, Willy T. Ribbs was a stand-out African American racer almost two decades ago. He remains the winningest Black driver in any motorsport ... so far. He now has Lewis Hamilton on his tail. Wendell Scott, the first Black American to win a NASCAR race, had his life story told in a Richard Pryor-starring 1977 movie called Greased Lightning.
People of color, and women, have had the most success in American motor racing in NHRA professional drag racing. In classes including Top Fuel, Funny Car, Pro Stock and Pro Stock Motorcycle and in team ownership, women and minority racers have been with the sport since its early-1950s creation.
Here's more from the official Formula 1 website:
Although Lewis Hamilton initially took up racing as a hobby, it swiftly became his vocation and after cutting his teeth around his home town of Stevenage, UK, the young British driver turned his attentions to national events. Winning came naturally and by the age of 10 - with a little less than two years' experience - he was crowned the youngest-ever winner of the British Cadet Kart championship.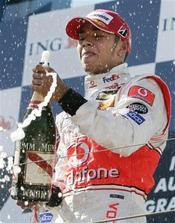 Hamilton relishes a 2008 victory.
Equipped with an assured racing style that belied his years, it wasn't long before Hamilton's trophy cabinet was groaning under the weight of more karting titles. McLaren's Ron Dennis was one of the first to notice his swift rise through the ranks and in 1998 he signed Hamilton to the team's young driver programme. Indeed, Dennis's belief in Hamilton's talents was such that the contract even included an option on the 13 year-old should he ever make it into Formula One racing.
McLaren's Lewis Hamilton is the 30th -- and youngest-ever -- world champion. Lady Luck was on his side after bitter misfortune befell Ferrari's Felipe Massa, who crossed the line first after a pluperfect performance and seemed to have achieved the impossible.
Ferrari's consolation was to win the Constructors' World Championship but, ultimately, and in the most dramatic circumstances imaginable, this was Lewis Hamilton's and McLaren's day.