Pontiac is a General Motors division which, from the 1960s through the '90s, knew exactly what it was: "We build excitement" was their tagline, and most Americans believed that, and many of them bought Pontiacs.
Inside Line reports that, according to a source at General Motors, the company will announce next Monday its new "faster, deeper" reorganization plan, which will likely include a death sentence for the Pontiac brand.
Tom Wilkinson, news relations PR man for General Motors (and who has posted comments on this HuffPost blog), told Inside Line when contacted: "There's nothing I can share with you at this time. Keep your eyes on our media site. Officially, nothing has changed with Pontiac's niche-brand status, until you hear differently."
The one-time "Excitement" division and creator of legends such as the first musclecar, the GTO, and Firebird was relegated to "niche" or "specialty" brand status by General Motors in its first viability plan in December of last year.


The GTO musclecar reached its most outrageous iteration with the 1969 Judge, Pontiac's answer to the admittedly cartoonish-and-proud-of-it Plymouth Road Runner; Jim Wangers, Pontiac's marketing chief at the division's ad agency in the '60s, who is called by some the "Godfather of the GTO" and was responsible for marketing the Judge, told me, "We built about 20,000 Judge models, and today there are well over 50,000 of them left - just go to any auction to find them!"
The company toyed with competing proposals to either turn the brand into GM's version of Scion or to make Pontiac a very focused purveyor of performance cars based around the critically well-received G8 planned to possibly to be sold in other, formerly competing, GM division showrooms. For the past year, the survival of Pontiac as a stand-alone GM division was not expected to continue.
Ultimately, Pontiac was chosen as the "easiest" to kill since it was cut from GM's self-defined herd of four "core brands," Chevrolet, Cadillac, GMC and Buick. Most Pontiac franchises have already been combined with Buick and GMC.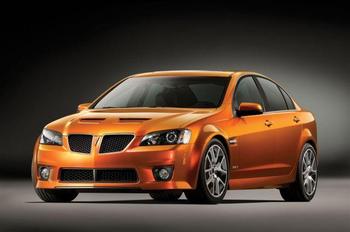 Pontiac's last high-performance Hurrah - the 2009 G8, imported from GM's Holden division in Australia with its Corvette drivetrain and aimed at upper-middle-class male musclecar freaks. Great car, wrong time, no mpg. Pontiac had the same problem with their "new" GTO in 2004; it, too, was another Holden import, but high-fuel prices and too little visual and DNA family attachment to the original GTO doomed it from the beginning. Both cars were part of former GM Exec VP Bob Lutz's (failed) plan to revitalize Pontiac
If true, then on Monday Pontiac will join Saab, Saturn and Hummer as brands that will not survive GM's current troubles -- at least not as a component of General Motors.
The Pontiac brand was introduced by General Motors in 1926 as the 'companion' marque to GM's Oakland Motor Car line.
The Pontiac name was first used in 1906 by the Pontiac Spring & Wagon Works and linked to Chief Pontiac who led an unsuccessful uprising against the British shortly after the French and Indian War. The Oakland Motor Company and Pontiac Spring & Wagon Works Company merged in November 1908 under the name of the Oakland Motor Car Company. The operations of both companies were joined together in Pontiac, Michigan (in Oakland County) to build the Cartercar.
Oakland was purchased by General Motors in 1909. The first General Motors Pontiac was conceived as an affordable six cylinder that was intended to compete with more inexpensive four cylinder models. Within months of its introduction, Pontiac outsold Oakland. As Pontiac's sales rose and Oakland's sales began to decline, Pontiac became the only 'companion' marque to survive its 'parent', when Oakland ceased production in 1932.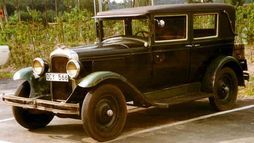 Before Pontiac, there was the Oakland ...
Pontiac's staid design won its models the dubious nickname of "grandma's car" by the early 1950s. But beginning with a new division General Manager Semon E. "Bunkie" Knudsen (whose father had been a GM CEO) in the mid-'50s, Pontiac entered NASCAR with their "Super Duty" performance packages and thrived in that sport and NHRA drag racing in the late '50s (Jim Wangers won Pontiac its first NHRA national event victory in 1960 at Detroit Dragway driving in the stock class).
The arrival of maverick engineer and marketer John Z. DeLorean as the division's chief engineer and eventual general manager blew away any preconceived notions about the Pontiac name among the general public. The 1964 GTO, with its Hurst Shifter and massive Tri-Power V8 powerplant, changed the course of the US auto industry for the next ten years, and between '64 and '74 Pontiac sold almost one million GTOs alone.
Other successful DeLorean/Wangers-driven Pontiac campaigns included using the Firebird Trans-Am in the Burt Reynolds' "Smokey and the Bandit" feature films; sales of Firebirds went up nationally every time one of the movies played on TV, even years after its introduction, and using the GTO as the basis for the "Monkeemobile" custom car on the hit NBC-TV show The Monkees.


The original 1964 Pontiac GTO, which went on-sale in late 1963, introduced the word "musclecar" to the world's vernacular and is one of the most sought-after and valuable collectible cars (Photo courtesy http://UltimateGTO.com)
High fuel costs, new emissions, safety and mpg regulations, pricier insurance and a host of other challenges (and challengers) were too much for Pontiac (and other musclecar makers) to overcome, though, and the best examples of the original GTOs can now be found at Pontiac club meetings across the country and around the world.
Several years ago, Jim Wangers and I spent a day in Los Angeles helping John F. Kennedy Jr,. pick his own classic GTO from several cars we had access to. JFK Jr., had heard GTOs were all the rage, and thought owning one might be fun; but in Manhattan? In the end (and after visiting the Petersen Automotive Museum that same afternoon and meeting HOT ROD, MOTOR TREND and GUNS AND AMMO magazines creator and museum founder Robert E. Petersen, publisher-to-publisher), Kennedy (and his then-fiancee') said no to a GTO -- and Wangers still thinks it was because the car's sheer unbridled horsepower scared him.
But the car -- and that Pontiac name -- will always carry a powerful appeal.