A driver on a Maryland turnpike runs into a crowd there to see an illegal street race and kills 8 people. San Diego counts so many bodies and seriously injured people from street racing they say it is at "epidemic" levels and is a public health problem. Wrestling celebrity Hulk Hogan's son drives his car, highly-modified for racing, into a tree on a public street at over 100-miles-per-hour; Hogan's son, almost miraculously, is uninjured, but his best friend, in the passenger seat, will be in a semi-vegetative state for life, say his doctors. Hogan's kid, lawyered-up with dad's money, gets eight months in a county jail.
Illegal street racing is a huge problem in the US and many other countries, and even the high price of gasoline won't stop it, can't stop it. Whether you like it or not, whether it even makes any sense to you at all, it's going to continue until the last drop of high-test is gone. Then, gas/electric hybrids and the new clean diesels and eventually hydrogen fuel cell EVs will all be turned into race cars. (Eight people were killed when a car on a Maryland turnpike came upon a crowd of people watching an illegal street race.)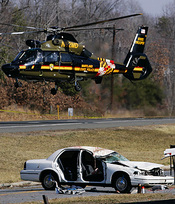 So I'm asking everyone to help solve the problem. I'll tell you about a successful anti-street racing program which existed for a short time in Los Angeles and could easily be started-up again.
The first time I met Big Willie Robinson, on a warm spring night around 1985, he was standing in the middle of a bunch of Bloods and Crips on Los Angeles' Crenshaw Boulevard. Robinson was not asking, but demanding they take off their gang colors, their red or blue do-rags and pull the colored rags hanging from their back pockets. And any alcohol, drugs and especially weapons had better be stashed somewhere else, not anywhere near the racing.
And if they wanted to race, they acquiesced. At 6'7", proudly wearing the same Green Beret he did in Vietnam, outfitted in the colors of the International Brotherhood of Street Racers, the group Willie and his late wife, Tomiko, created, Big Willie was and still is hard to miss. (Los Angeles County Sheriff Bill Chaffin convinced his superiors to give him the money to build a race car he could bring to the track and even street races; it sends a message that maybe cops aren't all that bad to a group not used to having positive relations with the local PD.)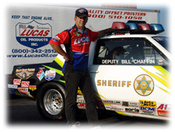 The street, long and straight and perfect for drag racing, was empty of its usual traffic; Big Willie's "volunteer track personnel" had closed off Crenshaw and all its cross streets. A hundred cars, maybe more, and motorcycles were sitting on side streets, owners fiddling with engines and preparing for a night of competition. Most racers drove their race cars to the "event" while others brought them on trailers. Those cars were too loud, illegal and outrageous for public roads. In their trunks or back seats were bottles of nitrous oxide which can produce an instant 100 extra horsepower, on their wheels were slick racing tires and most had wide-open exhaust systems you could hear a mile away.
With streets closed and racers ready, Big Willie and Tomiko went about the business of setting-up a Christmas tree (the starting lights at a drag racing strip) powered by someone's donated car battery, laid out some traffic cones to mark racing lanes and start and finish lines and began sending cars, two at a time, down their ¼-mile-or-so of public-street-turned-race-track. The races were on!
The crowd was by no means all African American, anything but; there were old and young, black, brown, red, yellow and white all well-represented among the 300-or-so people who came to race, to watch or do both. (Big Willie and Tomiko Robinson in top form in the 1970s; they were featured in Sports Illustrated magazine's 40th anniversary issue.)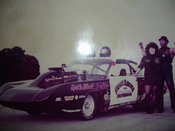 Police never showed up at these races. Willie told me that he and Tomiko always let them know when and where the races would be run.
Because the cops had found that when the drags were happening, the numbers of gang-banging, drive-by shootings, robberies and burglaries, almost every class of crime, went down. Big Willie and Tomiko had accomplished what no civic group, community organization, police force or Neighborhood Watch had ever done, and on some of the meanest streets of LA.
After the 1992 riots in LA, following the acquittal of police officers in the Rodney King beating case, Big Willie and Tomiko went to Mayor Tom Bradley's office to plead their case for a city-sponsored permanent race track. (To encourage gang members to take-off their colors when running at Brotherhood Raceway, Big Willie and his wife, Tomiko, designed their own colors.)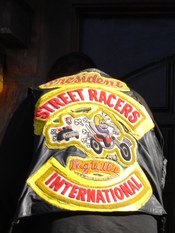 By this time, after running the street races for more than 20 years, Willie had some important friends on his side, including Otis Chandler, then-publisher of the LA Times and a closet street racer himself and some ranking officers of the LA Sheriff and LAPD.
Willie got the land, a huge, empty but paved lot by the docks. They borrowed grandstands, fencing and cement barriers from the Long Beach Grand Prix, collected various odds and ends used during the LA Olympics, set-up their own announcing, lighting, timing and scoring towers and built concession and food stands. They christened it Brotherhood Raceway, located hard by a traditionally tough part of LA called Wilmington.
Thousands of racers and their friends used the track while it was open; admission was $10 per car and competing cars were safety-inspected just as they would be at a "real" track. Brotherhood Raceway even had the approval of the National Hot Rod Association, the NHRA, biggest drag racing promoter and sanctioning body in the world. (Big Willie Robinson in Santa Monica's swank Huntley Hotel speaks with a producer from the NBC auto show Whipnotic; the show is working on a segment about Willie and his efforts to get racing off the streets and on tracks.)

One ambitious LA Sheriff (once an illegal street racer himself) talked his bosses into giving him a budget to build a drag race car and regularly brought it to Brotherhood. The car, painted like a black-and-white LA Sheriff's car and with a flashing light bar and blaring siren, was a hit with the crowds.
Tom Bradley left office in 1993, after five terms as mayor, and changes in the Harbor Commission and city council saw the track closed after only a few years. The track's old location is now a storage yard filled with mountains of coal being shipped to China.
Big Willie is now fighting to have Brotherhood Raceway re-open, anywhere in LA County. One import car company has been talking with Willie about one of their many lots, usually reserved for cars and trucks when they come off their freighters. (This 1972 Mustang fastback has been cared-for since new by its owner; all he wants is a nearby, inexpensive place to take it where he doesn't have to worry about getting arrested.)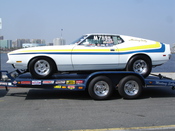 Big Willie and his supporters are not picky about where the track would be located; LA County Raceway, which closed a year ago after being in business since 1964, was more than 100 miles from downtown LA, yet was filled to the brim on race days and nights with street racers from LA, Orange and San Diego and Ventura Counties, Las Vegas and even Phoenix.
If anyone has a better idea on curing the illegal street racing problem, I'd like to hear it.