Some super-expensive cars, including Ferrari, Rolls-Royce and Bentley are available with custom fitted luggage, done-up in the same color and material which graces the car interior.
The Tata Nano, the world's most inexpensive production car, publicly launched this week in New Delhi, India, also comes with its own baggage, but not the kind which many car-buyers would want.
Tata is one of the biggest manufacturing concerns in India, and its size allows the company to sell Nano, at least initially, for either a small profit or even at a loss (see: Toyota Prius). Depending on the Indian Rupee's exchange value, 100,000 Rupees makes the car a good buy as it hits showrooms throughout the subcontinent. Right now, the retail 100,000 Rupee cost equals about USD $2,000.
Nano has been a positive for Tata worldwide, but more of a negative within India.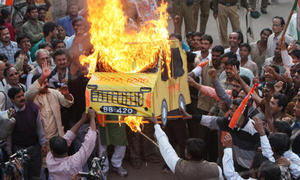 (Protesters in West Bengal, where Nano was slated for production, burn a Nano effigy on the day of its public introduction in New Delhi)
But good press can equal bad press, too, and positive media coverage about the car has been offset by Tata's political and social problems in its home country.
Reuters India reports that, "Tata Motors on Thursday unveiled its 'People's Car', the 4-door Nano, which will be the world's cheapest car with a dealer price of 100,000 rupees.
Following are some details on the car, which was presented at the Auto Expo in New Delhi.
* Length: 10.17 feet
* Height: 5.25 feet
* Width: 4.9 feet
* Engine: Nano has a throbbing (my little joke) 33-horsepower engine and is rear-wheel drive. The 2-cylinder, 623 cc, multi-point fuel-injection petrol engine is rear mounted. Tata said it was the first time a 2-cylinder gasoline engine was being used in a car with single balancer shaft.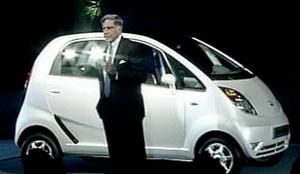 (Ratan Tata, chairman of Tata's board of directors, introduced the Nano at a media event in 2008)
* Safety: Tata said the Nano has an all sheet-metal body, with safety features such as crumple zones, intrusion-resistant doors, seat-belts, strong seats and anchorages, and the rear tailgate glass bonded to the body. Tires are tubeless.
• Environment: Tata said tailpipe emission performance exceeded current regulatory requirements, and the Nano had a lower overall pollution level than two-wheelers made in India. It said high fuel efficiency (20 km/litre) ensured low carbon dioxide emissions." (end of Reuters report)
But while the media and public launch was taking place in New Delhi, activists near Kolkata, in West Bengal, where Nano was originally slated to be built, were burning the car in effigy. The Trinamool Congress, a West Bengal opposition group, torched a mockup of the Nano in protest over land rights at the factory location.
"Until farmers get back their land forcibly acquired for the Tata Motors small car plant at Singur, we will not allow the company to manufacture cars there," opposition leader Partha Chatterjee decreed, according to The Economic Times of India.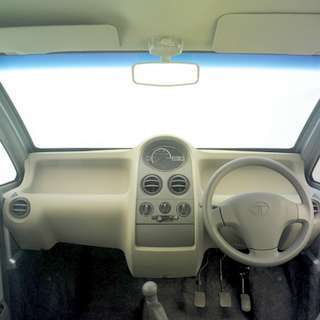 (Nano's interior appears basic and functional)
In New Delhi, a small group of protesters made a less dramatic showing, but their T-shirt slogans were bold, The Times of India reported: "The ($2,500) car has Singur people's blood on it."
Tata and Nano have become poster children for nameless government bureaucracy, corporate arrogance and a seeming willingness by the Indian government and industry to consider their own benefit first, and those of citizens last.
The Tata plant where Nano was originally scheduled to be built was shut down by protests after local residents protested what they said were illegal land-seizures to increase the factory's size and capability.
The story appears similar to the protests, often violent, which occurred during the building of Japan's Narita International Airport, about 50 miles north of Tokyo.
Locals accused the government of using a confiscatory form of eminent domain to appropriate land for the airport from farming families which had owned it, in many cases, for several hundred years.
The historic city of Narita near the airport is one of the oldest extant in Japan and contains a huge Buddhist temple complex where both Sumo wrestling and Kabuki dramas are said to have originated; Tokyo could not have been surprised by the strong reaction to building the airport, which serves as Japan's major port of entry and departure.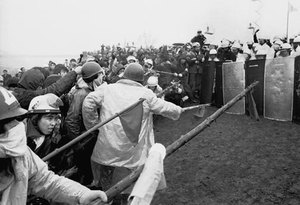 (Protestors square-off against police at Japan's Narita Airport in February, 1971; it's been said that Japan was near a civil war at the height of the violence)
Pitched battles between police and protesters forced the government to turn the airport into something of an armed camp, which it remains to this day. Army and police troops, mobile water cannons and even tanks and other military vehicles are seen throughout the airport complex.
All vehicles headed for Narita are stopped at heavily-fortified checkpoints about a mile from the airport for inspection, and all travelers must opens their luggage and show passports, plane tickets and other travel documents.
The Narita protests were and still are reported on worldwide (in the last year, a rocket was fired across one of the runways). Both India and Tata must be happy that there was barely any coverage of the Nano factory protests outside of India and Asia.
Tata was forced to delay the Nano's debut as the company moved production of the car from West Bengal state to New Delhi.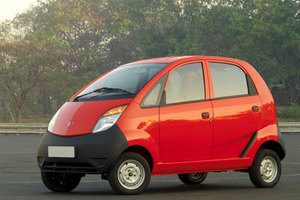 (Nano hits Indian dealerships this week, and will be sold in Europe in 2 to 3 years; an American version is on the drawing board, but not yet scheduled for production)
The Hindu newspaper update service reports, "Pillorying the opposition for its "most destructive" agitation that forced Tata's Nano project out of West Bengal, the state government Monday said the launch of the small car in far-off Mumbai was an "unfortunate day" for the state.
Mamata Banerjee, whose Trinamool Congress-led agitation had forced the project out, said she couldn't care less.
Speaking to the media, a crestfallen state Industries Minister Nirupam Sen said: "It (the small car) was supposed to have been launched here. It was a sensational international event which could not happen in our state. It is an unfortunate day for Bengal."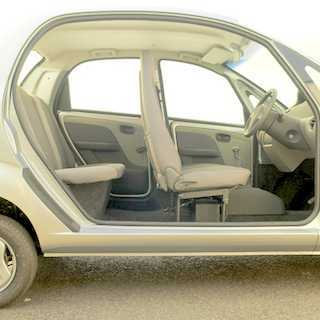 (Tata says Nano's all-steel frame and body panels are positive safety features; safety must be improved for European and US standards before the car can be sold there)
Ms. Banerjee on Monday said she was not bothered by the event and lost her cool with journalists for asking whether she now regretted her campaign that forced the world's cheapest car out of West Bengal.
"We don't care for Nano. That is not our business. We ignore it," Ms. Banerjee said when asked by mediapersons for her reactions to the Nano launch."
Future plans for Nano?
A European version is planned for sales sometime in the next two to three years, and a US version has been hinted at by the company.
Would Americans buy such a small car, with a top speed of barely 60 miles per hour?
Nano would need big design changes to meet US safety and some other requirements. But in this current marketplace, US dealers are having trouble selling the tiny Smart car, and sales of BMW's Mini have slowed to a crawl, too.
More than 7-million motorcycles were sold in India in 2008; Tata's Nano will no doubt put a lot of those buyers and new- and used-car intenders on four wheels, and a motorcycle leisure culture may also develop. Milwaukee's own Harley-Davidson, with slow sales and an ever-graying US audience, may set its sights on India as they have on Japan, where they have enjoyed more-than-modest sales success.
And as you read this, Tata is asking the UK government for financial assistance to keep their newly-bought Jaguar and Land Rover franchises alive.