Early word on GM's expected big announcement Tuesday, July 15, has it that the plan will entail thousands of white-collar job losses, a sharp reduction in spending, including cuts in executive compensation, and a broad realignment of the automaker's North American truck capacity to build more cars and fewer light trucks. GM's board of directors met Monday to approve the plan, which took weeks to prepare. We shall see; check this space Tuesday night for our take on the announcements.
On Monday, President Bush lifted a presidential ban on offshore oil drilling on the Outer Continental Shelf that was implemented by his father in 1981. His action has no immediate effect because Congress has enacted prohibitions on offshore drilling annually since the 1980s. But it let Bush blame Congress for not taking action to keep us addicted to oil.
US VP Dick Cheney is said to have created the country's energy policy in secret meetings with Big Oil execs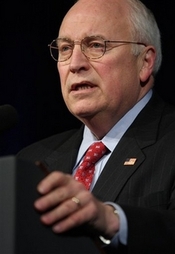 So this is an opportune time to review where the Detroit Three stand when it comes to building vehicles relevant now and in the future that Americans will want to buy.
General Motors is working on a plug-in hybrid family-sized sedan called Volt for Chevrolet. GM said last year Volt would get 600 miles per 12 gallon tankful of gasoline (Volt uses a gasoline generator to recharge its batteries; Volt's wheels are driven by electric motors). Also, GM said Volt could be recharged with a standard 110-volt household plug.
But GM is already backing away from that 600-mile range. Reports say GM thinks Volt's gasoline tank is too large, so the new goal is a range of around 360 miles.
Bob Lutz, the 76-year old GM VP, a former Marine whose hobby is collecting, restoring and flying fighter jets, introduced the Volt at the Detroit Auto Show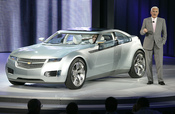 Last week, GM told the National Highway Traffic Safety Administration, "for the purposes of the NHTSA rulemaking, GM's game-changing EREV technology should be treated as a low-volume application during the time period under consideration. We strongly discourage NHTSA from applying either PHEV or EREV technology in any significant volume in its ... model during the 2011-2015 timeframe."
To translate, that means, 1) GM doesn't expect to sell Volt in large numbers, and, 2) The General doesn't want NHTSA to use Volt in determining GM's CAFÉ ratings (corporate average fuel economy).
Some say GM will build just 200,000 Volts over five years, about 40,000 cars a year. Chevrolet sells about that many Corvettes every year. The amount is next-to-nothing in a near-16 million vehicle marketplace.
Will Volt become another EV1? GM's full-electric EV1 was leased through Saturn dealers. Skeptics say GM built EV1 to fail, to prove the non-viability of an all-electric car. But when GM sent flatbed trucks to pick up every EV1, some people hid their cars or locked them up, not wanting to lose them.
EV1s in a parking lot at a GM facility in Burbank, CA, waiting to meet their crusher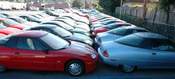 The company has had some success with their new Chevy Malibu gas/electric hybrid, but the company needs a lot more models like that, and fast. Some GM full-size trucks and SUVs are now available with a "dual mode hybrid" system, a complicated package based around a new automatic transmission with electric motors developed by GM, Daimler and BMW. Highway mileage is almost doubled on some models. People are going to buy big trucks for work, towing or carrying a soccer team, and with this system maybe they'll do so in a tad more greener way. But this particular system will not win the Nobel Prize.
At Ford, the former head of Boeing, Alan Mulally, replaced Bill Ford as president and CEO in September, 2007. Ford remained "executive chairman," but stepped down from his other jobs after vowing to be a green supporter, but accomplishing next to nothing.
After Ford showed a surprising US profit in the year's first quarter, Mulally was hailed as a savior.
But with skyrocketing gas prices, Mulally says he can't predict when or even if the company will show a profit again in America. Apart from the gas/electric hybrid Escape small SUV (twin of the Mercury Mariner), the future is cloudy (or smoggy) at Ford when it comes to alternative fuels and developing cars and trucks to use them.
Ford's new Flex wagon was displayed as the Fairlane concept at auto shows across the country the past two years; its relatively low fuel mileage from a V6, with no 4-cylinder available, might keep it from doing as well as Ford hopes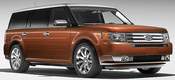 The company's website heavily promotes ethanol and says Ford is investigating hydrogen fuel cell vehicles and plans on more new gas/electric hybrids. Ford has produced 1.6 million cars and trucks which are Flex Fuel Vehicles, running on a combination of ethanol and gasoline.
And then there's ... Chrysler.
In 1998, Germany's Daimler (parent of Mercedes-Benz) bought Chrysler for over $36 billion. Daimler wanted Chrysler's skills in building small cars and Chrysler wanted entrée into Daimler's dealers worldwide. In August, 2007, Wall Street investment firm Cerberus took Chrysler off Daimler's hands for $7.4 billion, an unprecedented reversal of corporate fortunes. Daimler kept a near-20% stake in the new, private Chrysler.
Chrysler has put together a gas/electric hybrid package for their biggest vehicles. The problem? The gasoline engine in these big vehicles is a Hemi V8, Chrysler having dredged-up the Hemi name to sex-up a boring product line-up. Now, what the heck is a Hemi Hybrid? Chrysler didn't learn from Honda, which failed in trying to sell their gas/electric hybrid Accord both as a fuel-sipper and as "the most powerful Accord ever." Schizophrenic advertising never works.
Bob Nardelli, the guy on the left who looks like every car salesman you've ever seen, hands the keys to the 25,000th Dodge Viper to Kurt Busch, driver of the #2 Penske Dodge in NASCAR; Busch is no doubt thinking about how much gas is going to cost for his new car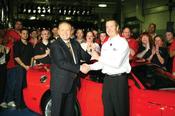 Chrysler is running a cynical promotion called "Let's Refuel America!," guaranteeing some buyers a locked-in gas/diesel price of $2.99 a gallon for three years. On their website, Chrysler says that it applies to, "new and unused eligible 2008 or 2009 model year Chrysler, Dodge or Jeep vehicle (excludes all SRTs, Dodge Sprinter, Dodge Viper, Dodge Ram Chassis Cab, Dodge Challenger, Chrysler Crossfire, Jeep Wrangler and Jeep Wrangler Unlimited) between May 7, 2008, and July 7, 2008. In addition, you will need to have an active Visa or MasterCard credit card account."
It seems some of the people the lower fuel price would benefit are those suffering financially and having a credit card might not be an option. Why not offer a simple debit card?
Instead of gimmicks, Chrysler must follow what we said in this posting's open: That the Detroit Three have to build cars and trucks which make sense now and in the future, and which Americans want to buy.
So, what do you think of Detroit's efforts so far in the 21st century? What North American-made car or truck would you buy, or have bought recently, and why? One group of buyers is well-known within the industry as "Honda-only." Have you bought an import? Which one and why? How do you compare the service you get at a domestic dealer and from an import?
Or, does the concept of "domestic/imported" have any meaning at all today?