Here's the green wrap on the Paris Car Show, 2008 version. As in yesterday's posting, we're taking a look at some concepts which might have a chance to see the light of day, and some production cars which bode well for the European and possibly the US markets. And we really like to show new small cars. It's fairly easy to "upsize" when fitting a smaller car into a larger "box," but it's "downsizing," trying to stuff a 3,500-pound car into a 2,500-pound box which is really difficult, and something European and Asian carmakers still seem much better at doing than any of the Detroit Three.
Ford's Fiesta ECOnetic is a clean, mean and green small production car, going on sale across Europe later this year. It will be the third Ford ECOnetic car after a 139g/km Ford Mondeo ECOnetic and a 115g/km Ford Focus ECOnetic. A US version of the Euro Fiesta should be available later in 2009. (Ford Fiesta ECOnetic).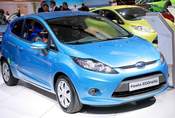 Ford's ECOnetic models use non-engine-tuning measures including aerodynamic improvements, low rolling resistance tires, lower suspension settings and low-resistance engine lubricants to improve fuel economy and lower CO2 emissions.
Ford's second-generation Ka small car, still not slated for the US, will actually have higher CO2 emissions than the larger Fiesta. The most fuel-efficient Ka has CO2 emissions of 112 grams per kilometer. It is powered by a 1.3-liter diesel engine. The most fuel-efficient Fiesta is an ECOnetic version powered by a 1.6-liter diesel engine. The Fiesta ECOnetic has CO2 emissions of 98g/km. Ford likely will sell an ECOnetic variant of the Ka but has no launch date yet.
Ford will offer three new Ka custom packages that debut in Europe with the new model in January. While they are relatively green, considering their size, mileage and emissions, we like them because they show the possibilities of small car customization when it's done by a major carmaker with lots of experience in the genre.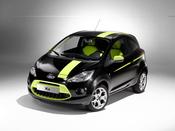 Ka Digital: Hi-Liter green is the name of the game, with an offset stripe across the top of the car and on the sides, along with a glow-in-the-dark colored grille. Inside, that same shocking color is applied liberally throughout, appearing on the dash, doors and seats.


Ka Grand Prix: Traditional red and white racing colors make a more subdued impression than the green of the Digital, and the two colors cover all the same features on the Grand Prix. A rear spoiler and white alloy wheels round out the racing-theme.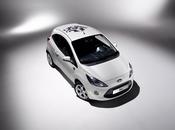 Ka Tattoo: Ford rolls out the Tattoo edition of the Ka with a large decal on the roof and a smaller matching tat on the fender. Metallic colors and trim cover the interior, which gets tattoo-like embellishments on the seats and floor mats. All three special editions will be available with the high-performance Zetec engine and model option; pricing not yet announced.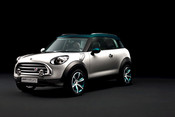 One other carmaker which has proven to know a thing or two about separating their small cars from all the others is BMW and their Mini brand. Mini's crossover concept shown at Paris seems a look at a future buffed-out Mini which wants to again win the Monte Carlo Rally; when an "original" Mini, highly-prepped for competition, won that race in 1964, it started a worldwide craze for Mini which is still alive. Mini's new station wagon-like Clubman takes the car in a new direction, so why not pack it off to the dirt, snow, rain and deep mud of Monte Carlo and other famous rally events?
Italy's Pininfarina design studio has styled almost every production Ferrari since Enzo started making his eponymous cars for roads and tracks. Their latest creation is B0, a compact four-seat hatchback EV. Pininfarina, in a joint venture with French battery maker Bolloré, says they can build this electric car in significant volumes. It's great to see what this company, so closely associated with sports and racing cars, has been able to do when given the very serious assignment of packaging a combination of futuristic drivelines and appearance. B0 would look right at home in a Tokyo of, say, 2015. So why not in Los Angeles, circa 2010?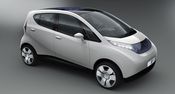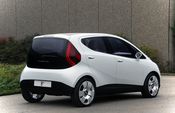 B0 uses a hybrid energy storage solution consisting of a 30 kWh lithium-polymer battery and a bank of super-capacitors. While the capacitors have very limited storage capacity, they can absorb and release energy much faster than a battery. Limited production will start late in 2009, ramping up for higher volumes as batteries become available and more affordable. B0's battery pack claims a lifespan of 125,000 miles. A single charge is expected to deliver 153 miles of driving with a maximum speed of 80 mph. Helping to extend the range are solar cells in the roof and on B0's nose. We're still waiting to see more applications of range-extending flywheels on concepts, mechanical systems used to store energy, rather than the chemical energy storage devices known as batteries. Formula One race cars next season must have such devices on-board and operational.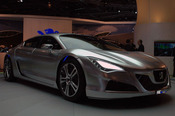 Unlike the hybrid systems used by current production vehicles, Peugeot's RC HYmotion4 concept has no direct mechanical connection between the electric motor and gasoline engine drive systems. RC HYmotion4 has a turbocharged 1.6L four-cylinder engine driving the rear wheels with 218 hp and 206 lb-ft of torque. Additional propulsion comes from a 70 kW electric motor situated between the front wheels. RC can operate in either rear-, front- or all-wheel-drive modes. It also operates using internal combustion, electric-only or blended modes. The 3,141-lb four-door coupe accelerates from 0-62 mph (100kmh) in just four seconds when both power-makers are used. Having the electric motor at the front axle means that more kinetic energy can be recaptured through regenerative braking. According to Peugeot, the RC can get 52.3 mpg and output CO2 emissions of just 109 g/km.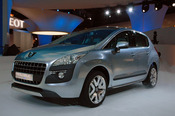 Peugeot's Prologue crossover has a 163-hp 2.0L four-cylinder turbodiesel engine powering the front wheels and a 27 kW electric motor delivers torque to the rear axle. The combined output when both the diesel and motor are running is 200 hp with 221 lb-ft going to the front wheels and 148 lb-ft to the rear. Front-, rear- and all-wheel-drive modes are available. Rear-drive electric-only is available up to 30 mph. Peugeot says the electric motor is activated during transmission shifts to provide uninterrupted power flow and smoother operation. Prologue uses a (cheaper) nickel-metal hydride battery pack hidden under the rear seat. Prologue can achieve 57.4 mpg (U.S.) with carbon dioxide output of 109 g/km, according to Peugeot. Prologue also looks a lot closer to being production-ready than their RC.
In our last blog post, we reported on the $250,000 Ferrari California which debuted officially at Paris. We're informed the car is already sold-out until 2011.