The Detroit News reports that Cerberus Capital Management has been mum about its talks with General Motors and Renault-Nissan about a possible merger scenario with Chrysler. But no one needs to fear what might happen between one or two or even all of the Detroit Three, and perhaps some of their overseas friends, as well. One of America's best-known and most-loved public servants is "on the case." Read on and understand.



(No one knows yet where Chrysler will land and in what condition; the company says they have several solid offers for their Dodge Viper division, and we think Indian car-maker Tata is probably one of those bidders).
Looking for some comment from Cerberus on the current crisis, three reporters actually chased Cerberus Chairman and former Treasury Secretary John Snow down a Capitol Hill hallway after a congressional hearing, only to be rebuffed.
So who finally broke the ice with at least some public comment?
Former Vice President Dan Quayle, who is chairman of Cerberus Global Investments, an international unit of Cerberus. Quayle told a group in Phoenix this week that the company would hold out for a good deal involving Chrysler. That's right, the ex-VP and ex-US Senator, whose own sister told the media that while at college, her brother Dan's favorite period was "lunch," is right where he's supposed to be, on the team making the huge decisions about the future of the US automotive industry.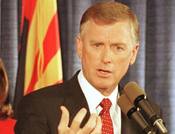 "The analysts are looking at it," Quayle said, according to the Phoenix Business Journal. "We're not going to do the deal unless it's a positive for our investors. We don't buy companies based on growth stories. We do not price our companies that way... We're opportunity investors." Now, isn't that about the single most patriotic take on the crisis we've read?


Whew! For a minute there, I thought Cerberus might really be in trouble, might really be in over their heads with their purchase of Chrysler from Daimler. But, now that we know Dan Quayle is on the front lines, I'm sure that you, like me, can sleep a little sounder this evening.
Now we need to find out for you if there's any truth to the rumor that Cerberus is recruiting Sarah Palin for their new Alaska investment division.