Everything on this list makes an excellent stocking stuffer and welcome addition to the kitchens of home entertainers. (Well, the grill press would need a very sturdy stocking and the repositionable labels a very wide stocking.) The side margins of At Home by Steve Poses are filled with advice like this on equipment as well lots of other advice designed to inform and inspire.
1. Dough Scraper
My dough scraper scoops up and transfers chopped vegetables from my cutting board to a bowl or pan. I also use it to keep my prep area clean and tidy. It is an invaluable assistant. I would not think about prepping vegetables without it. For more tips on using a dough scraper, see Setting Up For Prep on page 21 of the At Home book, or see the dough scraper in action in my Setting Up For Prep video.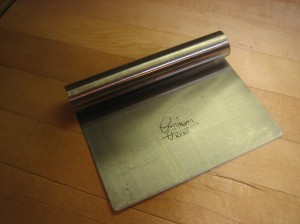 2. Stainless Kitchen Tongs (Spring-Action)
Everyone needs a pair of stainless steel spring-loaded kitchen tongs. Kitchen tongs act as an extension of my hands when handling anything hot. Tongs are much more handy than a kitchen fork or spatula. Read more about how I use kitchen tongs on page 182 of At Home.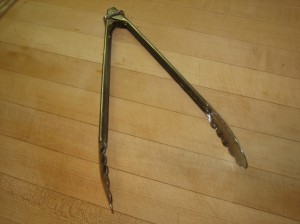 3. Microplanes
These super-sharp graters come in a variety of sizes. They are perfect lemon zesters -- removing only the zest and leaving behind the bitter white pithe. I use my microplane to grate a little nutmeg or a big hunk of reggiano parmesan. Read more about microplanes on page 129 of At Home.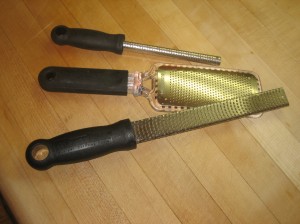 4. Instant Read Thermometer
Thermometers are your x-ray vision. They enable you to see inside anything you can poke and tell you the temperature. Use them to tell if your premium sirloin steak on the grill is medium rare and if your mac 'n cheese heating in the oven is sizzling hot inside. Read more about x-ray vision using instant read thermometers on page 167 of At Home.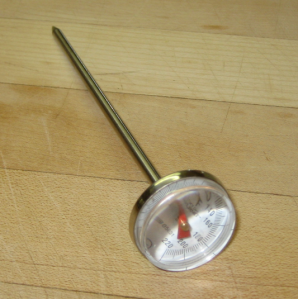 5. Electric Spice Grinder
The best way to extract maximum flavor from spices is to toast whole seeds and pods in a dry pan over moderate heat until they release their fragrance, allow to cool and then grind in an electric spice grinder (These are commonly sold as coffee grinders). I regularly grind small batches of black peppercorns and keep a small wooden box of fresh ground pepper next to my stove. I strongly advise against ever using pre-ground pepper!

6. Juice Reamer
A juice reamer - typically wood - is about 5 inches long, with a pointed end, and has grooves along its sides. This turns out to be the ideal shape to extract juice from a lemon or lime -- much more effective than squeezing.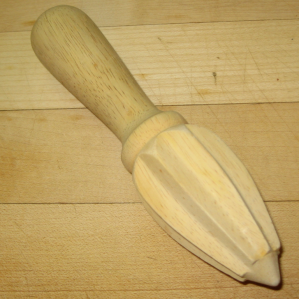 7. Repositionable Labels
Repositionable labels are Post-It's for kitchen professionals and an indispensable tool for the organized entertainer. I use them for everything from making and arranging my prep tasks, arranging (and re-arranging) my work schedule -- allayed on my refrigerator or kitchen cabinets -- to labeling my platters and bowls so I know what goes in what. Make sure you get the removable type. Pictured here are Avery #6460. For a fuller explanation of how to use repositionable labels in the kitchen see page 12 of At Home. In addition to a pretty bow, you may need to include some explanation as to why in the world you would give these as a gift. But trust me, they will revolutionize the life of an entertainer.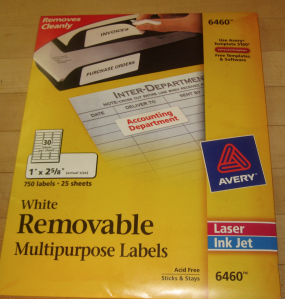 8. Flexible Fish Spatula
People unnecessarily fear cooking fish. Turning a fish fillet in a pan can be a challenge -- unless you have one of these flexible fish spatulas.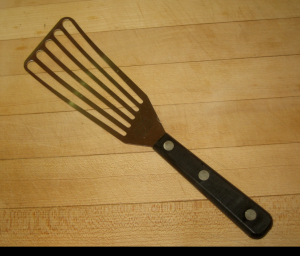 9. Silcone Pastry/Basting Brush
Silicone pastry brushes are ideal for basting as they remain pliable while holding up to heat. They also are simple to wash in the dishwasher.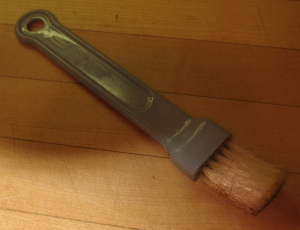 10. Grill Press
This weight with a stay-cool wooden handle improves and speeds your grilling by pressing against the top of whatever you are grilling, increasing contact of the underside with the grill and helping form better grill marks and crust. Also excellent for cooking burgers in a pan or grilled cheese.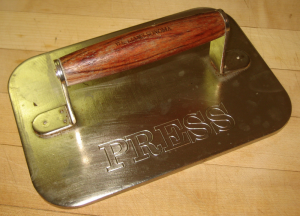 11. Remote Oven Thermometer with Alarm
The only infallible way to know whether a roast is done is to know its internal temperature. Using a guide of minutes per pound is just not reliable because oven temperatures are often not true and roasting time depends on the starting temperature of what you are roasting (Ideally you should bring a roast to room temperature before roasting). Certainly you can use a simple meat thermometer and check it often, but these useful gadgets have a probe that goes inside the roast and an external thermometer that sounds the alarm when you have reached your programmed temperature.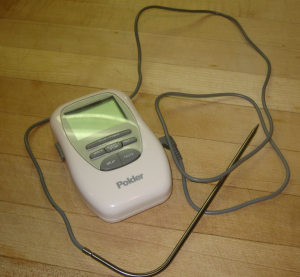 12. Timer
The less you have to think about and remember when cooking the better. Read about the value of a timer on page 159 of At Home.