I wish reporters and pundits focused on the commitment and work of government officials instead of describing the shutdown in numerical and political terms.
As Americans, we need to promote the role public servants play in keeping society together. We need to give them personalities and responsibilities instead of clumping them into large numbers (ex. 800,000 furloughed).
Even more, when we label a public servant as "non-essential," we do little to promote their sacrifice and dedication to making our country and world a better place. Even more, this belittling label does not inspire young and innovative people to join government to make positive change.
Today, to combat the numerical framing and the "non-essential" label, my organization, GovLoop unveiled "You Are Essential," a new campaign to show solidarity with government employees furloughed during the shutdown. Our message is clear: Let's promote the importance of public service instead of 'shutting down' government employees by labeling them "non-essential.
The first phase of the campaign invited government employees to explain why their jobs are essential. We have already received over 350 responses. Looking at the responses reemphasizes the extent in which government workers empower, enable and enact change in the United States. Whether you are facing health issues, starting a business, have a disability, care about the environment or enjoy food, the government is there to protect, propel and promote Americans.
My words do not do justice to the responses we have received so here is a sampling. Respondents stated "I am essential" because:
• I help businesses enter foreign markets every day, helping create U.S. jobs!
• I educate visitors and citizens of the United States about the government.
• I provide technical assistance to small businesses and rural government officials.
• I support a major tourism destination that serves as a cultural outreach to the world.
• I make sure GPS works!
• Americans deserve to have unfettered access to federal courts.
• I take care of the admin work so that the researchers can find a "cure" for cancer.
• I'm a meteorologist that helps save life and property!
• I coordinate the food & beverage sales and entertainment for 40,000+ Active Duty military!
• Life on Earth depends on safe human spaceflight.
• I strategically communicate essential information to agencies serving citizens.
• I connect residents to services for basic needs (food, clothing, shelter, etc.).
• I am a steward of public lands to ensure future generations have access to forests and grasslands.
From outer space to hospitals to underserved neighborhoods to military bases, government officials illustrate everyday (when they are not "shutdown") that they are indeed essential.
Today, join GovLoop by spreading the "You Are Essential" message. There are only two steps:
1. If you are a government employee or a supporter of government employees, describe why you or they are "Essential." Each contributor will receive a pack of "I Am Essential" themed stickers to distribute.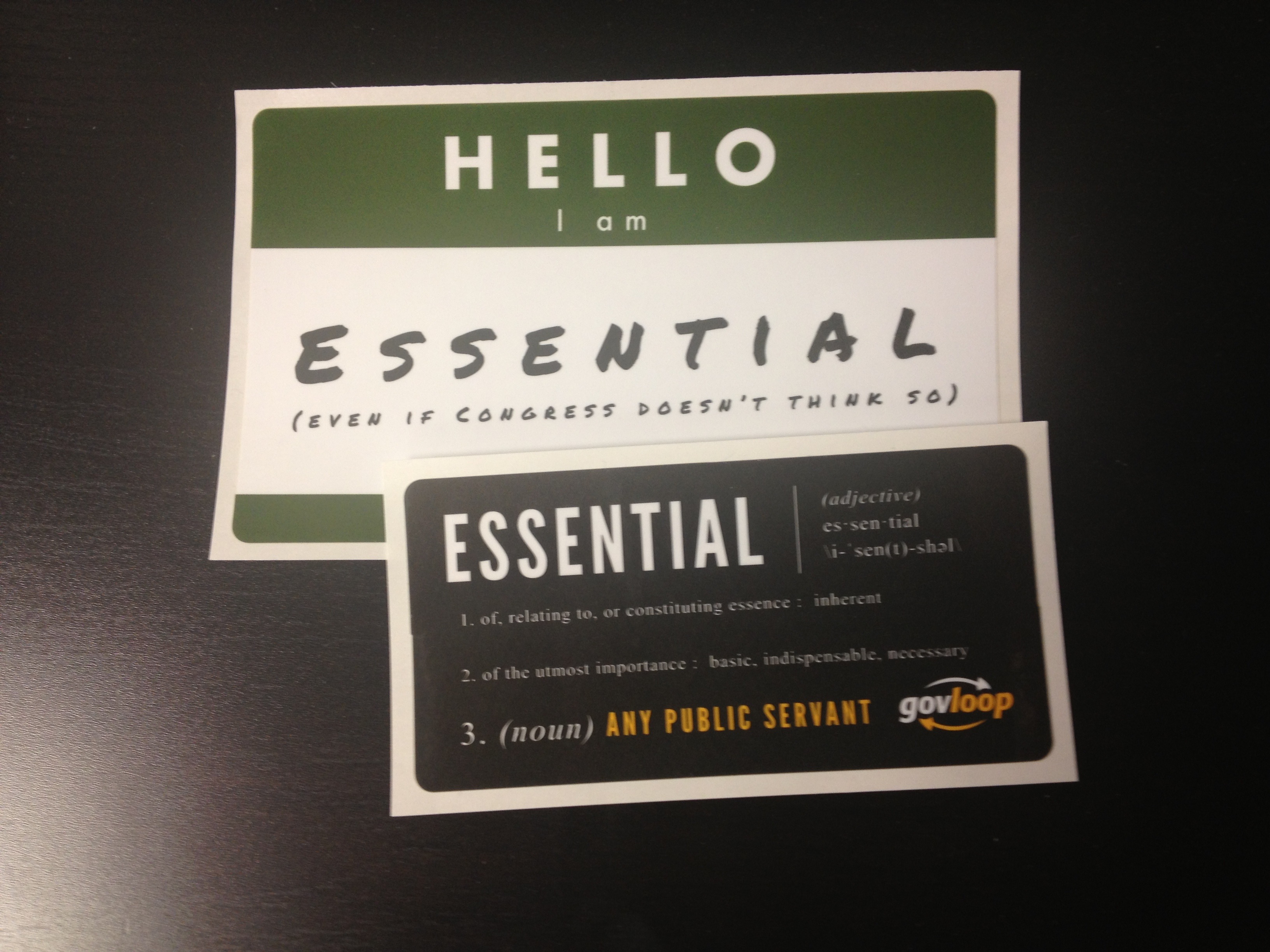 2. Change your profile pictures on Facebook to support those who are entering their third week of being furloughed due to the shutdown.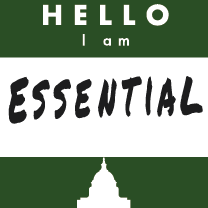 Both of these actions can be taken at our "You are Essential" page
One of our respondents wrote, "I am essential because I help protect the integrity of our democracy." Today, lets make lemons and limes (the shutdown) into margaritas by promoting public servants and drawing new talent to these essential jobs.