Huffington Post Reader Question
Dear Steve,
Hi, I have some student loan debt (a total of $82,000) and I was wondering if something should happen to me, would my parents need to pay it off? I have always wondered this, because well frankly stuff happens and we don't always know what might happen tomorrow. I am including a copy of the types of loans those are.
Please look at my attachment. I went to a website called "National Student Loan Data System for Students" to get this loan summary.
Thanks again!!!! I really admire your desire to give FREE advice!!!
You are a wonderfully great person.
Roger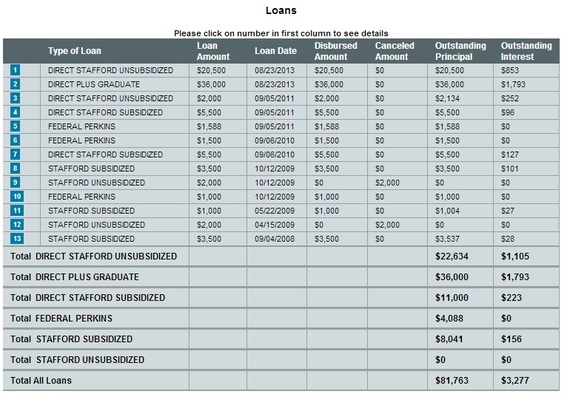 Don't miss my free my weekday email newsletter with the latest tips and advice on how to beat debt and do better financially. Subscribe now. - Click Here
Dear Roger,
First off, thank you for the kind words.
If the student loans are in your name alone and your parents did not co-sign for the loans then they are your loans, not theirs. They would not repay them.
I could not help but notice that you have quite a few individual loans. It might be worth considering consolidating them into one loan. According to the U.S. Department of Education the loan consolidation would offer you the following benefits.
"Loan consolidation can greatly simplify loan repayment by centralizing your loans to one bill and can lower monthly payments by giving you up to 30 years to repay your loans. You might also have access to alternative repayment plans you would not have had before, and you'll be able to switch your variable interest rate loans to a fixed interest rate."
"You also should consider the impact of losing any borrower benefits offered with the original loans. Borrower benefits from your original loan, which may include interest rate discounts, principal rebates, or some loan cancellation benefits, can significantly reduce the cost of repaying your loans. You might lose those benefits if you consolidate." - Source
For more information on consolidating your loans, click here. There is no charge to consolidate.
For more information on how to deal with problem student loans, click here.
Steve
Get Out of Debt Guy - Twitter, G+, Facebook
If you have a credit or debt question you'd like to ask, just click here and ask away.
If you'd like to stay posted on all the latest get out of debt news and scam alerts, subscribe to my free newsletter.
PHOTO GALLERY
States With Highest Average Student Debt - TICAS - Class Of 2012