There's a silver lining in the cloud that is the economy - this perfect storm of technology, the shift from analog to digital TV, and the emergence of web content companies that will usher in the era of Internet TV.
And if you're waiting to swap cable for web TV, the CES show in Las Vegas last week was chock full of clues about just how soon you can expect Web TV to be a reality.
But wait - not so fast.
First, let's take a look at the field of current players in the connected TV space.
The Flat Panel TV makers like Samsung, LG, Sharp, Panasonic, Toshiba and Sony, all offered devices devices that were internet enabled in one way or another.
Then, there are a whole slew of set-top boxes vying for your love. Apple TV, Roku, and Tivo are all in the game today. Next generation boxes from Netgear and and other hardware co's are on the horizon.
And finally, there's a slew of new software companies that are looking to bridge the gap between the flat panel manufacturers and the web. Folks like AnySourceMedia, Boxee, Netflix, Amazon, Macrovision, Yahoo, and of course, Microsoft.
But all of this is somewhat besides the point. The real sea change is that the web is - for the first time - a real alternative to cable and broadcast TV from a content perspective. With the migration of the prime-time schedule from local affiliates to services like Hulu, home viewers can watch 'The Office' via the net. ABC, powered by the crystal clear video of Move Networks, offers its prime-time schedule on its website as well. And the emergence of web-exclusive content from studios like Revision 3, and Mevio, and MyDamn Channel all provide viewers with new (and in many cases better) video choices as they look for content.
So - why now? 2009 is moment in time when consumers are restless. And with good reason. NBC is shifting from dramas at 10pm to Jay Leno behind a desk. HBO is hitless - 'The Soprano's' seem so very long ago. And while cable has a handful of hits (Mad Men, Damages) David Pogue in the New York Times points out, you can get the full seasons on Netflix as part of their $9 all you can eat download and DVD offering.
I've said for a long time, the biggest and most powerful untapped resource in the future of web entertainment is the huge expense most American families currently put toward the 'free' television they get. By that I mean the bundled set of offerings that are called cable tv. You pay for 1,000 channels, and watch maybe 10 of them. If you're getting broadband, cable, and some premium channels you're probably paying over $100 a month. That's $1,200 year. Now, if you canceled your cable - just kept broadband - that would drop your bill to $480 a year. Leaving $720 a year that could be parsed out to VOD, Netflix, iTunes, Amazon, or any of the other services that are sure to be better capable of working with you on a micropayment basis to sell you just what you want.
In tight times - people change brands, shift habits, and explore new ways to get more entertainment and information for less money.
So, where do you place your bets.
Shockinly - the Flat Panel guys seem to have opted for closed systems. it's as if they think that we'll trade our hostage relationship with cable co's for the same releationship with them. Fat chance.
Here are the demo's from both Samsung and Sharp. See for yourself how they proclaim that "Sharp is the Platform - NBC is the content Provider" or in the case of Samsung, how the woman doing the demo confusers herself with the product saying: "I am not a web browser."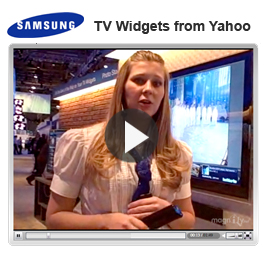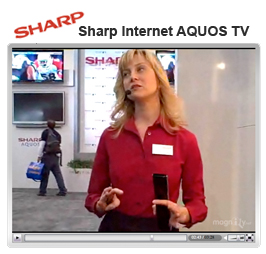 But fear not - the future is software! Both in content and in content aggregation. In comes a snappy outfit that's built some darn good software that can gather, organize, and even socialize your media. They're called Boxee -and it's a delicious treat. Think of it as a cable set top box without the license fee. And better than that, Boxee respects ALL your content, from the web, from netflix, even your home media on your local network. Here's a quick Boxee demo from the show floor in Vegas:
2009 - the pieces come together. CES is the starting bell. And despite the vast number of people who have purchased flat screens in the past few years, the majority of the US television audience is still on old model TV's. This means 60% of the US population who buys Flat Panel Displays in the next few years will have the option to buy internet-ready units.
At the same time, the convergence between the computer and the living room could shift the source of your entertainment, news, and community video from a set top piece of hardware to a piece of software that can run on whatever you've got hooked to your TV.
How this happens will determine just how quickly Internet TV becomes a mass market realty.