UPDATED: See AMC spokesperson response at the bottom of this post:
After the Dark Knight shooting in Aurora, Colorado one might assume that movie theater owners took a hard look at security and safety in their theaters. It certainly appears so, as the pre-movie announcements added the warnings to alert theater staff to 'suspicious' individuals -- and in the event of emergency to move quickly out of the exits and far from the theater.
But on a sold-out Friday night at New York's massive AMC Lincoln Square theater -- those expected emergency procedures were put to the test... with results that question just what AMC learned and has done in the wake of the James Holmes shooting that killed 12 and injured 58.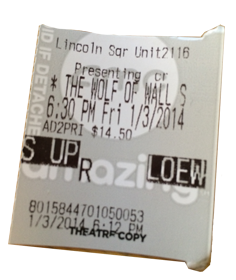 The evening began normally enough though with temperatures at nine degrees, the streets outside the theater were certainly no place to be standing around. And this isn't simply any AMC theater -- it's the crowned jewel of the chain -- a massive 4,144-seat theater with 13 auditoriums.
At about 10:50pm, as the screening of Wolf of Wall Street was reaching its inevitable climax and downfall -- the screen went dark. The theater was black, and the audience sat quietly -- expecting the projector problem to be resolved. Moments later, off in the distance, you could faintly hear the sounds of a fire alarm. Within the theater itself there was no warning. No flashing lights. No emergency lighting. No house lights. No announcement to proceed calmly to the exits. The crowd of an estimated 750 within the audience were left without direction, information, or guidance After perhaps a minute, people began to file toward the theater exits. Some went out the exits to the street. Others exited back into the theater complex.
Once out in the street -13 auditoriums worth of people were wandering around, there was no theater staff. Just confusion. Would the films re-start? Would we be offered refunds? Was it a fire, or a false alarm? No management on a Friday night. There was no one at the front door -- where audience members began to escape the cold and return to the theater. The complex today holds 13 theaters including the world's largest IMax screen and 4,144 total seats. A crowd that clearly required some information, direction, and an emergency exit plan. There was none.
Instead, fire trucks arrived -- perhaps 8 minutes after the first alarm sounded -- and one lone employee from AMC was left alone in the theater lobby with hundreds of patrons yelling to exit, as this was a fire. Again there was an opportunity for panic.
How is it that AMC had no emergency exit plan? How is it there was no announcement? No lights or fire alarm sounders in the theater? No house lights or emergency exit light, save the lone "exit" sign above the door to the street?
Whatever happened at AMC Lincoln Square -- the lack of a clear and well-executed evacuation plan was a recipe for disaster. Only the calm and even-tempered response of the NYC audience stopped what could have been a panic and multiple injuries.
AMC needs to address the lack of emergency planning at this massive flagship theatre, and ticket holders who's evenings were ruined and potential safety endangered deserve an explanation an apology, and some free popcorn. Sitting through a 3 hour movie to see the last 15 minutes is hardly what AMC guests are looking forward to.
AMC spokesman Ryan Noonan (@ryanjnoonan on Twitter) was contacted regarding this incident, and responded with AMC's policy: "When a fire alarm goes off, we evacuate the theater as quickly and calmly as possible. We let the fire department determine what the issue is and how quickly we can reopen. We have emergency lighting in every auditorium in our buildings, and whether or not we can pick up a movie from where it was interrupted (or restart it) is determined on a case by case basis."
He went on to give a specific response to last nights NY evacuation:
"Specific to last night, when the alarm went off, our crew immediately evacuated the building. After the fire department determined the building could not reopen immediately, passes were issued to anyone who remained. Guests who did not receive a pass may use their ticket stubs from last night as a pass to a future movie at AMC Loews Lincoln Square."
So, the good news is that they will provide compensation. But regarding his characterization of how AMC staff responded -- guests in the theaters tell a markedly different story.
@lavoiemj tweeted: "there was no emergency lighting in my theater at all. People were using their phones to get out."
and @GlutenGossip said: "my experience was...staff were unhelpful & there were no alarms/notifications."
@thecavegirldish reported: "there really wasn't any exit strategy in place. We only heard the alarms from the hallway, the theater itself was quiet."
And @SteveFeld tweeted: "There was mass confusion in my theater. Most ppl stayed in seats.Only an unspoken agreement to be calm kept the crowd at ease."
"This was completely unacceptable for a NYC movie theatre - @AMCTheatres needs to revisit their protocol ASAP!" tweeted @GlutenGossip
Theater info via: http://cinematreasures.org/theaters/7222