Sometimes, it's easy to forget just how far New York has come in the past five years. But sitting in the Skirball Center at NYU at the most recent New York Tech Meetup, I had a flashback. I remembered when people would look at you sideways if you said you were going to build a tech company in New York. I remember when all the money and talent was being drawn west. When tech was owned by Silicon Valley.
But today - it's very different.
The two hours of presentations at NYTM were each worthy of their own blog post - but there were a few that for me stood out as important and wothy of mention.
As organizer Nate Westheimer introduced Dennis Crowley, CEO and co-founder of one of NY's hottest startups - Foursquare, it was clear this was an important return visit for the once tech darling. Foursquare did an advance demo in 2009. Crowley was hoping for a hometown boost before heading to SXSW in Austin, TX for the official Foursquare debut four years ago. "We were literally afraid people were going to laugh us off the stage" said Crowley.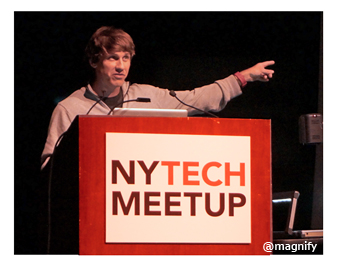 He wasn't of course, and the company has raised a remarkable 71.4 million dollars in the past four years, with valuation pegged at $760 million dollar. But as check-in's and Gamification has become less sexy, some have wondered if Crowley was going to be able to recover. Well, he certainly had a clear vision of how foursquare was on the right track.
"This got us to 160 people on staff, 30 million users and 3 billion check-ins. Now we're starting to figure out ways to flex all the data that we've gotten."
Foursquare's database has 50 million places logged, created by users. From taco shops to schools and steakhouses - and now it's all about the data. "Even those who haven't used Foursquare before, I guarantee you've touched the API in the past," he said. He proudly displayed foursquare data on Instagram, Path, Uber, and Vine.
He displayed a video heat map of check-ins in NY that show what is happening in the city based on users check in. "Every single day, every single city around the world lights up for us," he said.
"I can tell you where people are going to be 15 minutes from now" said Crowley. "Tell me five things you like in San Francisco, I can predict 20 things you're going to like in New York or Chicago. This is the power of what we can do with this data. People are just starting to get hip to it."
Is Foursquare a "location layer" for the Internet as Crowley suggests? He estimates some 40,000 developers build technology on top of his company's platform and data - and he may just be right.
"We've always thought that local search is broken. When different people use search engines to find information on the same locale, they get the same results. Foursquare wants to personalize local search." That's a goal worth shooting for. And based on his energy and vision - it's clear he's on his way to being one of New York's real survivors and winners.
Later in the evening, another NY Tech company showed off some new tech. You might not be paying close attention to the stock photography business, or the NY tech company Shutterstock, but you should be. Founded in 2004, the company has 250 employees, sold 250 million images, and made $120 million in revenue. In October of 2012, the company went public at 17$ a share - giving the company a market cap of $558.3 million dollars.
This New York tech company may not have the buzz of other sexy social media startups, but there's one thing for sure - they're running a real business that's certainly on the move.
Founder and CEO Jon Oringer told Betabeat that the IPO "allows us to continue to be the great company we are already, having the currency, having the strong balance sheet, reaching a status where we can walk into really, really big companies and say, 'we're going to be around for a long time,' will help us," said Oringer.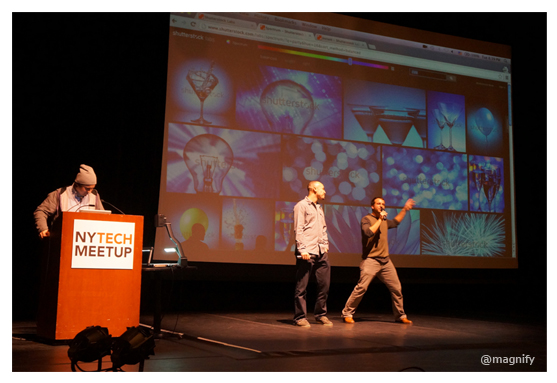 And at the Tech Meetup the newly public company made good on it's promise to continue to innovate. Showing off Shutterstock Labs - with cool new search tools that included "Spectrum" and "Instant" - both search tools that made the discovery process for images more intuitive.
Foursquare and Shutterstock are both great New York companies. And seeing them on the stage at the New York Tech Meetup reminded me of just how far we've come - and what a great future lies ahead for innovation and entrepreneurism within this amazing community.
Have a great week NY Techsters...
Tips, events, or N.Y. Tech news? Email me at Srosenbaum (at) nycedc (dot) com.