A look at the New York Tech Scene from the NYCEDC Entrepreneur at Large:
Last Week -- the week that NY Tech Came Together.
If you want to understand the definition of the word 'community' there may be no better way that to put a group together -- in harms way -- and see how they operation. Well, by that measure the New York Tech community last week became the New York Tech COMMUNITY! Strong, proud, and with a shared sense of mission and purpose.
There are some great stories to be told, and we bail out -- dry out -- and powerup. But first, let's take a quick snapshot of companies impacted by Hurricane Sandy.
Squarespace -- blogged: Squarespace will be offline soon. We have simply run out of power, backup power, and cannot access our fuel in a flooded basement.
Kickstarter -- Perry Chen blogged; kickstarter office closed w no power but many of us are online.
Aereo -- was down briefly, but power was restored.
Livestream CEO Max Haot posted: "The power actually went out during the night... we actually have backup power that is provided by the building, by generators on the roof, and that still is what is powering operations there." #SandyCam was kept live during the storm.
SinglePlatform's office in Battery Park is underwater.
BuzzFeed -- "Basically our developers rebuilt the whole site overnight on the cloud."
Gawker -- was down as well.
Huffington Post -- John Pavey, CTO said; "It was like a war. People were disappearing and you didn't know where they went."
Fab.com CEO Jason Goldberg: "About 1/3 of Fab's employees are currently without power. The other 2/3rds of us with power are welcoming those without power into our homes"
But the real story of Sandy isn't about devastation, it's about solidarity.
Local co-working spaces are stepping up to find room for Sandy's refugees, providing space for workers in need. Brooklyn Bridge Ventures CEO Charlie O'Donnell kicked off the #sandycoworking hashtag.
You can see all the open spaces on this map: https://sandycoworking.crowdmap.com/
"The New York community has always joined together and felt a sense of togetherness," said O'Donnell. "Because we don't have the resources of Silicon Valley, New Yorkers have realized we can only succeed by working together so it's not surprising that people have jumped on board."
The New York Tech Meetup reached out to its 28,000-strong community to help get the city back online. "So much of New York now depends on digital communications, the Internet, computer networks, and databases in order to function," said Andrew Rasiej Chairman of NY Tech Meetup. "In the event of this or any disaster, getting re-connected to networks and back online is critical to rebuilding lives, businesses, and property. The NY Tech Meetup community has thousands of skilled technology professionals ready, willing and able to help New York City get back online and reconnected."
"The NY Tech Meetup community is about more than just technology; it's about helping the city come together whenever there is a need" said Jessica Lawrence, Managing Director of NY Tech Meetup. "Hurricane Sandy has had a devastating impact on a huge number of New Yorkers, and we are ready to do our part to speed the recovery. Our community's extensive tech expertise is unmatched, and we are proud that so many of our members have volunteered to make sure that our city will emerge from this crisis stronger and more unified."
Volunteers with technology skills or companies or individuals who need help can connect here:
www.nytechresponds.org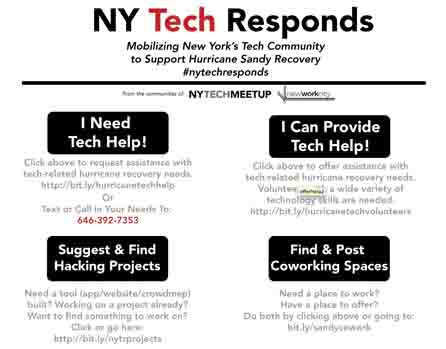 Blogger and NewWorkCity founder Tony Bacigalupo wrote "I witnessed and received several communications from people with displaced teams who were desperate to find a way to get back to work." He says co-working spaces can play a critical part in disaster recovery. "By having a place to point them to, I could easily get them hooked up with a location within biking distance that could help them get online in a timely fashion."
On a personal note, the team at Magnify.net was able to band together during this difficult week in ways that I could only have hoped for. We turned our team 'virtual' for Monday, Tuesday, and Wednesday -- and worked on Skype without missing a beat. Our servers weren't impacted, but our office was unreachable -- and many of our team in Brooklyn and New Jersey were stranded. By Thursday our non-Jersey team members were back in the office. No heat, but we had internet and electricity so we warmed ourselves on the glow of the iMacs. Friday - still no heat, but our Brooklyn team braved the busses. And it was good to have everyone back in the office. We literally had no down time -- and our sites all stayed lit and supported despite the challenges we faced.
The result of the worst storm in the history of New York City, the tech community has banded together to help their friends, partners, and in some cases even competitors. The feeling of solidarity, of community, and sense of purpose has never been stronger. I think we'll look back at NY Tech and talk about it in terms of pre-and post-Sandy.
Sandy may have put some of our servers under water, but it raised up our community. That's for sure.
One more thing: DON'T FORGET TO VOTE!

Tips, events, or N.Y. Tech news? Email me at Srosenbaum (at) nycedc (dot) com.