This weekend I found myself standing at the Memorial at the World Trade Center site. Observing and thinking. Around me were families, young and old. For the adults, the names and the empty voids and the blue sky was powerfully moving. For them, the space above the memorial voids could be filled in with our 'virtual reality' images of the twin towers.
But for the younger visitors, teens mostly, the Memorial I suspect is a bit confusing. They've all seen the planes flying into the towers. They know we were attacked and that three thousand Americans died. But chances are they don't know much more than that.
I had to stop myself from walking up to them and saying: "You know, just beneath your feet there is being constructed a powerful museum that will offer you details, information, context, and historic artifacts that will help you understand what happened here.
I could have reached into my backpack and brought out my iPad, and show them pictures of Ladder 3, and told them the story of Paddy Brown and his men. I could have shared with them the Last Column, and the signatures from rescue workers, steel workers, first responders and clean-up workers. I could have engaged them in a conversation about our Nation, the rich diversity of the victims, and surprising events after 9/11 that in many ways have made the terror attract a failed attempt to break our nations resolve.
Believe me, I wanted to.
If you want an advance look at just some of what will be presented in the Museum, here's a video of one of the artifacts, Ladder 3, and the story of its rescue and return.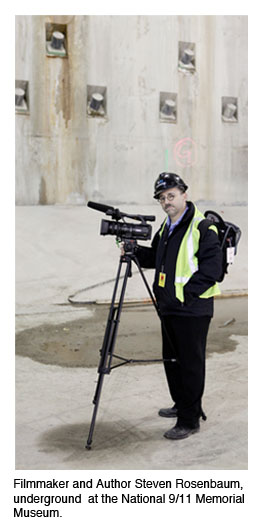 I've been taking photographs, and recording video at the World Trade Center site for the past six years. Ignoring the complaints that it's 'taking too long' because I knew that what was being built, both above and below ground was happening at lightning speed, given the complexity and importance of getting every minute detail right.
The Memorial opened 11 months ago, and since then more than two million visitors have toured the site. And while ideally the Museum would have opened at the same time, I was able to convince myself that in the overall scheme of things - waiting another year or so wouldn't be so bad. It would be worth the wait to have the story and the memorial reunited at the site.
And until last month, I was comfortable that was happening.
Today, there's a political wrestling match underway that threatens this project, even as it's more than 90% complete and in need of final construction clean up and exhibit installation.
The Port Authority, lead by Governors Cuomo and Christie, seems ready to try and wrestle the keys from the The National 9/11 Memorial Foundation. The very foundation lead by Mayor Bloomberg that was able to lift the museum from a poltical quagmire and get it funded and almost entirely completed. Meanwhile, a small group of families with issues about elements of the Museum design are lobbying to hand the Museum's control over to the National Parks Service. Never mind that a park isn't a museum - and that donors of most of the artifacts - myself among them - made a decision to trust their objects to a foundation that wasn't a governmental agency. This is simply a conversation who's outcome was resolved years ago.
The National 9/11 Memorial Museum is treasure. A thoughtful, important, complex, and introspective journey. No one who's stood in Foundation Hall, or viewed the careful curation of the Museum's massive collection, would consider for a moment not finishing and opening this important national landmark.
The politicians and families who stand in the way of this project should spend an hour with me and the teenagers who visited the memorial today. You'd see in their face a hunger to understand far more than we've shared with them. We leave those questions unanswered, or even unasked, to their detriment.
Mr. Cuomo. Mr. Christie. It's time to replace obstructionism with a larger sense of our greater good.
More than 4.5 million people from 170 countries visited the Memorial this past year. They deserve to be able to visit a completed memorial, rather than one frozen and unfinished.
The National 9/11 Memorial Museum deserves to be back on track with a firm opening date. It's importance overshadows a petty political squabble, and standing in its way puts the Nation's needs behind political objectives.
If you want an advance look at just one of the thousands of artifacts that will be housed at the Museum, you can watch the story of Ladder 3. The curatorial efforts to save and present the story of the men of Ladder 3 is a powerful example of why these stories must not be lost to history. Here's the video:
Steven Rosenbaum is a author, filmmaker, and curator. His film 7 Days In September chronicled New York in week after the attacks on the World Trade Center. Since then he's remained engaged in the story of the Museum and Memorial's design and construction. His talk at TED 2012 gave the world its first detailed tour of the underground museum. His film Building The 9/11 Museum is currently in production
WATCH STEVE ROSENBAUM ON HUFFPOST LIVE: