It's been a crazy few weeks on the NY Scene... and wanted to share with you some news.
NY Video Meetup.
Big Changes, New Location, New 'Free' Price, and great presenters, all. We've picked up our meetup and moved it too DUMBO! Yes, we're now at the Made In NY Media Center at 30 John Street - Brooklyn. This amazing facility was the brainchild of our friends at the Mayors Office of Media and Entertainment (MOME) and the IFC.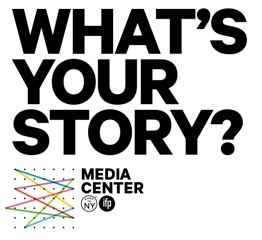 The Made in NY Media Center by IFP is an incubator space for storytellers, creative professionals and entrepreneurs across multiple disciplines to collaborate and create new business opportunities through education, entrepreneurship and content creation. It is the result of a partnership between the Mayor's Office of Media & Entertainment, the Independent Filmmaker Project (IFP) and the New York City Economic Development Corporation as the latest step to bring innovation to the local media, digital and entertainment industries.
Check out the space here: http://www.nymediacenter.com/
Whether you create in pixels, plastic or print, the IFP center is built to help you tell your story. The center is a place where storytellers from multiple disciplines, industries and platforms create, collaborate, connect and incubate across a spectrum of programs, events and experiences. The plan is to bring together innovators in film, video, gaming, technology and more through education, mentorship, entrepreneurship and content creation to Brooklyn's hottest co-working space.
And the folks from the New York Video Meetup didn't disappoint in our maiden voyage at the center.
The night opened with Philippe Collin, General Manager- presenting apivids. Apivids is a cloud-based ad tech platform that advertisers and their media agencies use to create, distribute, deliver, optimize, manage, track and report on the most complex ad video campaigns. And Philippe's presentation made clear, the very nature of video ad creation and consumption is changing FAST. Ads are morphing in shapes, sizes, and platforms And advertisers need to have the tools to follow this fast moving trends. Philippe's presentation was eye opening for sure.
Next up, a content presentation site that's making significant in roads into the international video market.
Romanos Fessas, VP Product and Sung Ho Choi, Product Manager - presented resenting Drama Fever. DramaFever is a large global online video site for international video content. They stream the world's best movies, documentaries and TV shows on demand with professional subtitles. DramaFever is available on a variety of devices including iPad, iPhone, Android, and Roku. Our current library is comprised of over 13,000 episodes from 60 content partners across 12 countries. First launched beta in 2009 and have raised money from MK Capital, AMC Networks, Bertelsmann and the founders of YouTube, Machinima, Google, StubHub and others. In recent months, they've evolved the platform to include both subscription and advertising revenue - and remarkably are making good progress monetizing display advertising on their pages. Everyone in the room took note of the shift in revenue opportunities.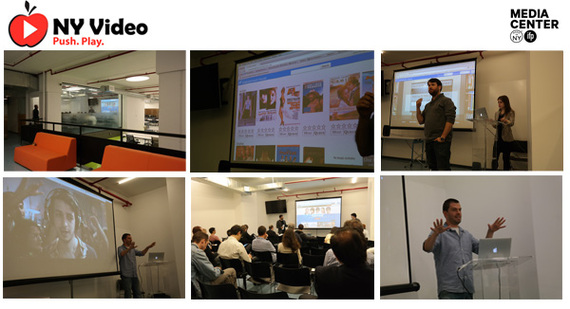 Next up, Columbia MBA candidate and developer Elliot Koss did his first public demo of Entertainment Hound. Entertainment Hound aims to solve problem we all face when trying to rent a movie online. Where is it? What are my choices? How much does it cost? Billed as an a social discovery platform for film and TV, Entertainment Hound solves a real problem. Recommending the best videos from among ALL films (not just a limited number) and then showing you where you can legally stream, download, rent, and own them from your favorite places, such as Netflix, Amazon, iTunes, YouTube, Wal-Mart, and Target, among many more. The demo had the room captivated, and given that Koss is student, doing the Biz Dev deals, and building the site it was pretty darn impressive.
Last, but hardly least was the folks at Interlude. When they last presented at the NY Video Meetup, almost 3 years ago - their company was the brainchild of a Israeli rock star with a crazy idea about having users make choices as to how they watch music videos. But since then, the idea has blossomed into a full blown company - with a list of whose-who investors, a thriving advertising business, and now - in an awesome surprise innovation -a technology platform they're giving away FOR FREE - which absolutely blew the crowd away. The new product is called "TREEHOUSE" and Alon Benari,VP Creative &Innovation at interlude demonstrated it for the engaged crowd. Treehouse by Interlude is a self-service HTML5 web app that inspires your creativity and lets you design and publish your own interactive videos.
You can sign up and explore the free platform here: https://treehouse.interlude.fm/signup
# The Election - this week.
Bloomberg has been a remarkable advocate for the NY Tech Scene... and as a tech entrepreneur himself he's helped get the NY Tech community off the ground. But now it's time for a new Mayor - and while there are many names on the ballot, it comes down to three that matter to those of us who want tech to thrive.
I've met them all. I like them all. Each of them, I believe has NY's best interests at heart. But in the end, I think there's one candidate that is best suited to serve the city and the tech community.
Jack Hidary. Independent. Jack is born from New York's tech community. He was the co-founder of EarthWeb/Dice, Inc. and Vista Research and co-founded the Auto-X Prize. He's running as an independent, and his vision for New York as a tech center is certainly exciting. I've seen him speak, and think the Tech Sector is lucky to have him as a leading and a voice of our community. That said, he hasn't been able to break out of the tech community, and while a vote for him might feel good - he's simply not far enough ahead in the polls or the mind of the general public to make that vote count. I applaud Jack's effort - and hope to see him grow his role in tech community.
Joe Lhota. Republican. I saw Lhota speak, and frankly have been uncomfortable about his somewhat casual lack of concern about tech. In fact, Lhota joked that while at the MTA he was visited by Homeland Security officials concerned about the vulnerabilities of the NYC Subway system. Lhota joked that he told them the subway computers were so old, no one would bother to hack them. That's no way to address either tech or terrorism, and for someone who prides himself in being instrumental in managing how NYC managed 9/11, it was simply not something he should be joking about.
Bill DeBlasio. Democrat. When DeBlasio arrived on the scene, I know some of my tech friends were concerned. And frankly - I wasn't sold. But over the past few months I've seen him speak, get more engaged in the tech community, and work closely with both his advisors and staff to balance his concerns about inequality with a sharper understanding of how New York's tech scene can benefit all New Yorkers.
This isn't a decision I've made lightly - but today I'm excited to say that I'm casting my vote for Bill DeBlasio.
Whomever you think is right for NY - please do vote on tuesday.