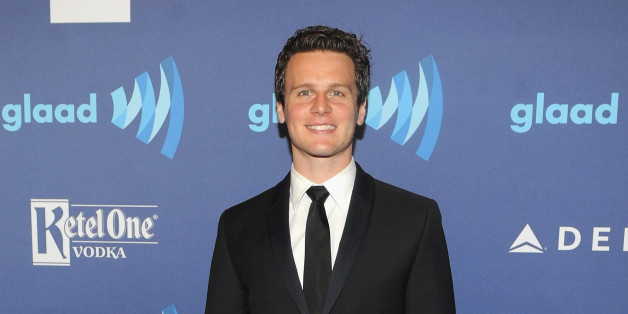 In a year when several of James Lapine's most celebrated collaborations are being revisited, reinterpreted, and revived (Into the Woods, Falsettos), the writer admits that it offers a chance to do right by one he feels could have used a little more TLC during its first incarnation in 1998: A New Brain. "[It] will be fun to do again because that one, we (with co-creator and composer, William Finn) never got quite right," he told me in a recent interview, referring to a new production playing at New York City Center through June 27 as part of the "Encores! Off-Center" series. "So, it's always kind of a pleasure to go back and look at it with some wisdom." Directing this production (as he often does with his own works), this new and "radically reinterpreted" take on the piece will be brought to life by a talented cast from stage and screen including Ana Gasteyer ("Saturday Night Live," Wicked) and headliner Jonathan Groff ("Frozen," "Looking," "Glee"), who admits to being "obsessed with the show since High School."
I sat down with Groff during an early rehearsal for A New Brain to discuss his excitement for the show both as a fan and star of this production, as well as to get some insight into Lapine's creative process as his director, while this new vision comes to life.
"It's sort of a weird story and it sounds like a lie but it's not," Groff warned me before explaining how he came about being cast in the show. "I went to see Lin-Manuel Miranda (actor and creator of In the Heights and Broadway-bound mega-hit, Hamilton) in Tick, Tick... Boom! last summer... I go home on the subway, and I was so inspired and excited and I was like, I have not done a musical in literally years, and this would be the perfect experience to be able to do a musical because it's only a week," he said referring to one appeal of the Encores! series, as it attracts talent who may be engaged in other longer-term projects. "Normally with a musical you commit a whole year, but because of [HBO's] 'Looking' at that time I didn't have a year to commit." So, he says he went home and selected his pick: A New Brain. He sang through the entire score the next day and decided that if he was still excited by the idea a week later, he would email Jeanine Tesori (artistic director of the Encores! Off-Center series and 2015 TONY Award winner for Fun Home) to suggest she consider it as part of the series this year. "Five days later... I've told no one this by the way," he adds, as the drama builds. "I get an email from Jeanine Tesori saying 'how would you feel about doing A New Brain next summer at 'Encores!?' I didn't say anything, I just said yes."
Sounds like a new brain with some telepathic powers. Or perhaps it was just the result of positive thinking after many years of being captivated by the show's score.
Groff says he discovered it from a track his friend included on a "musical theater mix-tape," which inspired him to then buy the CD. "I remember vividly going to my childhood bedroom, putting in this CD, opening up the liner notes, and just from start to finish listening to these songs and reading along, and then many times after that singing and crying in my room.. acting out A New Brain," he said, his inner and lovable "theater geek" on full display. "I've trained to hold my shit together in rehearsal, so that nobody else notices, but I am so emotional just that I get to sing it. But, then in an experience like this with Bill [William] Finn is in the room, and Jeanine Tesori's been in the room, and James Lapine is in the room and this cast is phenomenal and getting to experience this show in this way after being so obsessed with it. Lapine came over to me yesterday... and was like, 'you're living your dream aren't you?' And I was like yes, yes I am. I was so excited."
For those unfamiliar with the show, it's inspired by Bill Finn's own experiences--a medical emergency with his brain--told "through the iris of a Looney Tunes short," so perfectly said in show's press materials to describe a musical-within-a-musical farce that occurs while the main character, Gordon (Groff) is in a coma but after surviving, leads him to reevaluate his life and relationships with those around him. At the heart of the show is a universal story about making your mark (in his case through music) and effectively communicating and connecting in a world that can sometimes seem completely upside down.
But sometimes circumstances win, and as Lapine candidly shared, the first iteration of A New Brain--as much as it may be cherished by fans--was not necessarily what he believes to be its full potential. "At the time, as authors, Bill and I weren't very engaged in it. Bill's mother was passing away... and he was so distracted. He was so close to his mother, and his mother is a character in it. Of course it was also about his own mortality because he went through this terrible experience with his brain. I was really not that engaged in it either, and I didn't direct it; so I think, for us, it's kind of fun to go back to something and look at it and wonder, why did we do that? Why don't we try this?"
Learning of this as an actor and dedicated fan of the show, Groff shared that this "was shocking to me," when he met with Lapine for the first time to discuss the production, and "what he said really interested me in rediscovering it and how 'we didn't get enough of a chance to work on it back in the day'... I showed up on the first day and was blown away by just how serious he was with that statement. Not that the whole show was being retooled, because it's not... but he talked specifically about how when Bill wrote the show, he had this euphoric feeling because he was alive, and some of that euphoric happiness made its way into the beginning that they feel like wasn't appropriate considering how devastating [the situation] was."
"I could tell from the first day [of rehearsals] that they've thought about it so much and it means so much to them. They're really invested in change," Groff added, again with a caveat, presumably as an ambassador both for this production as well as someone who feels personally attached to the original, "I hesitate to say changing it because I have such reverence for the original piece, and they do too... I would say reshaping it is what they're doing."
But this development isn't just led Lapine and Finn as they revisit their own works, but is revealed in Groff as well as he continues to take on more challenging projects and those he feels deeply passionate about like A New Brain. "With this, I am so excited to do it," he said. "The more opportunities that happen, I just get more and more excited to do them. Which I would have thought that when you're young, like at your youngest, is when you're the hungriest, but I've found that it's the reverse for me. As I'm getting older and I'm really sort of figuring out what it is that I want to be doing, I get more invested in the thing that I'm working on."
Steve Schonberg is the editor-in-chief of www.centerontheaisle.com.