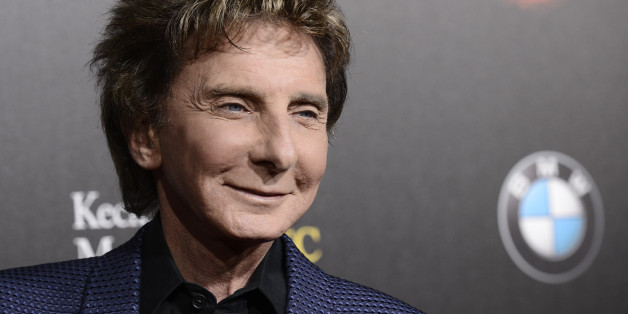 Quick! Finish this lyric: "At the Copa, Copacabana. The hottest spot north of Havana..." Did you? Is it repeating in your brain? Are visions of Lola, Tony and Rico dancing in your head? A master of the "earworm" it's with songs like "Copacabana," "Daybreak," "Can't Smile Without You," and more, that have established Barry Manilow as one of the bestselling, and most recognized pop artists of all time.
However, exactly forty years since his breakout hit "Mandy," Manilow is preparing to enter a new phase of his career -- one that won't be music to the ears of his loyal "Fanilows." He will end his multi-city performances this year with a final tour, titled "One Last Time."
"I'm not retiring or anything, but it's enough packing," Manilow assured me, as we chatted about the grueling demands of being on the road, and as he prepared to rehearse for this historic milestone in his musical legacy.
"I was in the middle of the last [tour], and I just wanted to know when 'Judge Judy' was on," he joked. "I just wanted my life back. I'm very grateful that I'm still able to tour, that there's still an audience out there for me, but you lose your life with touring." Manilow says he's been more content pursuing other projects lately like recording albums and producing his musical, Harmony . "It's just leaving home continually," Manilow said. "I'm done with that."
Regarding his albums, he released two last year, "Night Songs," which brought him his 14th Grammy nomination for Best Traditional Pop Vocal Album, and "My Dream Duets," which debuted at number four on the Billboard Top 200, marking his 15th Album in the top 10. Adding to his more than 80 million albums already sold, "My Dream Duets" pairs Manilow with his favorite performers who are no longer alive, including Judy Garland, Whitney Houston, Andy Williams and John Denver.
Sentimental in his lyrics, if nothing else, it seems only fitting that Manilow will conclude his final tour on his birthday with a performance at the Barclays Center in his hometown of Brooklyn, N.Y. Born there on June 17, 1943, Manilow's career as a musician started at an early age, taking accordion lessons at the age of seven, and playing the piano in a neighbor's apartment.
Working in the mailroom at CBS while pursuing degrees at the New York College of Music and the Julliard School of Music, he went on serve as musical director for the TV show, "Callback" (a predecessor to American Idol). In 1971, Manilow met Bette Midler and became both her pianist and music director. He also established a lucrative side business writing advertising jingles ("Like a good neighbor, State Farm is there," "I am stuck on Bain-Aid brand, 'cause Band-Aid's stuck on me!" and more).
By the mid '70s, Manilow had also begun recording his own solo albums. However, it wasn't until Clive Davis (who had hand selected him for the newly formed record label, Arista) brought Manilow a recent U.K. rock hit, "Brandy" that ignited his career as a megastar.
Manilow changed the title, and with his talent for arranging, turned the rock hit into the sweeping ballad, "Mandy" that topped the charts in 1975 and is now known around the world.
Forty years later with a monumental career behind him and more to come, Manilow reflects on his life with appreciation and an almost disbelief for the turn of events that help catapult him to fame. "I'm very grateful that, at my age, I'm still feeling great" he said. "I still got my hair. I still got my voice. I still got my band. It's like nothing's changed, but I think that once you get around to that last show, I think it will be very moving."
"I do find myself looking back," he added.
"When I think about that young guy... I was so young... I didn't know what was going to happen to me. Before 'Mandy' I would have been very happy being a producer or a composer, an arranger, or piano player," Manilow said.
"That was where I was heading, and I think of myself: this young kid," Manilow added, "It is just so deep thinking about that afternoon, recording 'Mandy', how I had no idea that my life was about to explode in a million pieces and change as much as it did.
Of course "Mandy," wasn't just a breakout hit. It was also recognition of Manilow's early talents and a vehicle for him to develop and present his music on a global scale. His prolific body of work has had a remarkable impact on pop culture, TV, films and -- as cliché as it may be -- important life moments, like weddings, Bar Mitzvahs and proms. "These people come over to me day after day, and they tell me how much my music has meant to them." Manilow remarked. "Strangers, these strangers saying the most beautiful things. I begin to think [about] the impact that I've had... well, I'm a very lucky guy."
In part, Manilow will be returning this appreciation to his loyal fans with this latest tour, where he plans to feature his best known songs. "They want the hits," Manilow said. "I'm happy to do them... I think I've got an audience who really wants to hear the songs that meant a lot to them when they were younger."
For the sake of his "Fanilows," he assured me once again, that "I'm going to be around. You can't get rid of me... with a little luck, there'll be more albums, and there'll be more appearances," albeit on a smaller scale.
But is that really so? So, I just came out and asked him point blank -- "Barry, will you just pull 'a Cher' and give us a never-ending farewell tour?" Manilow chuckled and replied, "You never know. This tour kind of ends in Brooklyn on my birthday, but I'm not sure that this tour will end then. I could keep going," he said. "If I'm having a good time, this tour could go on for ten years. We'll see what happens on June 17."
Okay everyone. Ready? One... Two... Three... "I can't smile without you. I can't laugh and I can't sing..."
The tour kicks off with stops in Omaha, Kansas City, Chicago, and Detroit with twenty other dates scheduled around the country. Tickets to Manilow's final stop on the tour in Brooklyn, N.Y. will be available for sale beginning January 23rd.
Steve Schonberg is the editor-in-chief of www.centerontheaisle.com.