"I have five daughters," Tevye says. "Five!"
With Bartlett Sher's fantastic revival of Fiddler on the Roof currently on Broadway, it offered the perfect opportunity to visit with the cast and explore a celebrated tradition -- Father's Day -- and hear about the men they'll honor this Sunday.
The show centers around one of culture's most famous fathers -- the "papa," Tevye (masterfully brought to life by Tony Award-nominee Danny Burstein) -- and his relationships, primarily with three of his five daughters: Tzeitel, Hodel, and Chava.
See below for the video...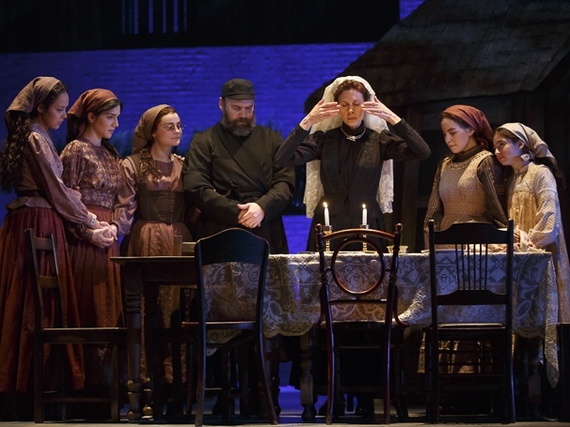 Tevye with his wife (Golde, played by Jessica Hecht) and five daughters; Photo credit: Joan Marcus
Below, Danny (himself a father of two) and fellow cast members Ben Rappaport (Perchick), Adam Kantor (Motel the Tailor) and Jennifer Zetlan (Shaindel) talk about Tevye as well as their own "papas," and the impact both have had, especially in handing down time-honored traditions.
Steve Schonberg is the editor-in-chief of www.centerontheaisle.com and is seen regularly on NBC's "Weekend Today in New York."