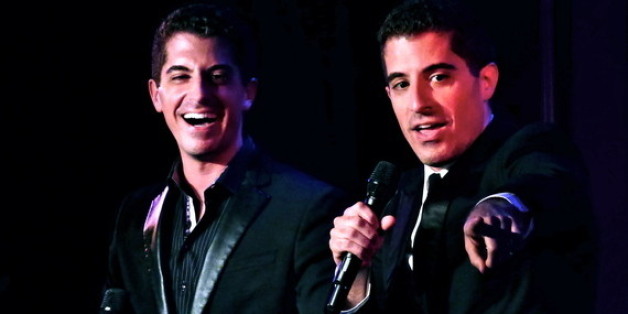 It's said that "two heads are better than one," a cliché being cashed in this year, with conjoined twins hyped as the trend of the season. On TV's FX, there's Bette and Dot Tattler of "American Horror Story" fame, and on Broadway, Daisy and Violet - the real life Hilton sisters portrayed in the revival of Side Show, which will close early in January, having played an eerily similar twin number of 77 performances. However, another pairing has proven that their talent will outlast more than just one season as crooners, actors and concert stars, Will and Anthony Nunziata.
Joined at the hip, if only in the figurative sense, these young men are realizing a dream that began by performing together in grade school and has grown swiftly from there, to being soloists at Boston College, making a splash at New York City's highly regarded cabaret venues and now selling out symphony halls around the country.
I caught up with the Nunziata twins by phone mid-tour as they've been traveling the country with their shows "Broadway, Our Way" and "A Broadway Holiday," the former of which they performed twice that day at the Kravis Center, in Palm Beach, the "Carnegie Hall of South Florida," as Anthony describes. Coincidentally Anthony was driving past the 2,200 seat hall when I called, a venue he says he and Will would also pass as children (while visiting their grandparents) and daydream about performing in one day.
"The Kravis Center has always been on my bucket list, since I was very young," Will says. "I'm literally our harshest critic, but both audiences were just unbelievable", he explains. "I'm just so grateful that each time we get to perform, whether small or big venues alike, each time it's just another affirmation that the music and our blend of comedy is something people want... [for that,] I'm filled with gratitude."
He may be his harshest critic simply because so many others have only lauded the Nunziatas for their talent and showmanship. The New York Times remarked that Will and Anthony "display an engagingly, brassy professionalism," and The Wall Street Journal added that they're "blessed with strong voices and leading man looks."
Leading men, indeed. The handsome twins are a nearly impossible pairing of talent, stage presence, and charisma. They almost seem like a photocopied pop idol cut-out from the 1960's - but like any photocopy, they're never exactly the same and that's the same with the Nunziatas. They're as different as they are alike, allowing them to not only stand out as a duet, but also showcase their talents as individual artists.
At "face value," as much as they look alike, their features, albeit subtle, differ slightly. Talking with them, both have an artistic intensity to their voices, but with varied nuances, tone and manner of speech. Because they were travelling, they asked me to call them separately as not to be confused for one another on the phone. Interestingly, when I compared the recordings, they actually sounded distinctly different; the concern may have been valid, or it might simply be a symptom of twins so often compared to one another, who are also striving to prove their individuality.
In many ways, the source of this individuality can be traced back to their parents' style of child rearing "I do have to say, our parents - thank God - raised us as individuals," Anthony says. "They did not dress us up alike. They did not put is in the same classroom early on. They really allowed us to thrive and grow as individuals, which is a blessing." Will added too, that he's, "really grateful our parents never forced us to do anything," making their musical pursuits that much more authentic, as "it was just something we started to do together."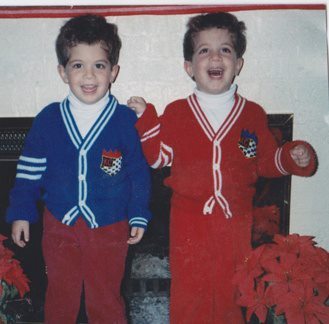 A Nunziata Christmas (Photo provided courtesy of Will and Anthony Nunziata)
He acknowledged that artistically, being twins is part of their duet appeal, but it's not enough to sustain their career or even be credited for their success, to date. "I understand better than anyone, the twin thing, it makes us stand out," Will says. "To some people it's our 'gimmick," [but] that can kind of get old, fast... old, stale and boring."
Instead, Will says their success long-term will be in "really honing our individual talents and not taking that for granted. We are two artists that happen to be brothers, that happen to be twins." "Our two faces on a poster, its frickin' interesting... it's some kind of, 'Oh my God, let's go look at the freaks!'" Will says candidly. "What I love so much [though] is that we leave audiences not only realizing the power of family, but also the power of finding yourself in a duo."
As much as the Nunziatas draw a line in the sand between the overall package and the individual gifts inside, they seem keenly aware that their unique pairing sets them apart from other song and dance men. Intentional or not, they've made themselves a curiosity and although it's not their sustaining force, it's still a strategy that's advanced their career, even if its with innocent intentions.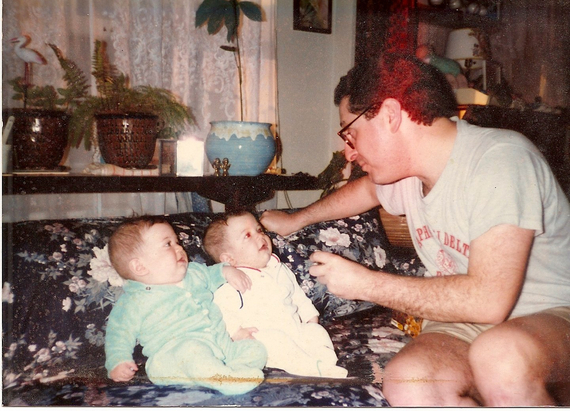 Will and Anthony's first vocal lesson, taught by their father (photo provided courtesy of Will and Anthony Nunziata)
Well before they were selling out symphony halls, both brothers, now 31, tell a sweet story about growing up in Pelham Manor, New York and appearing in a community theater production of the musical, You're a Good Man, Charlie Brown. Will played Charlie Brown, while Anthony was Linus. "Being the younger brother [by a minute], but the nice young brother that I am," Will sets up the story, "Charlie Brown sings 'The Kite' as a solo, but I thought it would be a great moment for Charlie Brown and his friend Linus to share the stage, almost in a brotherly way." "Convincing" the director that these two characters were "like brothers," the song was turned into a duet.
Will explains his motivation, first sweetly, then with a punch, "Because I kind of felt bad that Anthony didn't get the lead, but believe me, I was very happy that I did." Anthony also remembers that moment fondly. He admits that he counted how many solos Will had, knowing he only had one ("My Blanket and Me"), "But I remember man," Anthony adds, "that it was really nice of Will to offer ['The Kite'] as a duet."
The duets have continued since then. When asked about their favorite moments performing as kids or teenagers, they both referred to the show, The Secret Garden, when they played the two male leads and performed the song "Lily's Eyes," and on a larger scale at age 12 when they sang the jingle for the Honey Nut Cheerios holiday commercial that ran from 1997-2002. They were also selected in college by their university chorale director John Finney to perform a solo with the Boston Pops ("Our Time" from Sondheim's Merrily We Roll Along).
Anthony points to that moment with the Boston Pops as a turning point and epiphany in their career. A tremendous accomplishment for any performer, he says that's when they began to explore how they could continue this momentum after graduation. "Let's go and put our names out there," Anthony remembers. "Let's develop this brand. Let's develop who we are as people, who we are as individual artists."
Specifically, they sought out to establish that brand through an "old school sensibility," Anthony describes. "When you look at Barbra Streisand and Tony Bennett, a lot of these names," he explains, "they started out in the clubs, they started by putting their names out there in the music scene themselves. I kind of like that because it allows us to relate to audiences better. I like that after a 90-minute show these complete strangers feel like they know us."
All positives aside, it's hard to imagine that the Nunziatas suffer any less sibling rivalry than other brothers and sisters, especially those who pursue the same career. However, both Will and Anthony say their competition is not exactly how fans might expect. "We are fiercely competitive," Anthony admits. "When we get on stage, we're competitors. Not against each other but together, as we want to win this performance."
Even outside of performing, they say this spirit is core to their relationship exercised through many other shared experiences as they were also cross-country runners, all-state tennis players, and swimmers in their teenage years. Anthony says, to "copyright" their dad, "Well, you guys always competed against each other like in tennis or sports or singing, because you wanted to help not only each other's potential but help each other exceed," he explains. "We always had the sense of support and love."
Also, while they do share the stage as "Will and Anthony Nunziata," they are also working to advance their own pursuits. Will has begun directing for the stage, with a range of Broadway performers. Anthony, has started to go out on his own, releasing a single, "The Lord's Prayer" last year, and performing his first solo concert at Broadway supper club, 54 Below, earlier this month. Additionally, the "brains of the business" as Will puts it, Anthony says that together with Will's directing skills, they'd like to see what they can accomplish as TV, video and music producers, living their "mission" to "inspire and entertain."
With that mission, the pair have also established a master class and educational outreach program to help students discover and advance their music skills. "Fiercely passionate people," as Anthony describes he and Will, they try to instill in their students the same sense of drive and collaborative competition that has helped them achieve remarkable acclaim from sports to the stage. He says that in essence, they share that, "we're here to tell you, we don't know what you have at home. But you have to... [just] do it. Life is so short and precious, go for what you love to do."
Will and Anthony Nunziata currently have concert dates scheduled throughout the fall. For more information, visit www.willandanthony.com.
Steve Schonberg is the editor-in-chief of www.centerontheaisle.com.