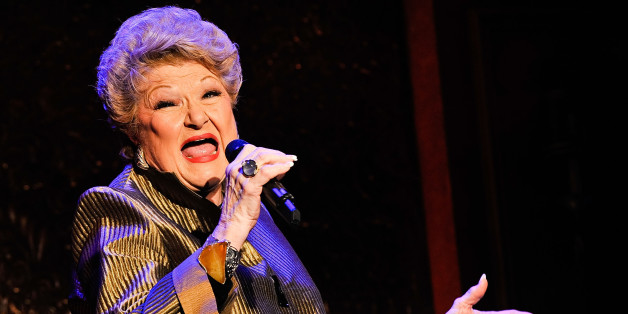 Lately, it seems like many celebrities are set on pushing the boundaries of why we call them "stars." It feels like there's a million more discovered every day, and we see all too often how easily even the brightest can burn out. On the other hand, artists like singer Marilyn Maye prove themselves to be the north stars of entertainment, consistently performing at the top of their game, illuminating the world with their talent as icons of their industry.
Described by Ella Fitzgerald as "the greatest white female singer in the world," Maye, now 86, has nearly 80 years of performing under her belt and doesn't plan to slow down any time soon. This week she'll ring in yet another year starting with a week of shows at New York City jazz club, The Metropolitan Room, beginning on New Year's Eve.
"Retirement is not in my vocabulary," Marilyn says, next quoting her daughter, Kristi, with a chuckle, "This is my mommy: sing, sing, sing, dead." "I've just lived so long, honey, and worked so long," Marilyn adds. "I've worked all my life. That's just what I do."
Marilyn is a wealth of wisdom and experience, a performer who has achieved longevity in life and on stage through talent, hard work, and a sensible approach. Despite countless recordings and accolades, including her unmatched 76-performance run on The Tonight Show, and inclusion of one of her recordings in the Smithsonian Institute's permanent collection, there's a welcoming warmth about her that makes it clear she knows talent and fans are equally important halves to her successful equation.
"I'm looking at an old LP of yours, 'Meet Marvelous Marilyn Maye," I told her as we chatted by phone. She seemed surprised, "You've got the old album?" Yes, I told her. I had bought it on eBay after seeing Maye perform earlier this year. "Bless your heart. I always say to get it at a garage sale," she quipped, not skipping a beat.
Born Marilyn McLaughlin on April 10, 1928 in Topeka, Kansas, she was named after singer Marilyn Miller by her mother Lyla, a piano player who decided before Marilyn's birth that her daughter would be an entertainer. "Lucky for her, I actually had talent!" she says. They later gave her the stage name, "Marilyn Maye" because "in those days it was not fashionable to have a very long last name," Marilyn explains. Although she's been Marilyn Maye now longer than for many may be a lifetime, she says in reflection, "I probably regret it now... if I'm not a household name, it's because my name is wrong."
At just seven years old, Maye would enter and win amateur song contests, "nine times out of 10," she says proudly, with Lyla at the piano playing and cheering her on.
Her success then led to a steady career in radio and TV throughout her teenage years and after high school. "I must've been a strange child to be singing with a big band when I was 11 and 12," Marilyn says reflecting on those days. "I guess I was never a child," she adds. "That's why I haven't grown up now."
After her radio contact ended, Maye hit the road, working nightclubs for years around the country, eventually landing an 11-year engagement at The Colony in Kansas City, Missouri.
In what might be credited as being discovered for a second time, famed TV personality Steve Allen saw her at The Colony, and invited her to perform on his show. "I was the overnight success that had worked for 20 years," Marilyn remarks. "I couldn't believe it. It was just amazing and wonderful and traumatic," she adds reflecting the impact to her career and required balancing act with her family - husband, Sam and daughter, Kristi.
Her success on the small screen extended for many years, too. Ed McMahon saw her perform in Manhattan and invited her to appear on his show, later booking the "The Tonight Show" with Johnny Carson, for which she performed more than any other act, along with other shows.
Marilyn Maye performs "You're Gonna Hear from Me" and "Cabaret" on The Hollywood Palace
Throughout this time, Maye also recorded a series of successful albums with RCA, and traveled the country headlining famous venues like The Copacabana in New York, Drake and Palmer House hotels in Chicago, Century Plaza's Westside Room in Hollywood, and Riviera, MGM Grand and The Sands in Las Vegas.
However, as the nightclub scene in New York and L.A. gradually declined, as well as the demand for singers like Maye on late night TV, there were less avenues available for her to exercise her talents.
"I was fortune that there was an Ed Sullivan Show, there was a Merv Griffin Show, there was a Mike Douglas Show, there was a Steve Allen Show and Johnny Carson," Marilyn says in reflection. "All of those shows were a great help to me. Then... it came to a halt. Their shows went off the air, so my exposure went off the air. It was troubling."
Maye makes it very clear though that at no point did she stop working. "There's another world outside of New York," she clarified. "I always worked in the Midwest," Marilyn says, which is where she's originally from and still resides to this day, in Overland Park, Kansas. She also extended into theater, performing in regional and touring productions of shows like Mame, Hello Dolly! and Follies.
As the nightclub scene enjoyed a renaissance in recent decades though, it's only fitting that Maye was "discovered" for a third time. It started in 2006 with a special guest appearance in a Jerry Herman tribute with the Mabel Mercer convention at Lincoln Center, which then led to a second concert and subsequent invite to perform at The Metropolitan Room. "I'm really too old to be humble," Marilyn says about the concert at Lincoln Center. "It was triumphant."
As confident as she sounds, Marilyn admits to being worried about headlining again in New York City, this time at The Metropolitan Room. She agreed hesitantly but felt, "There won't be anyone there, so let's just do one night." But, like in a film, she says, "they were lined up down to the corner," and her bookings only increased from there. Today, she's again one of the most in-demand performers among the country's top cabaret venues, as well as guest star for major orchestras like the New York Pops.
Although she's achieved incredible success, that's not to say it was all a bed of roses. Like anyone, Maye suffered heartache and personal challenges, including being married twice, both times to men who were alcoholics. Marilyn admits this was something she, "struggled with behind the scenes" however, when asked about sharing these intimate details on stage, she added, "Absolutely not. I would never let [fans] know..." She continued, "Only just recently have I told these kinds of stories," Marilyn said in comparison to many entertainers today. "I think people are there to forget their problems... I just don't think you need to carry your innermost thoughts and lay your problems onto the audience, for heaven's sake."
As much as she loves her fans, they may not have always kept her as close to their heart as her popularity ebbed and flowed over her many years in the business. Wondering how this affected her emotionally, I asked her if she'd ever felt like she wouldn't have an audience. "Every closing night," Marilyn responded candidly. "Every closing night, you're out of a job... It's amazing, 2014 has been one of the busiest years of my life, [but] of course you always worry about where the next job is coming from." However, she quickly adds, "You've got to be flexible, and I've tried to be."
Curious, I also asked if with all she's dedicated of her talent and life to singing, if she's ever felt that she didn't reach the level of stardom she would have liked. "Oh, yes!" she exclaimed, but adds that she doesn't have any real regrets, "there's only joy." When asked if there was anything she wishes she had done, Marilyn hesitated for a moment then replied surprisingly, "Gosh, I wanted so badly to do "The Muppets". I just thought that would be so much fun." Then she added to that list, appearing on Broadway and headlining her own concert at Carnegie Hall.
"This is how I make a living and thank heaven for that because I'm doing what I love to do," Marilyn remarked. "It isn't a hobby. It's my business. It's called show business and I love it. I'm sure that's why I've lasted so long, is that I love it." That love extends to her fans too, like an elixir that comes with the guarantee she'll never throw in the towel, as Marilyn says, "I don't have a big family so my audience is very, very important to me. They're my family, my loyal listeners are my buddies."
For more information about Marilyn Maye, visit www.marilynmaye.com. To purchase tickets to her upcoming performances at The Metropolitan Room, visit www.metropolitanroom.com.

--
Steve Schonberg is the editor-in-chief of Center On The Aisle (www.centerontheaisle.com).