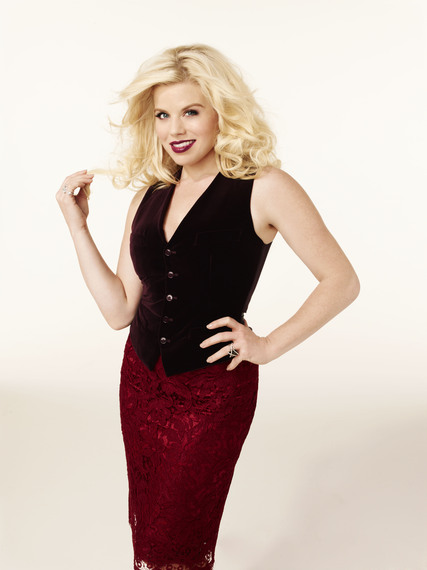 What's her name again? You know who I mean. She starred in several Broadway shows. I think "Wicked" and "9 to 5". Don't know? Shoot, it's on the tip of my tongue. She was "Ivy Lynn" on NBC's "SMASH". Yeah, the blonde Marilyn Monroe. Also played Marilyn's part in "Gentlemen Prefer Blondes." Got rave reviews.

Powerful singer and actress, headlined at Carnegie Hall with the New York Pops. Has her own album, and has done guest appearances on a ton of TV shows. Oh right, she just co-starred with Sean Hayes in that NBC show last season, "Sean Saves The World."

Megan Hilty! That's it!
It's incredible to think that in our celebrity-driven culture, a performer with Hilty's credentials isn't a household name. After all, there are other stars featured in the celebrity weeklies with less experience or talent than Hilty, whose names roll off the tongue quicker than hers.

However, Hilty is a perfect example of a star, who despite major peaks, has yet to fully "break through." "Yet," being the operative word, because someone with her talent and work ethic is one who fans would hope will be destined for greatness.

I had the opportunity recently to interview Hilty by phone, who is busy preparing for her next role this Fall, as mom to a baby girl. Hilty might be one of the most down-to-earth stars I've ever spoken with. Having cancelled twice due to illness, she kicked off, unnecessarily apologizing for her being sick; saying that "the only drawback to this whole pregnancy thing" is that her immune system is "shot." "I just look at someone with a cold and I'm down for a week."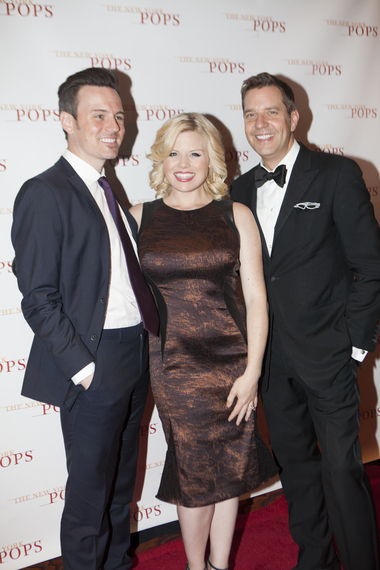 Hilty with husband, Brian Gallagher (left) and New York Pops conductor, Steven Reineke (right) (Photo Credit: Emma Pratte/Center On The Aisle)

Immediately, I can tell there's something incredibly genuine about this woman who originates from Bellevue, Washington. There's no trace of the icy, victim-like persona she embodied as "Ivy Lynn" on SMASH. A role well played.

Accompanying her sweet nature is this laugh. It's contagious. It's less a laugh than a signature giggle, like one of the animated characters she's played in film, including China Princess in "Legends Of Oz: Dorothy's Return," now in theaters.

So, what's Hilty's secret to success? She explains that she "started really, really, early." If everyone has a story, Hilty's is rooted in her mom's belief that tone deaf mothers shouldn't sing to their children, fearing they'll be tone deaf, too.

Hilty says that she would ask her mom to sing, and her mom would refuse. Instead, her mom exposed her at an early age to the world of music on tape.

However, Hilty didn't stay satisfied for long. She didn't want to just listen to the music, she wanted to be a part of it. It was then that her passion likely transformed into her extraordinary work ethic, helping propel her career and achievements, to date.

So, she began singing lessons, explaining, "I was actually going to go into opera. My voice teacher was pushing me to do that and really grooming me for it throughout my teenage years." She even went to opera camp, "if you can believe that exists," she says with that hearty, endearing giggle.

However, Hilty realized that opera wasn't the right career track for her.

Besides opera, she was also exposed to musical theater because, "I needed something to do during the summers." There was a youth theater in her area that would put on productions, with the kids immersed in all elements both onstage and off. Hilty says, "It gives kids a purpose, and I love that."

Compared to opera camp, it "opened [her] eyes," that musical theater was more her personality and remains so, even if she "still has secret dreams of being in a opera one day." Admitting, "you kind of have to train your whole life to do that. You can't just be like 'I'd like to try opera today'" (cue the giggle).

If there was ever a glowing endorsement for the impact of the arts in childhood development, Hilty's story is it. What may serve as foreshadowing to her own role as a mom, there's a quote from Hilty's character on "SMASH" that I was reminded of when talking with her. Accepting the TONY Award for Best Actress in a Musical, Hilty (as "Ivy Lynn") says, "'I'd like to thank my mother... for giving me the greatest gift, and that is a life in the theater. I can only hope that one day, I can give that gift to my children."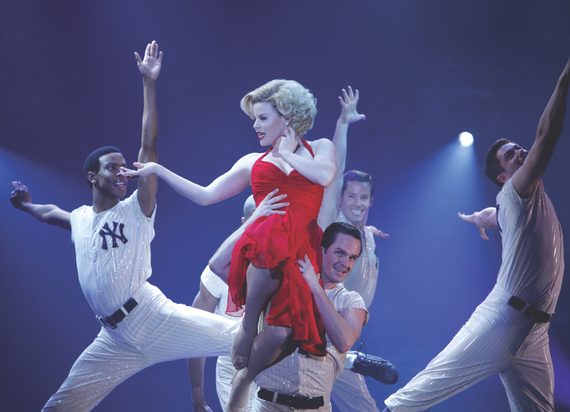 Hitly as Marilyn Monroe in "Bombshell" on NBC's "SMASH" (Photo credit: Will Hart/NBC)
It's also proof that sometimes you have to put in hard work in one area, just to be able to make a transition to the next. Hilty is classically trained but credits that work with being the foundation for her singing now, even though she made a shift to musical theater.

"I think it's really important to learn those basics. Once you learn the classics, you can bend stylistically. It's like a ballet dancer going and using those muscles for jazz or modern [dance]."

Counter to what many might expect in a fame-focused world, when asked if she works towards stardom or success, Hilty explained humbly, "I work to get more work."

Hilty describes her career like a well-invested financial portfolio. She had to diversify to continue to secure meaningful and fulfilling roles.

"I started to look around at whose career I wanted to emulate, like Kristin Chenoweth, Audra McDonald, Bernadette Peters, and Patti LuPone, and they all seem to have cracked the code on longevity in this business -- and that's to diversify what you're doing."

She went on, "You can't just keep doing the same thing, at least nowadays; you have to be able to do everything. It's much more fun to go and try these things and keep pushing yourself. I think it makes for a richer, more fulfilling career if you're willing to venture out."

For instance, while comedy wasn't her first instinct, Hilty saw an opportunity to show another dimension of her talents, when agreeing to co-star as "Liz" on NBC's "Sean Saves the World."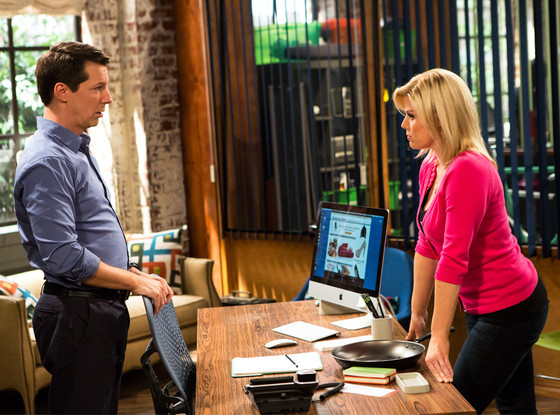 Sean Hayes and Megan Hilty in a production shot from "Sean Saves The World" (Photo Credit: Justin Lubin/NBC)
"I made a very conscious choice after SMASH. I wanted to do something wildly different. I wanted to play a nice person because so many people kind of assumed that I'm mean now when they meet me, because of the character I played on SMASH. Instead, I wanted to do something funny." "Although it was a risk, you know, moving myself an my husband out to LA, and we knew it could be short lived. But, anything can. You've got to keep trying."

And keep trying she does, by showing off that extraordinary drive that had its beginnings when Hilty was just a child.

"I made a decision to try and break into the television and voiceover world just because I was looking around at what was happening on Broadway. [I was] doing so many readings and workshops and having producers saying, 'We love you. We can't imagine anyone better than you in this show, but we just need a star.' I get it. Listen, I've said this in other interviews and I've come off sounding a little bitter, but I'm not. I understand. It takes a lot to sell a show. It's very expensive and people want someone who is recognizable. So, part of wanting to go into television was to help my theatrical career."

When asked what her dream career would be, she admitted again, "I just want to keep working," adding later, "You can't just sit around waiting for someone to give you a job. Sometimes you have to create one."

That's exactly what Hilty has done. When not performing on TV, in theater, in the studio, or in film, Hilty has created yet another extension to her amazing career, as a concert and cabaret performer. She is planning to performing throughout her pregnancy with her band (whose members include her husband, Brian Gallagher), with stops around the country and an extended engagement at New York's famed Café Carlyle (May 27-June 7).

In a way, Hilty's career serves as an analogy, and advice for life. That sometimes the greatest success isn't earned standing there, hoping for constant applause. Instead, it's by taking the bow, grabbing your train and hightailing it out to find the next curtain call.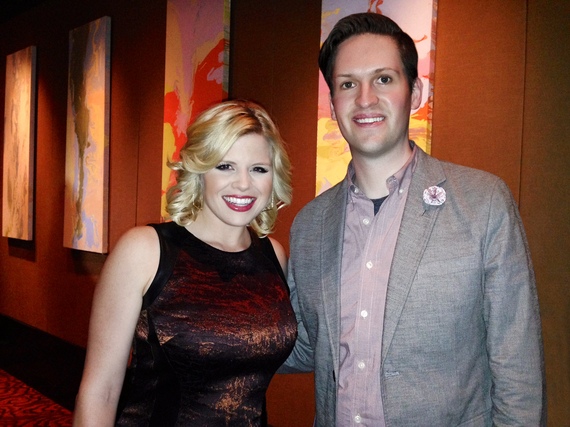 Hilty with author, Steve Schonberg, at the New York Pops 31st Annual Birthday Gala in April